Introducing two new feature-rich 10 Gig Routers: Orbi RBR860S Router with WiFi 6 and the Orbi RBRE960 Router with WiFi 6E
New Multi-Gig Routers
While we continue to live and work in a hybrid-remote world, the need for the best WiFi technology at home is more imperative than ever. As Internet Service Providers enable faster multi-gig internet speeds of up to 10Gbps, consumers who want to take advantage of new networking capabilities and harness the next generation of WiFi need a powerful multi-gig router. To meet these needs, we are now offering two new standalone Orbi routers that join NETGEAR's flagship line of Orbi mesh systems: Orbi RBR860S and RBRE960.
Powerful Routers for Apartments and Small Homes or Upgrade to Mesh
Orbi routers are ideal for those living in smaller homes or apartments who want the superior WiFi performance of Orbi as well as the flexibility to easily expand to a mesh system as their needs change. Satellites can be added to these routers at the click of a button to spread the network outside, to a new addition, to a newly converted attic office or even to a new, larger home. For those immediately seeking a mesh system, both 10Gb routers are also available as part of Orbi's 800 series (RBK863S) and 900 series (RBKE963) mesh systems, which each include one router and two satellites.
Orbi 10 gig WiFI 6 Router RBR860S Features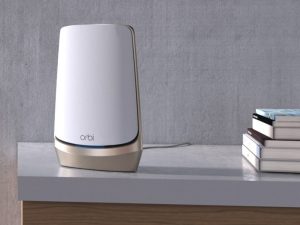 The Orbi 860 router is a tri-brand WiFi 6 mesh router that provides 12 streams of WiFi to ensure maximum throughput and range for new and legacy devices. It also has a 10 Gig Internet port and four 1 Gig Ethernet LAN ports as well as a patented antenna design that surpasses the WiFi performance of its predecessor by 20%, while providing coverage for multiple devices up to 2,700 sq. ft. There's really nothing that compares to it in terms of speed and range for a single router. The Orbi 860 router also comes with 1 year of NETGEAR Armor™ software to protect your WiFi-connected devices with a shield of security.
Orbi 10 gig WiFi 6E RBRE960 Features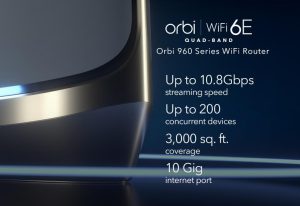 For those with the latest Android phones or Windows 11 PCs that support WiFi 6E and want those devices to run as fast as possible, the Orbi 960 router is the right choice. Equipped with the new 6GHz WiFi band, it provides speeds of up to 10.8Gbps for faster throughput and more reliable internet coverage for years to come, up to 3,000 sq ft. The Orbi 960 router also has multiple ports for a superior wired connection, including one 10Gbps Multi-Gig Ethernet WAN port, one 2.5Gbps Multi-Gig Ethernet LAN port, and three 10/100/1000Mbps Gigabit Ethernet LAN ports. To protect all devices connected your Orbi 960 router, you can subscribe to Armor for an additional cost.
With NETGEAR Armor & Parental Controls
Both Orbi routers have a compact and sleek design to complement any home's desired aesthetic. They are easy to set up and manage via the Orbi app, and offer a subscription for Smart Parental Controls to manage kids' time and accessibility online. Depending on your WiFi needs, either one would be a future-proof addition to your home for years to come.