Welcome to a world where buffering, dead zones, and slow internet connections are relics of the past. If you're ready to experience effortless connectivity with seamless high-speed WiFi for your entire property, Orbi delivers elite performance with zero compromises.
Looking for the Ultimate Mesh System?
This Ultimate Buyer's Guide for the NETGEAR Orbi Mesh Systems will take you on an informative journey into the future of WiFi. If you've been dreaming of a home network that defies limitations, Orbi is here to enhance your digital experience with a seamless network of speed, coverage, and unmatched performance. Get ready to explore the jaw-dropping impressive elite capabilities of the Orbi 970 Series with WiFi 7 – the current flagship series that's redefining the rules of home networking – or take our short Find My Orbi quiz to find the perfect Orbi Mesh System for you.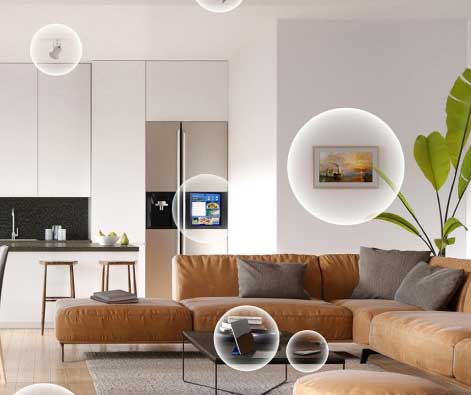 Why Choose Orbi?
In the realm of cutting-edge WiFi connectivity, Orbi Mesh Systems are the undisputed champions. Here's why choosing Orbi over other mesh routers and systems is not just a decision – it's a strategic investment in a superior networking experience.
Blanket Coverage, No Dead Zones:
Orbi Tri-Band and Quad-Band technology ensures that every corner of your home is enveloped in a seamless web of connectivity. Say goodbye to frustrating dead zones and experience uninterrupted browsing, streaming, and gaming, regardless of where you are within your home.
Unparalleled Speeds:
Orbi Mesh Routers and Satellites utilize the latest WiFi 6 and WiFi 7 technology, delivering lightning-fast speeds that can handle the demands of modern online activities. Whether you're streaming 4K videos, engaging in online gaming, or hosting video conferences, Orbi ensures that lag and buffering are no more than relics of the past.
Easy Setup:
Setting up an Orbi Mesh Network is a breeze. With the user-friendly Orbi app guiding you through the process, you'll have your network up and running within minutes. The Orbi app is compatible with both iOS and Android devices.
Seamless Roaming:
Orbi's unique mesh design ensures that your devices seamlessly transition between router & satellite units as you move around your home. You'll experience no drops in signal strength or disruptions, allowing you to roam freely without interruption.
Advanced Security Features:
Protecting your network and personal data is a top priority. Orbi takes this seriously, providing robust security features such as built-in NETGEAR Armor™ to safeguard against online threats, malware, and phishing attacks.
Scalability and Customization:
Whether you have a small apartment or a sprawling estate, Orbi's modular system allows you to customize your network's size according to your needs. Expand WiFi effortlessly by adding more Orbi Satellites to your setup and enjoy consistent performance throughout your space.
Unrivaled Performance in a Stylish Package:
Orbi doesn't just excel in performance; its sleek and modern design complements any home environment. No more unsightly antennas and clunky hardware – Orbi Routers and Satellites are available in black and white and are engineered to blend seamlessly with your decor.
Orbi 970 Series: The Pinnacle of Home Networking
Among the Orbi Mesh Systems (and in the world of high-speed WiFi) a true champion stands tall – the Orbi 970 Series. With its WiFi 7 technology and Quad-Band design, this flagship product isn't just a mesh system; it's a revolution designed to elevate your online experience to new heights.
Barrier-Breaking Internet Speed and Coverage. An unparalleled whole-home WiFi 7 system with up to 27Gbps WiFi speeds & coverage up to 10,000sq. ft., including front & back yards
Quad-Band Innovation. Exclusive Quad-Band technology & 5Ghz and 6Ghz Enhanced Dedicated Backhaul WiFi ensures max speeds for up to 200 connected devices
WiFi 7 Revolution. WiFi 7 opens up a new 6GHz band, delivering dedicated top speeds to the latest WiFi 6E and wifi 7-ready laptops, phones, & tablets
High-Speed 10-Gig Internet Port. A 10-Gig internet port ensures the fastest speeds of today and tomorrow. Connect to the latest cable or fiber internet service up to 10Gbps and power your entire network well beyond standard gigabit speeds.
Faster Wired Connections. 10Gbps and 2.5Gbps multi-gig LAN ports unleash the fastest download and data transfer speeds for wired connections to priority devices like servers, gaming PCs, and more.
Innovative Antenna Design. Orbi 970 Series offers a patented internal antenna design that erases weak spots, delivering consistent, high-performance WiFi throughout your entire living space.
Effortless Setup with the Orbi App. From unboxing to a fully operational network, installing the Orbi 970 system is a breeze.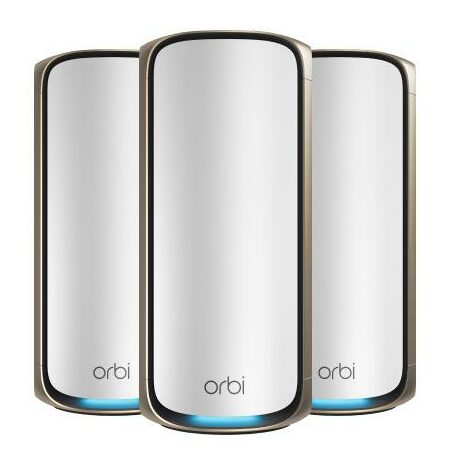 Orbi 960 vs. Orbi 860 Series Systems Compared
The Orbi 970 is the ultimate mesh system for home networking, but the Orbi 960 and Orbi 860 are also great investments for different needs and budgets. Below, we compare their features and performance, and help you find the best fit for your home.
Orbi 960 Series:
Industry's First Quad-Band WiFi 6E Mesh System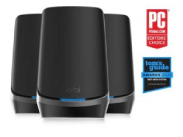 The world's most powerful WiFi 6E mesh system. The Orbi 960 Series is engineered to deliver elite performance and unprecedented coverage across your whole home, inside and out.
Quad-Band WiFi 6E with 5Ghz Dedicated Backhaul
Whole-home WiFi speeds up to 10.8Gbps
Patented antenna design boosts WiFi coverage
Up to 9,000 sq. ft. of coverage (using 3-pack RBKE963)
10Gbps Internet WAN port, 1x 2.5Gbps, and 3x 1Gbps LAN Ports
NEW: Available In Black or White 2–4 pack size. Add-on Satellites available (RBSE960)
Supports up to 200 connected devices
Orbi 860 Series:
Elevating Connectivity with Tri-Band WiFI 6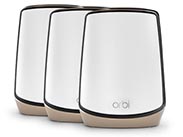 The smart choice for smart homes. Orbi 860 Series WiFi 6 Mesh System, ensures your devices receive lighting-fast WiFi, with speeds up to 6Gbps and low latency for today's hyper connected homes. Boasting the power of WiFi 6 Mesh System, the Orbi 850 series ensures that your devices receive lightning-fast connections of up
Tri-Band WiFi 6 with 5GHz Dedicated Backhaul
Whole-home WiFi speeds up to 6Gbps
Upgraded antenna design improves performance by 20% over the previous generation (Orbi 850 Series)
8,000 sq. ft. of coverage (using 3-pack RBK863)
10Gbps Internet WAN port and 4x 1Gbps Ethernet LAN Ports
Available In Black or White 2–5 pack size. Add-on Satellites available (RBS850)
Supports up to 100 connected devices
How to Choose the Perfect Orbi System for You
The NETGEAR Orbi lineup presents a range of options, each catering to different needs and preferences. If you're seeking a solution tailored to your specific needs, here are some of the factors you need to consider:
Coverage Area
Evaluate the size of the area you need to cover. Choose an Orbi Mesh System or an Orbi Router with coverage that suits your space – whether it's a small apartment, a medium-sized home, or a large estate.
If you have a medium-sized space or apartment, an Orbi Router or 860 Series Mesh System, with coverage up to 8,000 square feet, could suffice. For large homes or extensive areas, the Orbi 960 Series with coverage spanning up to a sprawling 9,000 sq. ft., ensures comprehensive whole-home WiFi connectivity.
But if you want the best, most seamless coverage from the front door to the back yard, the Orbi 970 with its 10,000 square feet coverage is perfect for you.
Internet Speed
Consider your internet plan, your provider, and the speeds you require. Look for a mesh router or system that is compatible with the fastest 10-Gig internet speeds for future-prof, uncompromising performance. Orbi offers high-speed 10 Gig internet ports to allow for maximum transfer speeds between your modem and mesh router.
WiFi Speed
If you want blazing-fast WiFi of up to 6-10Gbps and beyond, both the Orbi 960 and 860 Series offer remarkable options. For those demanding the ultimate WiFi experience, the Orbi 970 Series steals the spotlight with up to 27Gbps of WiFi 7 performance, geared towards demanding data transfers and high-speed tasks.
Number of Connected Devices
Determine the number of devices that will be connected to the network. Choose a mesh system that can handle simultaneous connections without lag or drop in speed.
If you have a substantial number of devices in a larger household, the Orbi 860 Series can handle up to 100 connected devices at once with its advanced Tri-Band WiFi and Dedicated Backhaul. For the ultimate connectivity, Orbi 960 and 970 Series eclipses all the other with a capacity up to 200 connected devices. From TVs and amplifiers to laptops and WiFi speakers, you can connect all your smart home devices without worrying about sudden drops and lags.
Tri-Band vs. Quad-Band
Understand the difference between Tri-Band and Quad-Band Routers and mesh systems. The more bands a mesh system has, the higher its ability to reduce congestion and improve performance in busy networks.
For instance, Orbi 860 Series offer Tri-Band connectivity which means it utilizes three distinct WiFi bands to transmit data – one 2.4 GHz band and two 5 GHz bands. Orbi 960 and 970 take it further by providing Quad-Band connectivity and tapping into the uncrowded 6GHz band, ensuring virtually no congestion and consistently seamless streaming.
Add-on Features
Consider extra features like Smart Parental Controls, NETGEAR Armor™, customization options, and the like. All Orbi WiFi Mesh Systems have NETGEAR Armor and Smart Parental Control capabilities. Whatever Orbi Mesh System you choose, you'll have access to a plethora NETGEAR of add-on features.
Scalability
Determine if the mesh system allows for easy expansion by adding more satellite nodes to extend coverage as needed. All Mesh Systems in the Orbi lineup are engineered for scalability. Whether it's the Orbi 860, 960, or 970, Orbi Mesh WiFi System give you the option to add more Orbi Satellites as necessary to meet your networking needs.
Overall Performance
Overall performance is a critical factor when choosing a router or mesh system because it directly influences the quality of your internet experience and the effectiveness of your network setup. Higher performance translates to consistently fast data transfer speeds. It also determines how smoothly your devices connect to the network and communicate with each other.
If you're seeking unparalleled performance and coverage, look no further than the Orbi 970 Series. With its blazing-fast Quad-Band WiFi 7, it's the ultimate choice for those seeking an unparalleled WiFi experience.
Why the Number of Satellites Matters
The NETGEAR Orbi lineup presents a range of options, each catering to different needs and preferences. If you're seeking a whole-home solution tailored to your specific requirements, here are some of the factors you need to consider: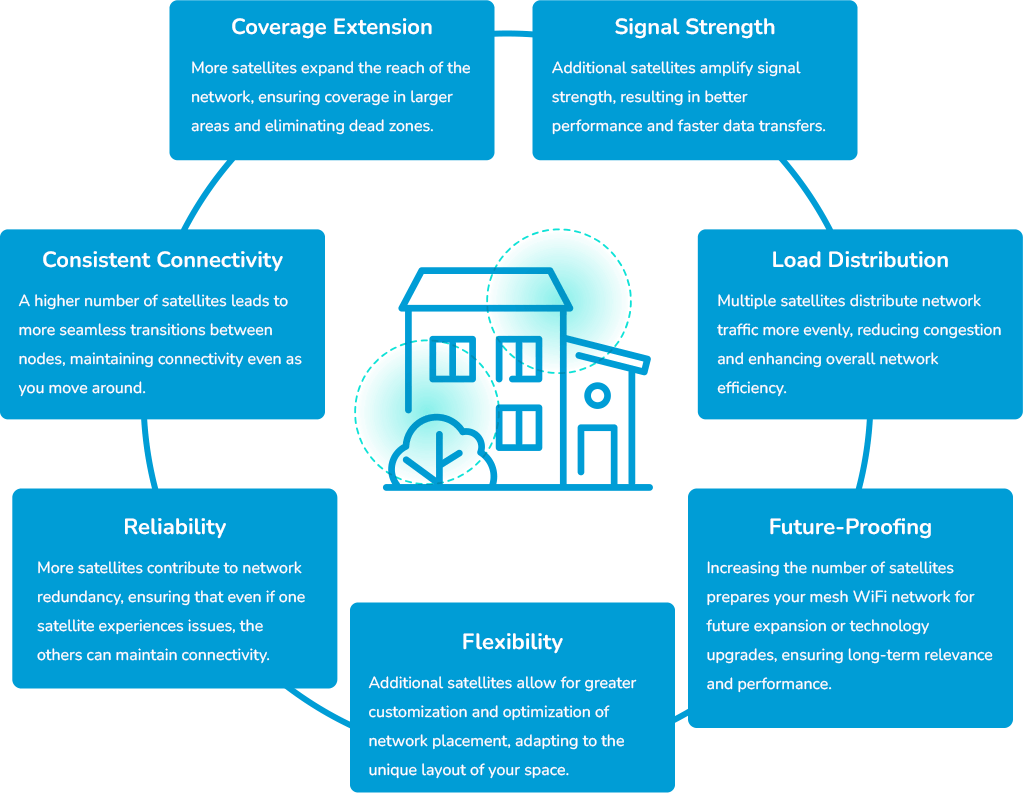 Enjoy Peace of Mind with Orbi's Cutting-Edge Security and Control Features
In today's interconnected world, safeguarding your digital presence is non-negotiable. NETGEAR takes this responsibility seriously, offering a suite of comprehensive security features across all models, solidifying all Orbi systems, solidifying the NETGEAR reputation as a reliable and secure choice for your connectivity needs.
NETGEAR Armor Protection
All Orbi models come equipped with NETGEAR Armor™, powered by BitDefender™ an all-in-one security solution provides an automatic shield of security from online cyber threats. With built-in multi-layer protection, it safeguards your family and your devices from malware, phishing attacks, and other online risks, ensuring your digital activities remain private and secure.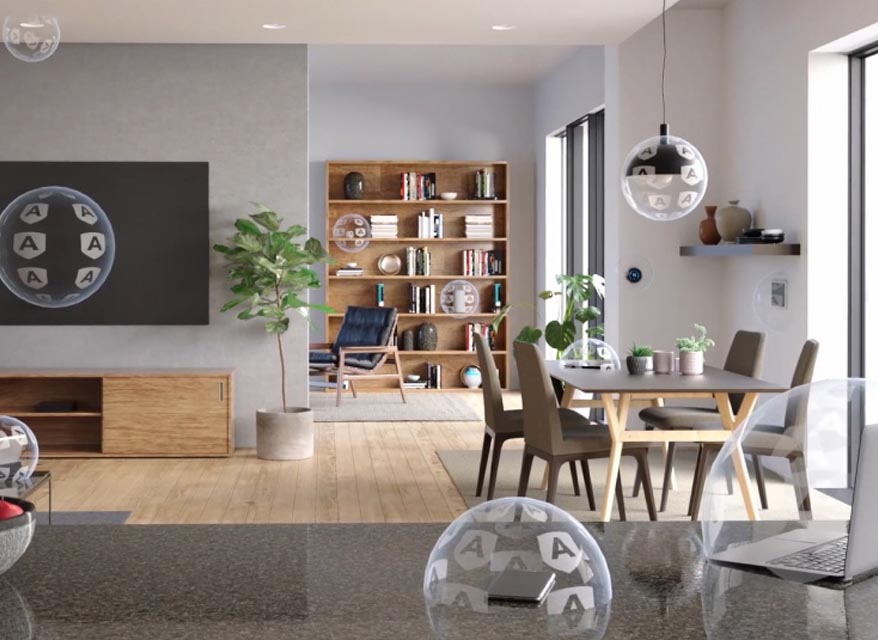 WPA3 Encryption
Orbi systems incorporate the latest in WiFi security standards, including WPA3 encryption. This advanced encryption protocol enhances data protection, making it significantly harder for unauthorized parties to access your network.
Regular Firmware Updates
Security vulnerabilities can emerge over time, and staying ahead of potential threats is imperative. Orbi systems receive regular firmware updates that not only enhance performance but also patch any new security vulnerabilities, keeping your network shielded from evolving cyber risks.
Guest Network Isolation
Orbi provides the option to set up a guest network, ensuring that visitors have their own isolated network separate from your primary devices. This prevents potential breaches and offers an added layer of security.
Parental Controls
Safeguarding your family's online experience is made easier with Smart Parental Controls available across all Orbi models. Set internet usage limits, block inappropriate content, and monitor online activities to ensure a safe digital environment for your loved ones.
Embrace Unparalleled Connectivity with Orbi Mesh Routers
Connectivity is the lifeblood of modern living and Orbi Mesh products are the ultimate solution to bring your networking experience to the next level by experiencing all the remarkable features and benefits of Orbi, from connectivity and speed to security and control – all with a mesh-ready Orbi Router that's ready to grow when you are.
You easily can add Orbi Add-on Satellites to your system as you need with just the push of a button and grow your coverage area as your family grows into larger homes and properties in the future. An Orbi Router isn't just router; it's a gateway to a network that's not bound by limitations.
Embrace a world without dead zones, and experience connectivity that's as limitless as your aspirations.
The power to transform your network experience is within reach, and the journey starts with Orbi. It's time to take the leap, embrace the future, and upgrade to Orbi Mesh WiFi. Your network deserves nothing less than the best that technology has to offer. Make the wise choice, make it Orbi.
Need help deciding on an Orbi system? Try our Find My Orbi tool for a mesh WiFi recommendation based on your Internet usage.