Orbi 970 Series: The First WiFi 7 Orbi
With speeds of up to 27 Gbps, enhanced dedicated backhaul, and 360° coverage, the Orbi 970 Series delivers the extraordinary power of WiFi 7 across every corner of your home.

What is WiFi 7?


WiFi 7 is the latest generation of wireless technology, designed to provide faster speeds, lower latency, increased capacity, and unparalleled performance. It's the next step in the evolution of WiFi. Enjoy seamless streaming, uninterrupted Zoom calls, smooth gaming, and reliable connectivity for all your devices.
Unleash Maximum Speeds with Enhanced Dedicated Backhaul
With our patented Quad-Band technology and Enhanced Dedicated Backhaul, WiFi stays fast across all devices. By combining a dedicated 5 GHz band with a shared 6 GHz band, the Orbi 970 achieves 10 Gig wireless communication between the router and satellites, reducing latency and delivering data with maximum speed.

10Gbps Internet and Ethernet LAN Ports for Ultimate Connectivity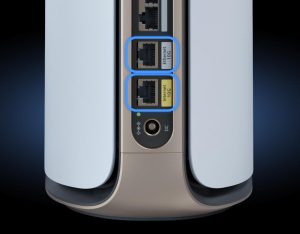 Enjoy the fastest speeds available today and in the future thanks to a 10 Gig internet port, 10 Gig Ethernet port and four (4x) 2.5 multi Gig Ethernet ports. 4K/8K videos, graphics-focused design, and immersive AR/VR entertainment are all even better with the Orbi 970 Series.

Whole-Home Coverage with 360° Reach
Say goodbye to WiFi dead zones. The Orbi 970 Series ensures every device gets a strong and reliable signal from the front door to the backyard, thanks to 12 high-performance internal antennas and powerful amplifiers.
Secure Your Home WiFi

Protect Your Devices with NETGEAR Armor
The Orbi 970 Series includes a 1-year subscription of Armor, powered by Bitdefender. This all-in-one security solution provides an automatic shield of protection for your connected devices, including computers, security cameras, baby monitors, IoT devices, and more. Armor is built directly into the router, so there's no need for multiple security subscriptions or software.
Promote Healthy Online Habits with NETGEAR Smart Parental Controls
Easily manage your kids' online time across their connected devices, ensuring a safe and balanced digital experience. Basic features are available for free, and you can opt in to a Premium Plan after a 30-day trial.
Experience True Multi-Gig WiFi
The Orbi 970 Series Mesh System covers up to 10,000 square feet (3-pack) and supports up to 200 simultaneous devices, making it the perfect solution for large homes and connected families. Expand your coverage even further by adding extra satellites, each equipped with one 10 Gig and two 2.5 Gig Ethernet ports.
WiFi That Keeps up With Your Devices
The advanced WiFi 7 technology in Orbi 970 Series is engineered to deliver lightning-fast speeds to all your new gadgets and devices, including:
​​Laptops and smartphones such as iPhones and Android devices​​​
4K/8K Smart TVs and streaming devices
Gaming consoles such as the PlayStation 5 and Xbox Series X/S
Security cameras
AR/VR headsets
High-performance workstations and IoT devices
Even gadgets that aren't equipped with WiFi 7 can still benefit from the Orbi 970 Series.
Orbi 970 Technical Details:
Up to 27 Gbps maximum WiFi speed
Up to 10,000 sq. ft. of whole-home coverage (3-pack)
320MHz high-capacity channels for up to 2.4x faster speeds
4K QAM technology for efficient bandwidth usage
Preamble Puncturing for wider channel availability in high-interference areas
Multi-link Operation for improved network reliability and reduced latency
Enhanced Dedicated Backhaul with 10 Gig wireless speed between router and satellites
Patented Quad-Band technology 1x 2.4 Ghz 2x 5Ghz 1x 6 Ghz WiFi
Multi-Gig Speeds with 10 Gig Internet Port for up to 10 Gbps cable and fiber plans
10 Gig LAN Ports for high-speed wired connections
Connect up to 200 devices
Smooth 4K/8K video streaming, online gaming, and more
Multiple pack-sizes include router and satellites to customize your coverage needs
Video: Orbi 970 Series
Be the First to Upgrade to WiFi 7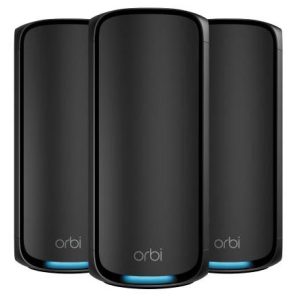 The NETGEAR 970 Orbi Black Edition is available exclusively on NETGEAR.com. 970 is also available in white on NETGEAR.com and other major retailers. Unleash unimaginable possibilities with the most powerful Orbi yet, and experience WiFi 7, perfected.