AX6000 WiFi Router (RAX120)
Nighthawk 12-Stream Dual-Band WiFi 6 Router, 6Gbps
AX6000 WiFi Router (RAX120)
Nighthawk 12-Stream Dual-Band WiFi 6 Router, 6Gbps
Dead zones and buffering are a thing of the past with the Nighthawk AX12 WiFi 6 Router. Get super-fast speeds for better 4K UHD streaming, gaming, or video conferencing. Keep your family safe from online threats with an automatic shield of protection for all your connected devices from NETGEAR Armor™.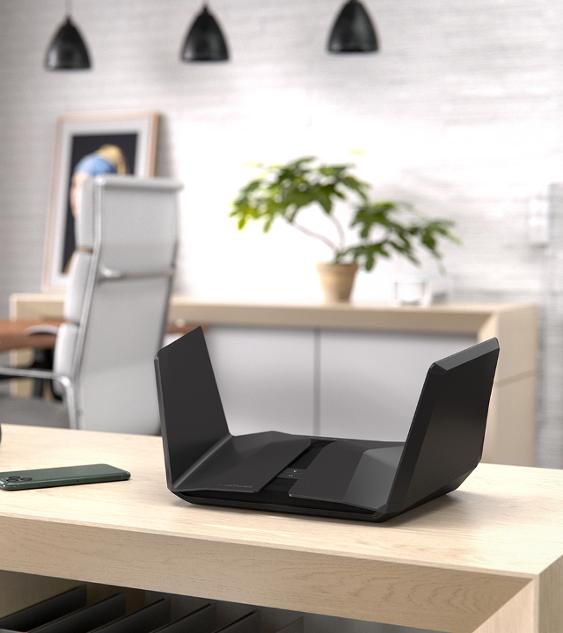 Blazing-fast WiFi Speeds
More WiFi streams help you download, stream, game, and more on the fastest internet speeds available in your home on every device. WiFi so fast, you'll wonder how you lived without it.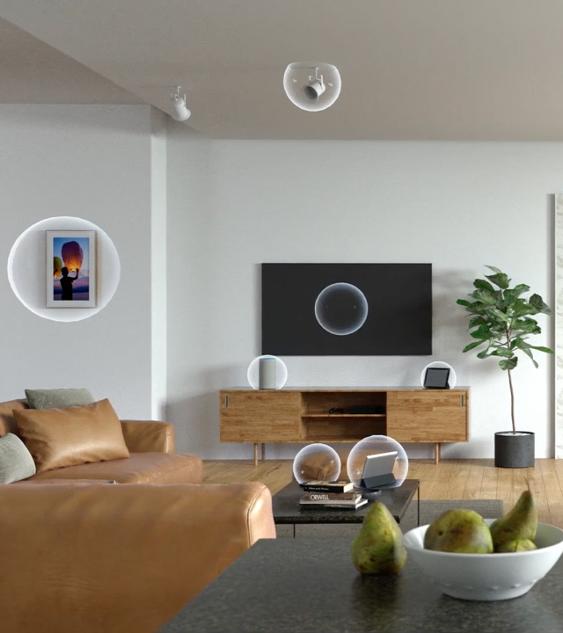 Connect More Devices Worry-Free
With 4X more capacity than your current WiFi, WiFi 6 is the ideal solution for your ever-growing smart home.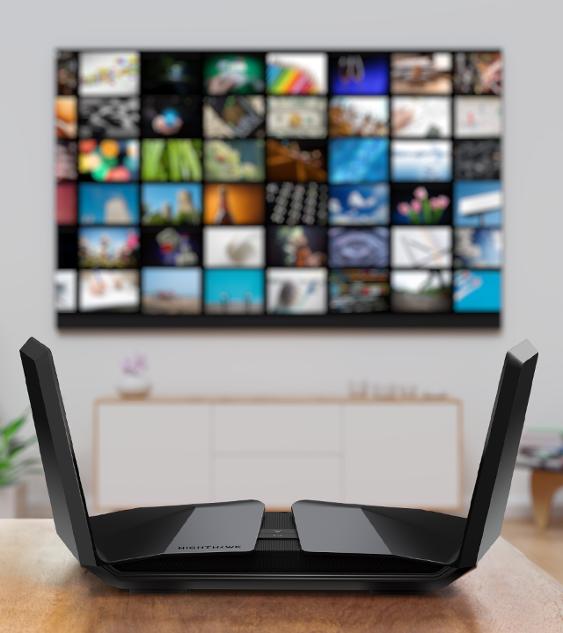 Advanced Whole Home WiFi
State-of-the-art design ensures reliable and powerful WiFi connectivity, from the front door to the backyard. Stream and game in UHD 4K without interruption.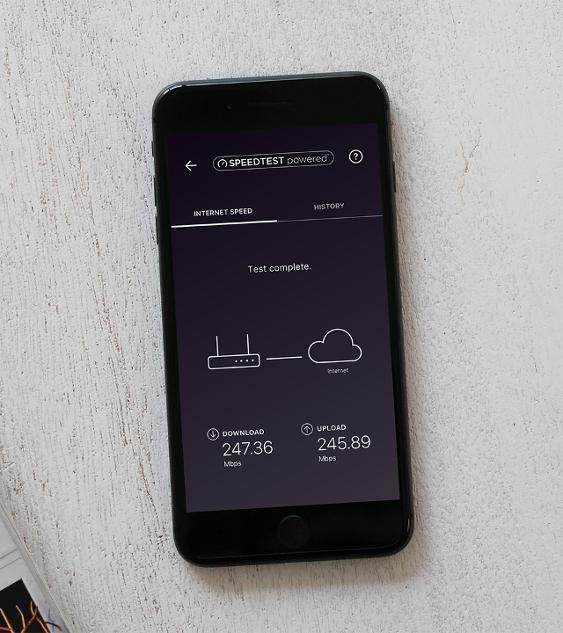 Ease of Use
With the Nighthawk app, you can set up your WiFi in just minutes and manage your Nighthawk Router from the palm of your hand.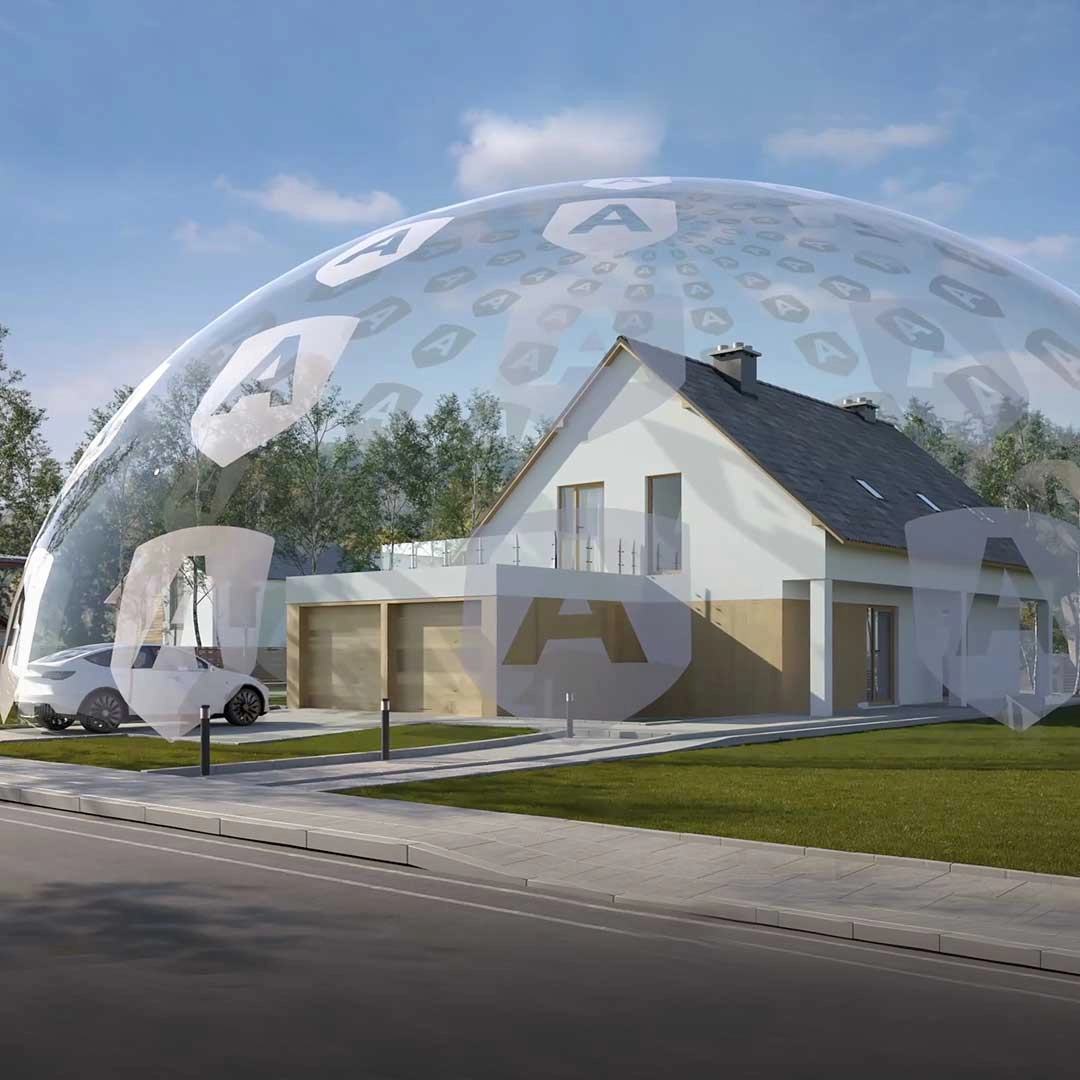 ESSENTIAL ALL-IN-ONE INTERNET SECURITY
You wouldn't leave your door unlocked at night. Treat your WiFi with the same level of security. NETGEAR Armor keeps your family and your connected devices safe with an automatic shield of protection for your network to stop hackers, password thieves, ransomware, and brute force attacks.
Ultra-Fast, Reliable Speeds
Total wireless speeds of up to 6Gbps make for smoother ultra HD 4K streaming.
Room for All Your Smart Devices
WiFi 6 offers 4X more device capacity than WiFi 5. Connect more devices, from your laptop and TV to your thermostat and baby monitor.
Smart Connect
Intelligently selects the fastest WiFi band for every device connection, ensuring the best WiFi to all your connected devices.
Easy to Use
Setting up your Nighthawk Router takes just minutes, and you can easily manage your system with the Nighthawk app.
Ultimate Wired Performance
Maximise your Internet speeds with 5 times the wired speed of a typical Gigabit Ethernet port.
Connect More Wired Devices
4 Gigabit Ethernet LAN ports make it convenient to set up home offices or entertainment spaces.
One Subscription, Unlimited Protection
A single subscription to NETGEAR Armor keeps an unlimited number of connected devices safe from internet threats.
On-the-Go Protection
Install award-winning Bitdefender Security as part of your NETGEAR Armor subscription to stay protected wherever you go.
Keep Your Activity Private
NETGEAR Armor's Bitdefender VPN ensures that your online activity is private, even when you're on an unsecured network.
Guest WiFi
Have visitors? Set up a separate, secure guest network with its own name and password.
Encryption
Rest assured your WiFi is encrypted in accordance with WiFi security standards.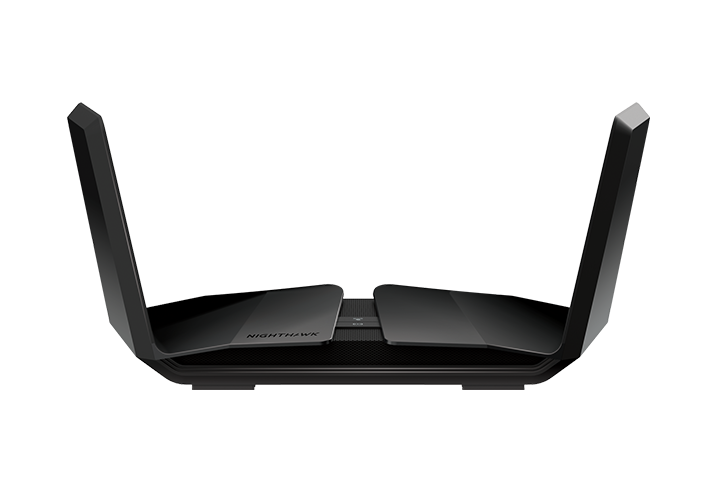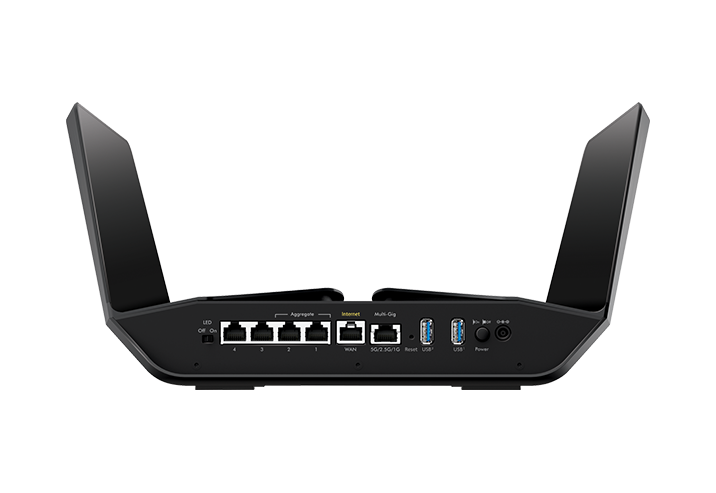 Dimensions :

Folded size: 11.81 x 8.76 x 3.35 in (300 x 222.4 x 85.2 mm)
Unfolded size: 13.6 x 8.76 x 6.69 in (345.5 x 222.4 x 169.8 mm)

Weight :

3lbs (1364g)
WiFi Technology :

802.11ax Dual-Band WiFi (AX6000). 2.4GHz AX: 4x4 (Tx/Rx) 1024 QAM 20/40MHz, up to 1.2Gbps. 5GHz AX: 8x8 (Tx/Rx) 1024-QAM 20/40/80/160MHz, up to 4.8Gbps. Backwards compatible with 802.11a/b/g/n/ac WiFi

WiFi Range :

WiFi coverage for very large homes. Eight (8) concealed antennas pre-optimised for best WiFi performance. Simultaneous dual band 2.4 & 5GHz

Beamforming :

Beamforming+ — Boosts speed, reliability and range of WiFi connections for 2.4 and 5GHz

Number of Ethernet Ports :

Five (5) 10/100/1000 Mbps Gigabit Ethernet ports + one (1) 5G/2.5G/1Gbps Multi-Gig port (configurable). 1 WAN & 4 LAN. Dual Gigabit Ethernet Port Aggregation. 5G/2.5G/1G Multi-Gig Ethernet LAN port

Number of USB Ports :

Two (2) USB 3.0 ports

Processor :

AX optimised powerful 64-bit Quad-core 2.2GHz processor ensures smooth 4K/8K UHD streaming & gaming – ideal for Gigabit internet speeds

Speed :

1200+4800 Mbps with 12-stream connectivity**. Powerful 2.2GHz processor boosts wireless, wired & WAN-to-LAN performance. 1024-QAM provides 25% increased data efficiency and faster speeds than 256-QAM router. 8x8 MU-MIMO allows simultaneous streaming to multiple devices. Multi-gig 5G/2.5G/1G Ethernet port delivers 5 times the wired speed of typical Gigabit Ethernet port

WiFi Capacity :

OFDMA gives you more WiFi for more devices by allowing efficient data transmission at the same time§. 8-stream MU-MIMO‡ enables up to four (4) 2x2 devices to stream content at the same time

Sharing :

Two superspeed USB 3.0 ports up to 10x faster than USB 2.0. ReadySHARE® USB access — Wirelessly access & share USB hard drive via two (2) USB ports.

Ease of Use :

Smart Connect intelligently selects fastest WiFi band for every device connection. One WiFi name for the entire home. Nighthawk App for easy router setup and more, including remote management of network when away from home. AX WiFi supports all current WiFi devices and is backward compatible with 802.11a/b/g/n/ac client devices. Control NETGEAR network with simple voice commands using Amazon Alexa and Google Assistant

Security :

NETGEAR Armor - Advanced cyber threat protection for your home and your connected devices. Supports WPA3™, the latest and cutting-edge WiFi security protocol. VPN client support for network identity protection and prevention of DDoS attacks. Securely access home network & internet connection from mobile devices with VPN support on PC, Mac, and iOS and Android devices with OpenVPN Connect app. Separate & secure access for guests. Automatic firmware updates deliver latest security patches to the router.
Microsoft® Windows 7, 8, 10, Vista®, XP®, 2000, Mac OS®, UNIX®, or Linux®
Microsoft® Internet Explorer® 11 or higher, Microsoft Edge, Google Chrome™ 55 or higher, Firefox® 45 or higher, Safari® 10 or high
Nighthawk® AX12 12-Stream AX6000 WiFi 6 Router (RAX120)
Ethernet cable
Quick start guide
Power adapter
Footnotes:
†† NETGEAR Armor requires a paid subscription after the initial 30-day complimentary trial. Visit netgear.com/armor