NETGEAR DEBUTS PURPOSE-BUILT SWITCHES DEVELOPED AND ENGINEERED FOR AUDIO / VIDEO APPLICATIONS
Out-of -box AV functionality combined with a sleek user interface specifically designed for AV Professional ease of use and set up
San Jose, CA – September 15, 2020 - NETGEAR®, Inc. (NASDAQ:NTGR), the leading provider of networking products that power businesses of all sizes, today announced the addition of an entirely new series of switches designed and built from the ground up for the growing audio video over IP (AV over IP) market. Dubbed the AV Line, these products combine years of networking expertise with best practices from leading experts in the professional AV market.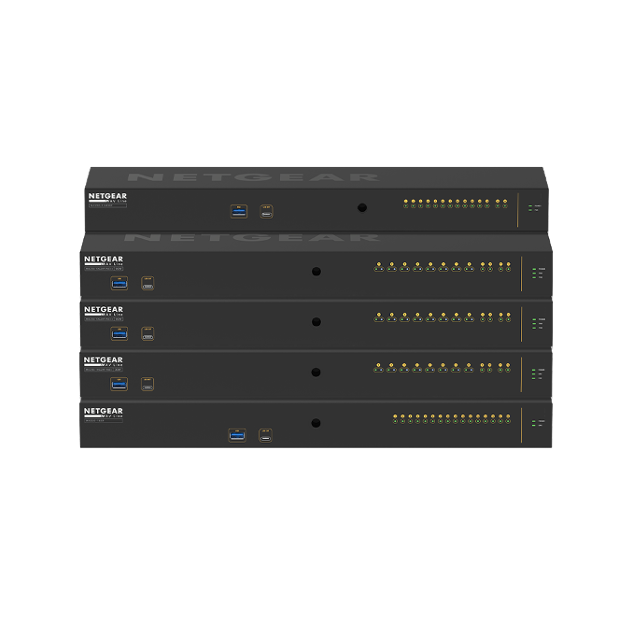 NETGEAR has enhanced the experience for AV professionals by including a new user interface designed from the ground up. Pro AV customers don't have to settle for an IT-centric interface with settings and IT-specific functionality they will never need. The new M4250 AV interface presents the common AV controls right up front with user-selectable profiles for common AV platforms making it a snap to ensure the settings are correct for a specific audio or video application.
The M4250 line of switches also supports more advanced configuration and a robust set of features for many different types of installations. The industry-leading NETGEAR web-based IT GUI along with console, telnet, and SSH connections and a standard, out-of-band Ethernet port are all available for deeper settings adjustments. Additional features include static, RIP and PIM routing, DHCP server and PTPv2.
One of the many features designed into the new M4250 product line is full support for Audio Video Bridging (AVB), an industry standard for transporting content over a network. AVB is used most often when very low latency is required such as in live performances when lip sync is critical. All of the AV Line M4250 switches can be optionally licensed for AVB support.
Codecs for transporting AV signals over a network are generally identified based on bandwidth requirements: 1Gbps or 10Gbps per stream. The new AV Line of M4250 switches targets the widespread 1Gbps codecs giving installers a much wider range of AV-over-IP applications than ever before.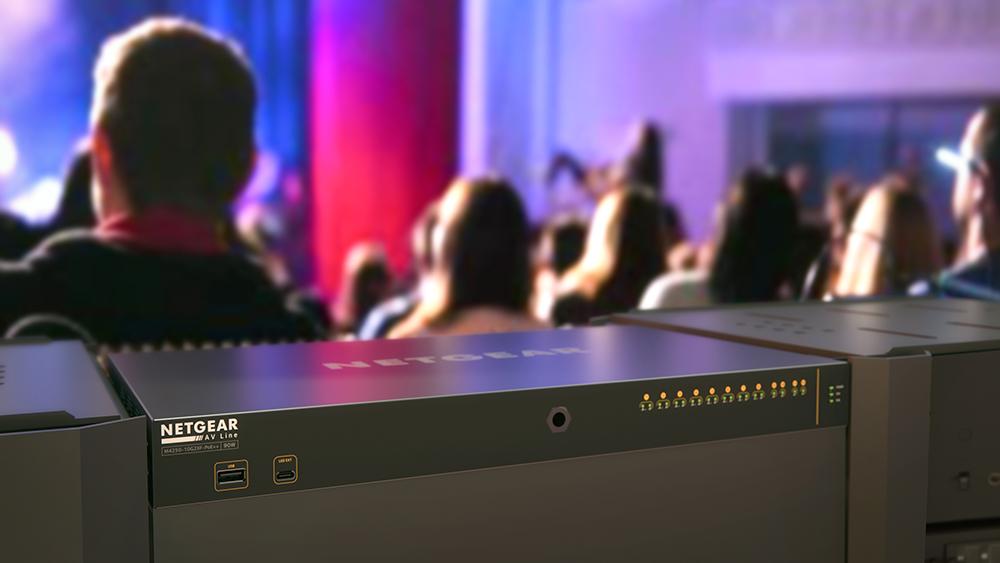 Coupled with an attractive new user interface designed specifically for AV applications, the AV Line of switches offers the most power and value in the professional audio and video industry.
The M4250 switches are designed for a clean integration with traditional rack-mounted AV equipment. A sleek, black display panel provides port and activity status in the front, with all power and network cabling neatly organized in the back. However, when ports are desired on the front of the rack, reverse rack mounting is possible with an included pair of recessed rackmount ears that allow room for the cabling. Additional options for mounting outside the rack are available with universal, threaded holes located on the bottom and the front of each switch.
The switches launching as part of the AV Line series range from 8 to 16 ports with a variety of PoE+ (30W per port) and Ultra90 PoE++ (90W per port) options. In addition, uplink choices include 1G for audio installations or standalone video installations as well as 10G uplinks for larger scale video deployments. The AV Line M4250 series also includes 12-port multi-gigabit Ethernet and 16-port 1G/10G fiber models for plug-and-play aggregation in a totally automated star topology.
"Until today, AV professionals had only a few suitable options for network switches; they had to use IT-based products and learn how to make them work – resulting in a lot of frustration," notes Laurent Masia, director of product line management for managed switches at NETGEAR. "NETGEAR has collaborated intensively with the Pro AV world to better understand the challenges they face. The result is this new AV Line of M4250 switches with out-of-the-box functionality and an industry-first concurrent second user interface solely designed with the AV Pro in mind."
Software-controlled fan adjustments enable the fans to be turned off when ambient temperature and Power-over-Ethernet (PoE) loads are appropriate for fanless operation of the M4250 switches. For use in sound-sensitive environments such as conference rooms, recording studios, and residential installations, this powerful feature provides new opportunities for the AV Line switches to be deployed.
The new AV Line of M4250 switches maintains the same thorough out-of-the-box functionality found on the M4300 and M4500 switches for almost all AV-over-IP encoders and decoders. Pre-configured with NETGEAR IGMP Plus™, the M4250 switches can simply be plugged in and turned on, making multicast setups a breeze. Setup and installation time are greatly reduced, allowing the installer to focus on other parts of the project – NETGEAR has taken care of the multicast presets.
"The NETGEAR M4250 series switch is a great solution for A/V related projects that are network centric," said UC Deployment Engineer Shawn Wallin with AVI Systems, a top-three systems integrator in the US, serving customers around the globe. "This switch line provides an easy to use wizard which greatly simplifies device configuration. This wizard promotes consistent configurations that match up with industry best practices requiring minimal effort from technicians or engineers in the field."
The NETGEAR ProSAFE Limited Lifetime Hardware Warranty on the M4250 series is an example of the commitment to the Pro AV community. This comprehensive package includes 90 days of technical support via phone and email, Lifetime Technical Support through online chat, and Lifetime Next Business Day hardware replacement.
All NETGEAR Pro AV customers can take advantage of free design services as they design and deploy professional audio and video solutions which require IP networking infrastructure. This dedicated Pro AV Engineering Services team of experts spread around the globe helps empower designers and installers of AV over IP systems through free network design assistance, training, and installation support. Reach out to the team for your next project via email: ProAVDesign@netgear.com.
Availability:
NETGEAR AV Line M4250 series and AVB Audio licenses will be available and shipping in the US and Europe starting mid-September:
NETGEAR AV Line M4250-10G2F-PoE+ 8x1G PoE+ 125W 2x1G and 2xSFP Managed Switch (GSM4212P)
NETGEAR AV Line M4250-10G2XF-PoE+ 8x1G PoE+ 240W 2x1G and 2xSFP+ Managed Switch (GSM4212PX)
NETGEAR AV Line M4250-10G2XF-PoE++ 8x1G Utra90 PoE++ 802.3bt 720W 2x1G and 2xSFP+ Managed Switch (GSM4212UX)
NETGEAR AV Line M4250-12M2XF 12x2.5G and 2xSFP+ Managed Switch (MSM4214X)
NETGEAR AV Line M4250-16XF 16x1G/10G Fiber SFP+ Managed Switch (XSM4216F)
AVB licenses:
NETGEAR AVB4212P AVB License for M4250-10G2F-PoE+ (AVB4212P)
NETGEAR AVB4212PX AVB License for M4250-10G2XF-PoE+ (AVB4212PX)
NETGEAR AVB4212UX AVB License for M4250-10G2XF-PoE++ (AVB4212UX)
NETGEAR AVB4214X AVB License for M4250-12M2XF (AVB4214X)
NETGEAR AVB4216F AVB License for M4250-16XF (AVB4216F)
Contact your local AV distributor for pricing.
For more information on NETGEAR Pro AV products and services, please visit NETGEAR.com/proav.
+++
About NETGEAR, Inc.
NETGEAR® (NASDAQ: NTGR) has pioneered advanced networking technologies for homes, businesses, and service providers around the world since 1996 and leads the industry with a broad range of award-winning products designed to simplify and improve people's lives. By enabling people to collaborate and connect to a world of information and entertainment, NETGEAR is dedicated to delivering innovative and advanced connected solutions ranging from mobile and cloud-based services for enhanced control and security, to smart networking products, video over Ethernet for Pro AV applications, easy-to-use WiFi solutions and performance gaming routers to enhance online game play.
The company is headquartered out of San Jose, Calif. with offices located around the globe. More information is available from the NETGEAR Investor Page or by calling (408) 907-8000. Connect with NETGEAR: Twitter, Facebook, Instagram, LinkedIn and the NETGEAR blog at NETGEAR.com.
©2020 NETGEAR, Inc. NETGEAR and the NETGEAR logo are trademarks and/or registered trademarks of NETGEAR, Inc. and/or its affiliates in the United States and/or other countries. Other brand and product names are for identification purposes only and may be trademarks or registered trademarks of their respective holder(s). The information contained herein is subject to change without notice. NETGEAR shall not be liable for technical or editorial errors or omissions contained herein. All rights reserved.
* Actual data throughput and wireless coverage will vary. Network conditions and environmental factors, including volume of network traffic, building materials and construction, and network overhead, lower actual data throughput rate and wireless coverage. NETGEAR makes no express or implied representations or warranties about this product's compatibility with any future standards.
Safe Harbor Statement under the Private Securities Litigation Reform Act of 1995 for NETGEAR, Inc.: This press release contains forward-looking statements within the meaning of the U.S. Private Securities Litigation Reform Act of 1995. Specifically, statements concerning NETGEAR's business and the expected performance characteristics, specifications, reliability, market acceptance, market growth, specific uses, user feedback and market position of NETGEAR's products and technology are forward-looking statements within the meaning of the Safe Harbor. These statements are based on management's current expectations and are subject to certain risks and uncertainties, including, without limitation, the following: the actual price, performance and ease-of-use of NETGEAR's products may not meet the price, performance and ease-of-use requirements of customers; product performance may be adversely affected by real world operating conditions; failure of products may under certain circumstances cause permanent loss of end user data; new viruses or Internet threats may develop that challenge the effectiveness of security features in NETGEAR's products; the ability of NETGEAR to market and sell its products and technology; the impact and pricing of competing products; and the introduction of alternative technological solutions. Further information on potential risk factors that could affect NETGEAR and its business are detailed in the Company's periodic filings with the Securities and Exchange Commission. NETGEAR undertakes no obligation to release publicly any revisions to any forward-looking statements contained herein to reflect events or circumstances after the date hereof or to reflect the occurrence of unanticipated events.
Source: NETGEAR-G
U.S. Media Contact: Nathan Papadopulos, (408) 890-3889, NPapadopulos@netgear.com
U.S. Sales Inquiries: (408) 907-8000, sales@netgear.com