NETGEAR LAUNCHES INDUSTRY'S FIRST UNMANAGED SWITCH WITH FLEXIBLE POWER OVER ETHERNET OPTIONS
Growing businesses and home offices benefit from plug-and-play switches with three mounting options and built-in power selector for easy adjustment of power budgets
SAN JOSE, California — June 26, 2018 — NETGEAR®, Inc. (NASDAQ: NTGR), the leading provider of networking devices for small businesses, the smart home and online game play, is launching new 16-port and 8-port Gigabit Ethernet Unmanaged Switches with the industry's first flexible Power over Ethernet (PoE) integrated technology. Businesses or even home offices needing affordable solutions with a reasonable PoE budget can now easily deploy denser PoE+ devices and high-power PoE+ devices connected to a single switch, for energy efficiency as well as space and cost savings.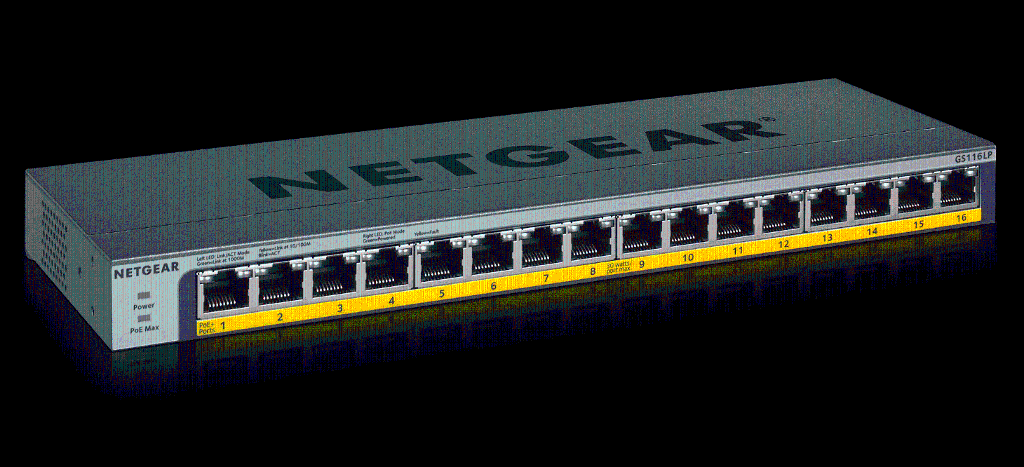 For small businesses and in an increasing number of smart homes, it has become common for the network to be burdened with VoIP phones, IP security cameras, video-over-IP endpoints, sensors, LED lighting, secure access door locks, and other IoT devices. The dense proximity of these devices requires network switches capable of supporting PoE so you can add power-hungry devices to the network with the convenience of a single wire for power AND connectivity. Wave 2 802.11ac wireless access points and pan-tilt-zoom HD surveillance cameras with features such as night vision and built-in motion tracking also require PoE+ power, increasing the power demands on switches supplying PoE.
With these new additions to the NETGEAR Unmanaged Switch family, you can install PoE+ ports in any environment, and exactly where you need them. Their silent operation and small form factor, combined with the rack-mount and wall-mount accessories, give you the flexibility to place a switch in small cabinets, in a 19-inch rack, on a wall, or on a desk.
But what is most unique about these four plug-and-play switches is that they have a built-in intuitive power selector and support optional interchangeable external power supplies that allow you to easily increase PoE budget at any time to provide your devices with the power they need. With this industry-unique feature in an unmanaged switch, you can start with a lower PoE budget and then cost-effectively increase your PoE budget at any time, to grow along with your business needs. If your business has to power more medium to high-power devices in the future, you can easily upgrade just by changing the external power supply. If you already have multiple power-hungry devices, you can go directly to the high-power version switch for the best PoE budget. NETGEAR has designed these switches to adapt as your needs change.
8-Port PoE/PoE+ Gigabit Ethernet Unmanaged Switch with 60W PoE budget (GS108LP) — $99.99
8-Port PoE/PoE+ Gigabit Ethernet Unmanaged Switch with 123W PoE budget (GS108PP) — $129.99
16-Port PoE/PoE+ Gigabit Ethernet Unmanaged Switch with 76W PoE budget (GS116LP) — $179.99
16-Port PoE/PoE+ Gigabit Ethernet Unmanaged Switch with 183W PoE budget (GS116PP) — $219.99
For example, the GS116LP 16-port Unmanaged Switch with 76W is perfect for supporting up to 16 low-power devices such as VoIP phones. The GS116PP Unmanaged Switch with 183W PoE budget easily handles power for 8 high-power devices like access points in addition to 6 low-power devices like VoIP phones.
Additional optional power supplies supporting 60W, 83W or 123W of PoE power on the GS108LP/GS108PP, or 76W, 115W, or 183W for the GS116LP/GS116PP will be available for purchase separately.
"These flexible, cost-effective switching solutions support growing businesses without requiring a big upfront investment. Other solutions in the market require additional add-on equipment purchases if you want to upgrade your PoE budget, and more often also require the purchase of an entirely new switch." said Richard Jonker, vice president of product line management for SMB products at NETGEAR. "The NETGEAR laser-focus on innovation and continuous improvement is the reason we remain the longtime market share leader in small business switching products."
Key features and benefits for adopting the new NETGEAR Unmanaged Switches with PoE/PoE+:
8 or 16 PoE/PoE+ Gigabit Ethernet Ports provide up to 30W per port to any power-hungry device

60W (GS108LP) or 123W (GS108LP) across 8 ports
76W (GS116LP) or 183W (GS116PP) across 16 ports

Flexible PoE Budget for GS108LP/PP (60W, 83W, 123W) making it easy to increase or decrease with interchangeable external power supply units.
Flexible PoE Budget for GS116LP/PP (76W, 115W, 183W) is easy to increase or decrease thanks to an interchangeable external power supply unit.
Flexible mounting options (rack, wall or desktop) adapt to your needs and configuration in any environment.
8 Gbps (8-port models) or 16 Gbps (16-port models) non-blocking switching architecture offers maximum throughput at wire speed without congestion for all the connectivity your devices need.
Small, sturdy form factor with silent, fan-less operation is ideal for noise-sensitive environments like an open office floorplan or your home office or entertainment center.
Plug-and-play, automatic connectivity to your router or modem eliminates the need for an IT expert or complicated user manual.
LED activity indicator on each port so you can easily check network activity status and get maximum power savings through Energy Efficient Ethernet.
Auto-negotiation between the switch and your end devices means they automatically connect at the highest common speed.
The new NETGEAR Unmanaged Switches include ProSAFE® Lifetime Hardware Warranty including Lifetime Next Business Day shipping for part replacement and Lifetime Technical Support options. Consult the NETGEAR website warranty page and your local NETGEAR representative for applicable support services.
Availability
The new NETGEAR PoE/PoE+ Gigabit Ethernet Unmanaged Switches are available now worldwide through authorized NETGEAR partners and other reseller channels and ecommerce sites. Regional variance may apply to the final pricing for end customers depending on any reseller and bundled offerings.
About NETGEAR, Inc.
NETGEAR (NASDAQ: NTGR) is a global networking company that delivers innovative products to consumers, businesses and service providers. The Company's products are built on a variety of proven technologies such as wireless (WiFi and LTE), Ethernet and powerline, with a focus on reliability and ease-of-use. The product line consists of wired and wireless devices that enable networking, broadband access and network connectivity. These products are available in multiple configurations to address the needs of the end-users in each geographic region in which the Company's products are sold. NETGEAR products are sold in approximately 28,000 retail locations around the globe, and through approximately 24,000 value-added resellers, as well as multiple major cable, mobile and wireline service providers around the world. The company's headquarters are in San Jose, Calif., with additional offices in approximately 25 countries. More information is available from the NETGEAR investor page or by calling (408) 907-8000. Connect with NETGEAR on Twitter, Facebook and our blog.
©2018 NETGEAR, Inc. NETGEAR, the NETGEAR logo, and ProSAFE are trademarks and/or registered trademarks of NETGEAR, Inc. and/or its affiliates in the United States and/or other countries. Other brand and product names are for identification purposes only and may be trademarks or registered trademarks of their respective holder(s). The information contained herein is subject to change without notice. NETGEAR shall not be liable for technical or editorial errors or omissions contained herein. All rights reserved.
Safe Harbor Statement under the Private Securities Litigation Reform Act of 1995 for NETGEAR, Inc.: This press release contains forward-looking statements within the meaning of the U.S. Private Securities Litigation Reform Act of 1995. Specifically, statements concerning NETGEAR's business and the expected performance characteristics, specifications, reliability, market acceptance, market growth, specific uses, user feedback and market position of NETGEAR's products and technology are forward-looking statements within the meaning of the Safe Harbor. These statements are based on management's current expectations and are subject to certain risks and uncertainties, including, without limitation, the following: the actual price, performance and ease-of-use of NETGEAR's products may not meet the price, performance and ease-of-use requirements of customers; product performance may be adversely affected by real world operating conditions; failure of products may under certain circumstances cause permanent loss of end user data; new viruses or Internet threats may develop that challenge the effectiveness of security features in NETGEAR's products; the ability of NETGEAR to market and sell its products and technology; the impact and pricing of competing products; and the introduction of alternative technological solutions. Further information on potential risk factors that could affect NETGEAR and its business are detailed in the Company's periodic filings with the Securities and Exchange Commission. NETGEAR undertakes no obligation to release publicly any revisions to any forward-looking statements contained herein to reflect events or circumstances after the date hereof or to reflect the occurrence of unanticipated events.
Source: NETGEAR-G
U.S. Media Contact: Nathan Papadopulos, (408) 890-3889, NPapadopulos@netgear.com
U.S. Sales Inquiries: (408) 907-8000, sales@netgear.com
U.S. Customer Inquiries: (888) NETGEAR