DRIVING THE EVOLUTION OF NEXT-GEN WI-FI, NETGEAR DEBUTS FOUR NEW WI-FI 6 ROUTERS
Don't be left behind – NETGEAR makes the migration to Wi-Fi 6 easy with a family of options
San Jose, CA – April 9th, 2019 – NETGEAR®, Inc. (NASDAQ:NTGR), the industry's leading provider of leading-edge networking products for the home and office, has announced the availability of four new routers that support the latest and fastest Wi-Fi networking standard – Wi-Fi 6 (802.11ax).
Today's households are dealing with an increasing number of connected devices and an increasing demand for greater bandwidth from streaming video, audio and online gaming. Add to this the plethora of smart home devices from IP cameras, voice assistants, smart thermostats and appliances, all of which are dependent on a constant connection to the cloud. These devices just increase the complexity of a network as they compete for bandwidth, pushing wireless home networks beyond the technical threshold for the current generation of Wi-Fi. NETGEAR has solved for this modern-day dilemma with the introduction of a full suite of ultra-fast Wi-Fi 6 routers.
Wi-Fi 6 — the latest generation of Wi-Fi –- delivers up to four times better performance than Wi-Fi 5 (802.11ac) using innovative technologies such as Orthogonal Frequency-Division Multiple-Access (OFDMA) to help maximize the capability to connect multiple devices at the same time, which will help reduce the congestion for the typical bandwidth starved connected home. Wi-Fi 6 will provide a huge boost in total network capacity and reliability, ushering in a new era of speed, performance and capacity for wireless networking in today's homes. The actual quality of the connection for each Wi-Fi device will also be improved by reducing the interference between them, thus ensuring that the experience of lag or buffering is reduced during online gameplay or streaming Ultra HD 8K/4K.
With the introduction, earlier this year, of new smart phones and laptops that have embraced Wi-Fi 6 and with widespread industry support, it is expected that the transition to Wi-Fi 6 will be adopted much more quickly than previous iterations of the wireless networking technology. As the year progresses into 2020 and beyond, the market will continue to see many more devices introduced that support Wi-Fi 6. Additionally, given that Wi-Fi 6 works on both 2.4GHz and 5GHz band and is 100% compatible with previous generations of Wi-Fi, upgrading to a Wi-Fi 6 router now will ensure that your network is set for years to come.
"While previous Wi-Fi iterations have been largely about improvements to speed, Wi-Fi 6 promises a number of other benefits such as lower battery consumption and most notably increased capacity and reduced latency," explains David Watkins, director, Intelligent Home Group for Strategy Analytics. "The average North American home today has 10 Wi-Fi devices and this figure is set to grow significantly over the coming decade as consumers adopt more Smart Home devices. The enhanced capacity of Wi-Fi 6 will ensure that consumers experience great performance across all their devices even as those devices demand more data from ever richer media services."
To make the most of the higher speeds and greater bandwidth for the broad range of household network needs, NETGEAR has released a new family of routers featuring the industry's latest Wi-Fi 6 standard with four times increased data capacity to handle today and tomorrow's growing home network.
Today, NETGEAR is announcing the latest model, Nighthawk® AX4 4-Stream AX3000 (RAX40) providing all the benefits of Wi-Fi 6 at a budget-friendly price point. With the new Nighthawk AX4 Wi-Fi 6 router, you'll be prepared for this major technology shift to faster connectivity and greater capacity to handle the numerous devices now connected in the home.
Nighthawk® AX4 4-Stream AX3000 Wi-Fi 6 Router (RAX40) – $199.99 – Availability: April 2019 – features combined Wi-Fi speeds up to 3Gbps and an AX optimized dual-core processor powers smart home automation, ultra-smooth 4K UHD streaming, online gaming, and more.

4-stream Wi-Fi with up to 600 + 2400Mbps for ultra-fast wireless speeds.
Powerful Processor—Dual-core processor ensures smooth 4K UHD streaming & gaming.
Powerful amplifiers for network coverage throughout medium size homes
Nighthawk® AX8 8-Stream AX6000 Wi-Fi 6 Router (RAX80) – $399.99 – Availability: Now – The Nighthawk® AX8 8-Stream AX6000 Wi-Fi Router features blazing-fast combined Wi-Fi speeds up to 6Gbps with an award-winning design recognized by both Red Dot and iF Design awards. Eight Wi-Fi spatial streams - four in the 2.4GHz band, and four in the 5GHz band - offer four times the device capacity as compared to typical 2x2 AC Wi-Fi. Multi-Gig Internet enables customers to get more than one Gbps of Internet through aggregation.
Nighthawk® AX12 12-stream AX6000 Wi-Fi 6 Router (RAX120) – $499.99 USD – Availability: April 2019 – This 12-stream router offers combined Wi-Fi speeds up to 6Gbps and AX optimized 64bit 2.2GHz Quad-core processor an award-winning design recognized by both Red Dot and iF Design awards. Have more fun with the uninterrupted 4K/8K Ultra HD streaming, gaming, and the smart home experience. As the only router with 8 streams on 5GHz, you will get better range and reliability with all devices. Built-in 5Gbps Multi-Gig Ethernet provides powerful connectivity options.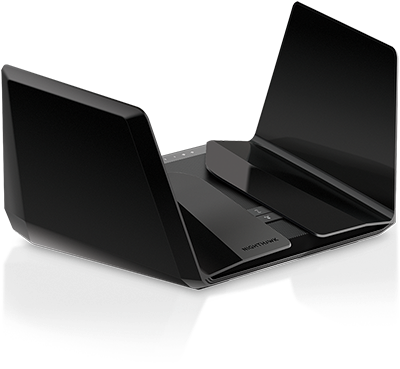 Nighthawk® Tri-band AX12 12-stream Wi-Fi 6 Router (RAX200) – $599.99 USD - Availability: May 2019 – The Nighthawk® Tri-band AX12 Wi-Fi 6 Router offers the fastest Wi-Fi speeds with a combined speed of up to 10.8Gbps designed to specifically address the smart homes of today and into tomorrow, which are crowded with an ever growing number of connected of devices. This tri-band Wi-Fi 6 router ensures that there is an abundance of bandwidth available to distribute to all the connected devices on the network delivering the best performance without congestion or drop outs. While streaming 4K/8k Ultra HD video and playing online games simultaneously on the same network, you'll now be able to enjoy the experience without lag or interruptions. This router also supplies a 2.5Gbps Multi-Gig Ethernet that can be used for LAN or internet connectivity.
These new routers feature the Nighthawk award-winning design with the speed, power, and ease-of-use consumers have come to expect from NETGEAR products.
About NETGEAR, Inc.
NETGEAR (NASDAQ: NTGR) is a global networking company that delivers innovative products to consumers, businesses and service providers. The Company's products are built on a variety of proven technologies such as wireless (Wi-Fi and LTE), Ethernet and powerline, with a focus on reliability and ease-of-use. The product line consists of wired and wireless devices that enable networking, broadband access and network connectivity. These products are available in multiple configurations to address the needs of the end-users in each geographic region in which the Company's products are sold. NETGEAR products are sold in approximately 23,000 retail locations around the globe, and through approximately 22,000 value-added resellers, as well as multiple major cable, mobile and wireline service providers around the world. The company's headquarters are in San Jose, Calif., with additional offices in approximately 25 countries. More information is available from the NETGEAR investor page or by calling (408) 907-8000. Connect with NETGEAR on Twitter, Facebook and our blog.
©2019 NETGEAR, Inc. NETGEAR, the NETGEAR logo, Nighthawk, Nighthawk Pro Gaming and the Nighthawk Pro Gaming logo are trademarks and/or registered trademarks of NETGEAR, Inc. and/or its affiliates in the United States and/or other countries. Other brand and product names are for identification purposes only and may be trademarks or registered trademarks of their respective holder(s). The information contained herein is subject to change without notice. NETGEAR shall not be liable for technical or editorial errors or omissions contained herein. All rights reserved.
* Actual data throughput and wireless coverage will vary. Network conditions and environmental factors, including volume of network traffic, building materials and construction, and network overhead, lower actual data throughput rate and wireless coverage. NETGEAR makes no express or implied representations or warranties about this product's compatibility with any future standards.
Safe Harbor Statement under the Private Securities Litigation Reform Act of 1995 for NETGEAR, Inc. : This press release contains forward-looking statements within the meaning of the U.S. Private Securities Litigation Reform Act of 1995. Specifically, statements concerning NETGEAR's business and the expected performance characteristics, specifications, reliability, market acceptance, market growth, specific uses, user feedback and market position of NETGEAR's products and technology are forward-looking statements within the meaning of the Safe Harbor. These statements are based on management's current expectations and are subject to certain risks and uncertainties, including, without limitation, the following: the actual price, performance and ease-of-use of NETGEAR's products may not meet the price, performance and ease-of-use requirements of customers; product performance may be adversely affected by real world operating conditions; failure of products may under certain circumstances cause permanent loss of end user data; new viruses or Internet threats may develop that challenge the effectiveness of security features in NETGEAR's products; the ability of NETGEAR to market and sell its products and technology; the impact and pricing of competing products; and the introduction of alternative technological solutions. Further information on potential risk factors that could affect NETGEAR and its business are detailed in the Company's periodic filings with the Securities and Exchange Commission. NETGEAR undertakes no obligation to release publicly any revisions to any forward-looking statements contained herein to reflect events or circumstances after the date hereof or to reflect the occurrence of unanticipated events.
Source: NETGEAR-G
U.S. Media Contact: Nathan Papadopulos, (408) 890-3889, NPapadopulos@netgear.com
U.S. Sales Inquiries: (408) 907-8000, sales@netgear.com