PERFORMANCE. PRIVACY. PROTECTION.
When it comes to your business, you deserve better than a public WiFi connection. With a NETGEAR mobile router or hotspot, you don't have to go anywhere without your WiFi -- it's the only network you can always trust.
CONNECTIVITY

Are wired Internet speeds not meeting your business' needs? You can use your 4G LTE connection as your primary Internet source.

Simply connect your Nighthawk mobile router to your existing router, and share 4G LTE speeds on all your workplace devices.

When you're ready to leave the workplace, take the Nighthawk mobile router with you, and keep up to 32 WiFi devices seamlessly connected.
MOBILITY

Keep your teams connected to high-speed 4G LTE as they meet clients or conduct service calls around town.

Access, share, and manage data using a Nighthawk mobile router that keeps up with your business, wherever and whenever.
SECURITY

Using public WiFi may turn your sensitive data into public knowledge. With a Nighthawk mobile router, you know who's on your WiFi and how it's being used, and your important data is always safe.

Connect on the move without worry.
For onsite service
A strong, secure Internet connection is crucial for road warriors who spend most of their time on the move to help clients. With the Nighthawk mobile router, mobile staff members have a connection that's both safe and high-performing, so that they can do just as much on the road as they could in the office.
For mobile healthcare
A reliable network can have a huge impact on the success of medical service providers. The Nighthawk Mobile Router ensures clinicians are constantly connected, even when wired Internet is unavailable. With their own mobile WiFi, they can overcome connectivity issues to securely access private patient information, and provide care for those in need.
For shared space work
Employees who travel or work remotely often have to work in shared spaces. Connecting their many devices to public WiFi to access the Cloud, however, can put valuable data at risk. With the Nighthawk mobile router, people can access important files on their own network so that they can work with peace of mind and privacy, wherever.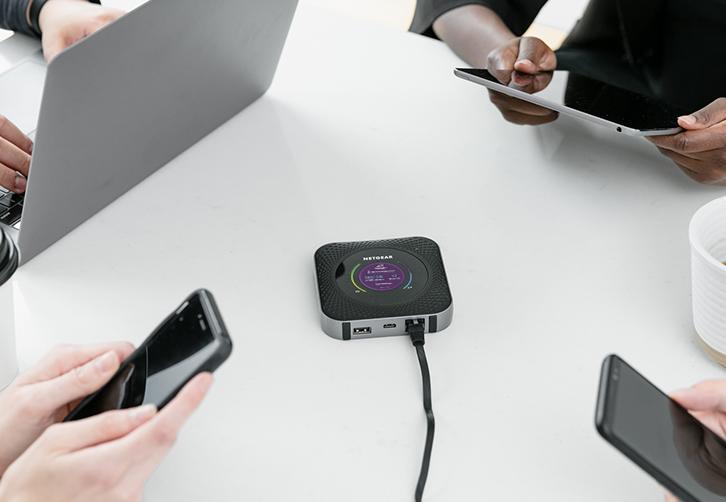 SECURE WIFI. ANYWHERE.
With mobile broadband products by NETGEAR, you don't have to go anywhere without your WiFi. You will always know who's on your network. And you can always trust your personal network.
• Track data usage by month and session
• Check the status of your WiFi connection and battery life in real-time
• View connected WiFi devices
• Turn off your hotspot
• Enable Dual-Band WiFi (applicable models only)
• Beep your mobile router or hotspot (applicable models only)
• View and play media files
• Offloading to WiFi or Ethernet
• Download the NETGEAR MOBILE app on