AX6000 WiFi Cable Modem Router (CAX80)
Nighthawk® DOCSIS® 3.1 6Gbps Two-in-one Cable Modem + WiFi 6 Router
The first of its kind, the Nighthawk® AX8 8-Stream WiFi 6 Cable Modem Router has a built-in DOCSIS® 3.1 cable modem to deliver both the best WiFi and the fastest multi-gigabit internet throughout your home.
AX6000 WiFi Cable Modem Router (CAX80)
Nighthawk® DOCSIS® 3.1 6Gbps Two-in-one Cable Modem + WiFi 6 Router
The first of its kind, the Nighthawk® AX8 8-Stream WiFi 6 Cable Modem Router has a built-in DOCSIS® 3.1 cable modem to deliver both the best WiFi and the fastest multi-gigabit internet throughout your home.
Order now and we'll ship as soon as it's back in stock.
Notify me when this item comes back in stock
First of Its Kind
This WiFi 6 router has a built-in DOCSIS 3.1 cable modem to provide the best WiFi and the best internet in one.
Faster WiFi, Better Performance
WiFi 6 with speeds up to 6Gbps makes it possible to stream and game in ultra HD 4K on multiple devices at once without being slowed down.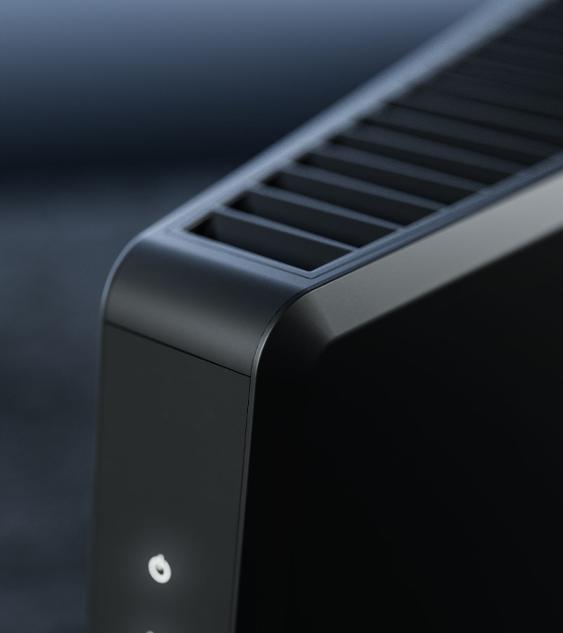 Ultra-Fast Connections with DOCSIS 3.1
With a DOCSIS 3.1 modem, you get the best internet speeds available today – up to 10 Gbps download and 1 Gbps upload – and you're prepared for any future upgrades from your provider.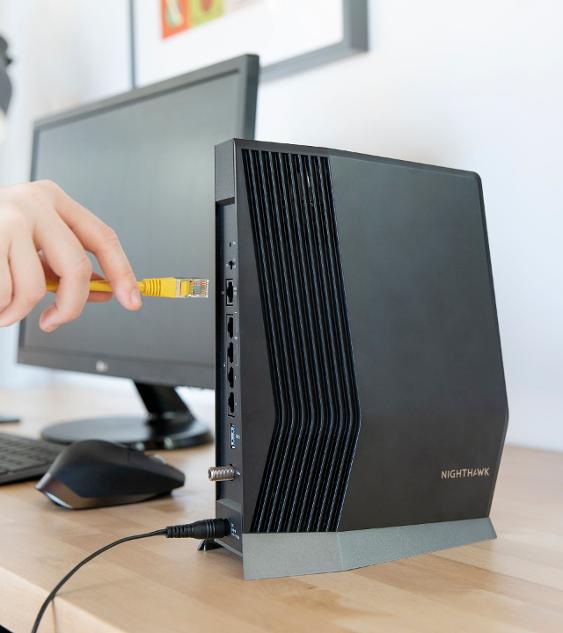 Stop Renting, Start Saving
By owning your cable modem, you save on monthly equipment rental fees and ensure you're getting the best speeds possible.
NETGEAR Armor
NETGEAR Armor cybersecurity keeps your network and private data safe from online threats, at home and on the go. One subscription protects an unlimited number of connected devices, from phones and laptops to thermostats and security cameras.
Built for WiFi 6 and DOCSIS 3.1
Blazing-fast WiFi speeds, more WiFi capacity, and multi-gigabit internet create an unprecedented, next-level experience.
Ultra-Fast Speeds
Enjoy wireless speeds of up to 6Gbps.
Next-Generation DOCSIS 3.1
Get support for up to 2.5 times faster internet speeds and 10 times faster download speeds than the first-generation DOCSIS 3.0 modem.
Compatible with Major Service Providers
Works right out of the box with all internet speed tiers from all major service providers.
Multi-Gig Experience
Maximize your internet speeds with 2-port aggregation to achieve up to 2Gbps for ultra-fast download for streaming and gaming.
Powerful Dual-Core Processor
A 1.5Ghz dual-core processor efficiently handles multi-gig LAN/WAN traffic.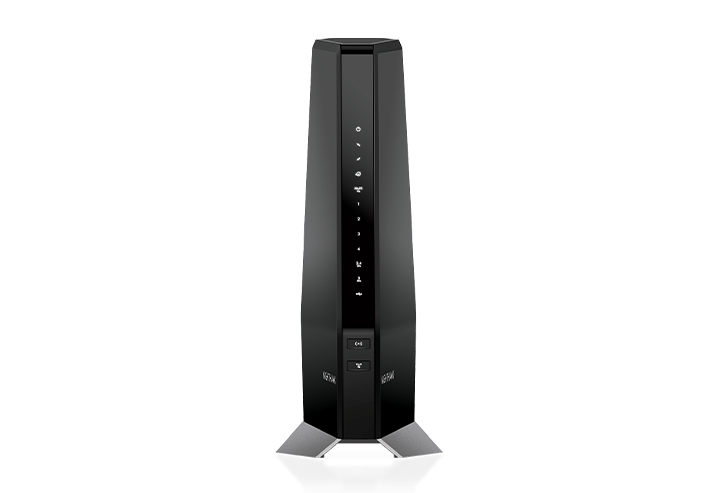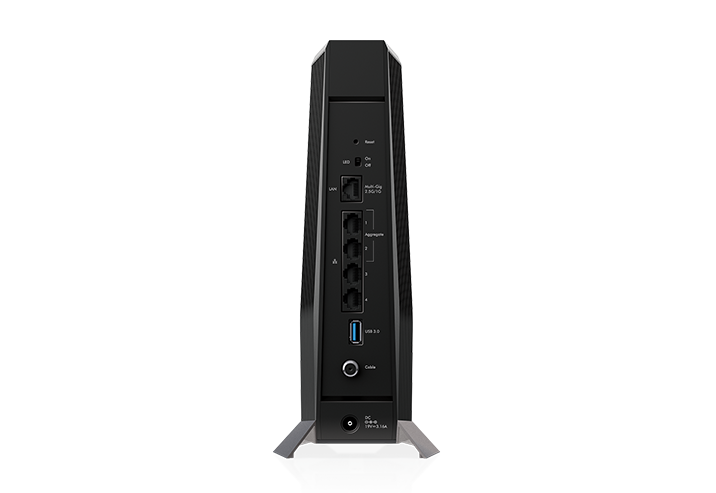 Dimensions :

10.4 x 8.5 x 4.3 in / 264 x 215 x 110 mm

Weight :

2.55 lb / 1.16 kg
Nighthawk® AX8/8-Stream WiFi 6 Cable Modem Router
Ethernet cable
Quick start guide
Power adapter
WiFi Technology :

802.11ax Dual Band WiFi (AX6000). 2.4GHz AX: 4x4 (Tx/Rx) 1024 QAM 40MHz, up to 1.2Gbps. 5GHz AX: 4x4 (Tx/Rx) 1024 QAM 160MHz, up to 4.8Gbps

Speed and Range :

DOCSIS® 3.1 supports 1Gbps+ Internet speed

Modem :

Built-in high-speed DOCSIS® 3.1 Cable. OFDM 2x2+ 32x8 channel bonding

Number of Ethernet Ports :

Four (4) Gigabit Ethernet LAN ports. Dual Gigabit Ethernet Port Aggregation. One (1) 2.5Gbps Ethernet Port

Number of USB Ports :

One (1) USB 3.0 port—Connect storage. Devices to store & stream your own media

Key Features :

Eliminate monthly cable modem rental fees and save up to $168 per year**. Works right out of the box with XFINITY® from Comcast, Spectrum® COX® and more. 4X Better Performance than an AC Cable Modem Router—8 Stream WiFi with up to 1.2 + 4.8 Gbps† for ultra-fast wireless speeds*. More WiFi for More Devices—OFDMA allows efficient data transmission up to 8 devices at the same time. Uplink OFDMA improves scheduling during high volumes of upload traffic, particularly when that traffic is created simultaneously.§. Powerful Processor— dual-core 1.5GHz processor ensures smooth 4K UHD streaming & gaming. Multi-Gig Ethernet Port 2.5G—2.5 times the wired speed of a typical Gigabit port to be used for LAN or Internet connectivity. Smart Connect—Intelligently selects the fastest WiFi band for every device connection. One WiFi name for the entire home. Nighthawk® App—Easily set up your router and get more out of your WiFi. Includes remote access to manage your network away from home. WiFi 6 supports all current WiFi devices and is backward compatible with WiFi 5 and earlier generation devices

Security :

VPN Support—Secure access to your home network away from home. Firewall protection (SPI and NAT). Denial-of-service (DoS) attack prevention
Cable Broadband Internet service
Please check your Cable Internet Service Provider web site for data speed tier compatibility and to ensure it provides DOCSIS® 3.1 service, otherwise this modem will only work as a DOCSIS® 3.0 modem
Not compatible with Cable bundled voice services
This product is backed by a NETGEAR limited 1-year Hardware Warranty

Find troubleshooting tips to diagnose product issues in our knowledge base

Extend your warranty & technical support within 90 days of product purchase [US only].

Footnotes :

†Multi-Gig Internet speeds require compatible service plans and equipment. Please visit support.netgear.com for more information.
*Maximum wireless signal rate derived from IEEE 802.11 specifications. Actual data throughput and wireless coverage will vary and may be lowered by network and environmental conditions, including network traffic volume and building construction. NETGEAR makes no representations or warranties about this product's compatibility with AX standards.
**Savings shown may vary by cable service providers.
§Requires compatible AX clients.