NIGHTHAWK® AX8 8-Stream WiFi 6 Cable Modem Router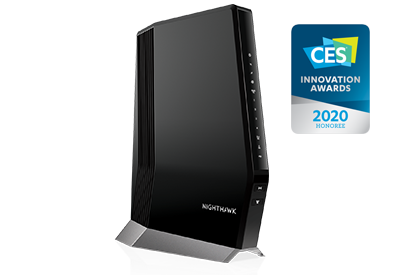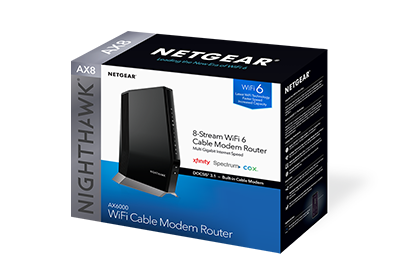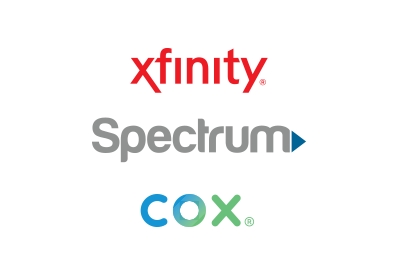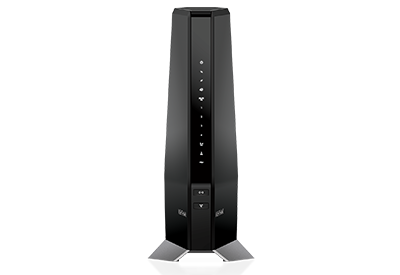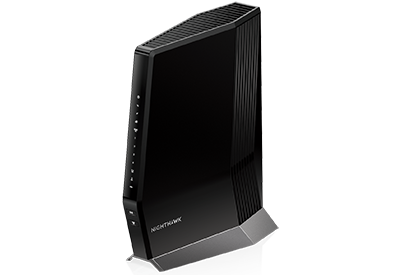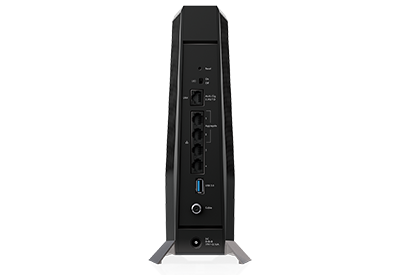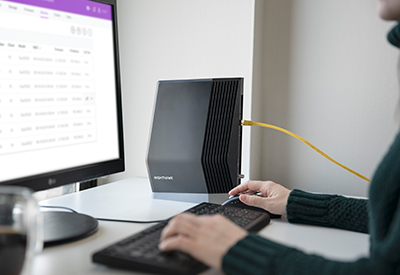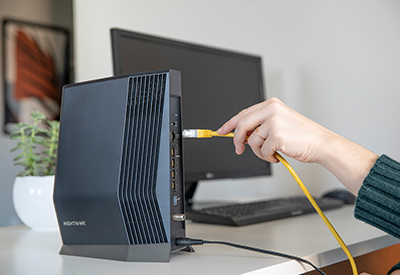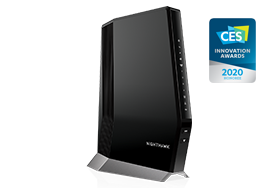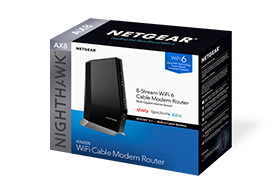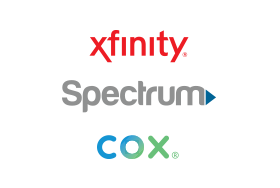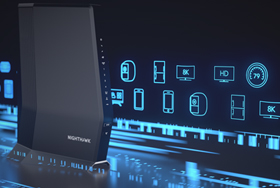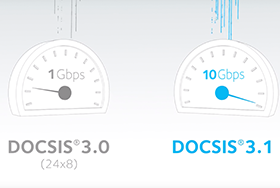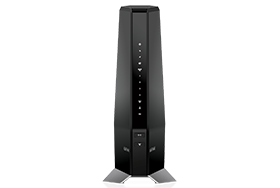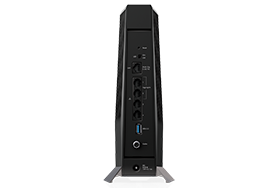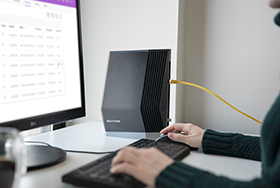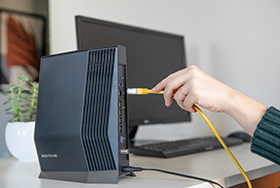 Price:
In Stock
Features

:
First of its kind: Built in DOCSIS® 3.1 Cable modem with WiFi 6

Faster WiFi, better Performance with WiFi 6

Multi-gig Wired and Wireless speed

Eliminate monthly cable modem rental fees

Powerful Dual-Core 1.5GHz Processor

Multi-Gig 2.5Gbps LAN and Link aggregation support

Works with XFINITY® from Comcast, Spectrum® and COX® and more

Easy setup and Management with the Nighthawk App

Auto Firmware update
Leading the New Era of WiFi
Experience the future of WiFi with the latest blazing fast WiFi 6 technology. Enjoy 4 times the capacity, improved performance, and up to 10X faster download speeds with the DOCSIS® 3.1 Cable Modem and a future-proof router ready for the fastest WiFi available. Now you can enjoy lag-free gaming.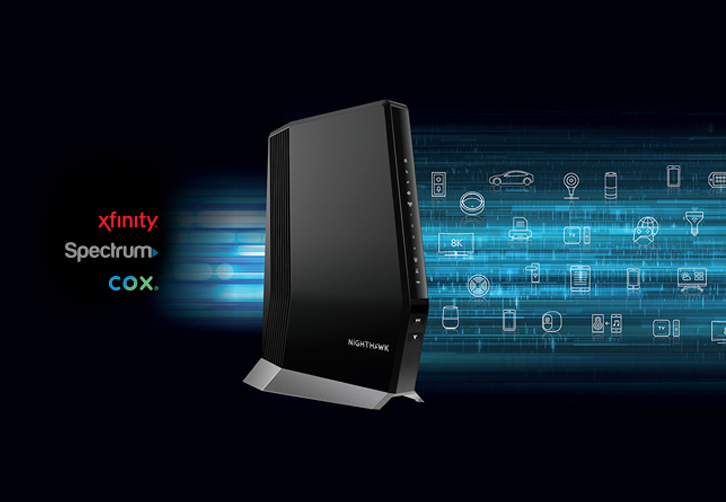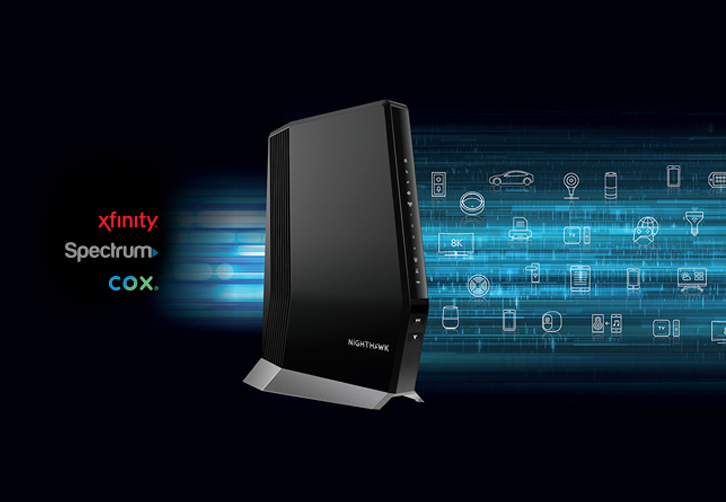 WiFi 6—Ready for Today and Tomorrow's Smart Home
Introducing WiFi 6—the latest generation of WiFi that delivers four times better performance than AC WiFi. With innovative technologies, such as Orthogonal Frequency-Division Multiple-Access (OFDMA)§, 4x4 Multi-User MIMO, and intelligent scheduling, WiFi 6 delivers a huge boost in speed and total capacity. Rising to the challenges of modern smart home demands, this new standard of WiFi is ready to support more devices with better reliability and faster speeds.
Ultra-High Speed Connections with DOCSIS® 3.1
DOCSIS® 3.1 offers a huge jump in download and upload internet speeds, supporting up to 10 Gbps download and 1 Gbps upload speeds. Since the technology is backwards compatible, upgrading to a DOCSIS® 3.1 modem means you'll still enjoy your current internet service and be ready for the fastest speeds available in your area when your service provider upgrades to DOCSIS® 3.1.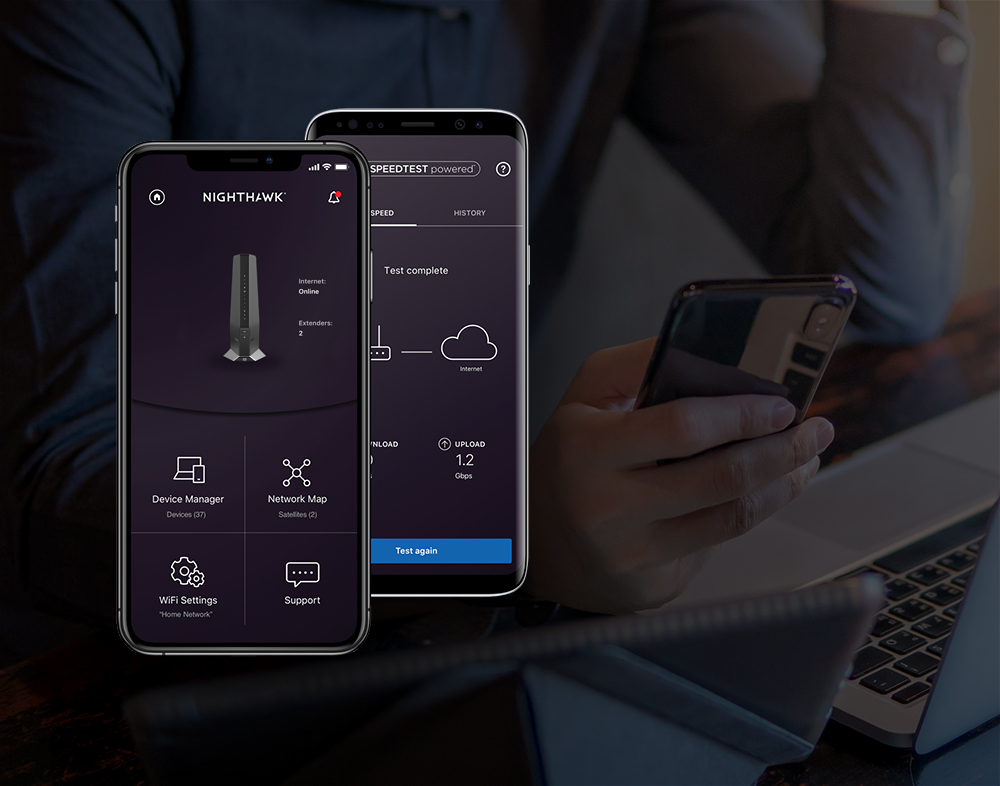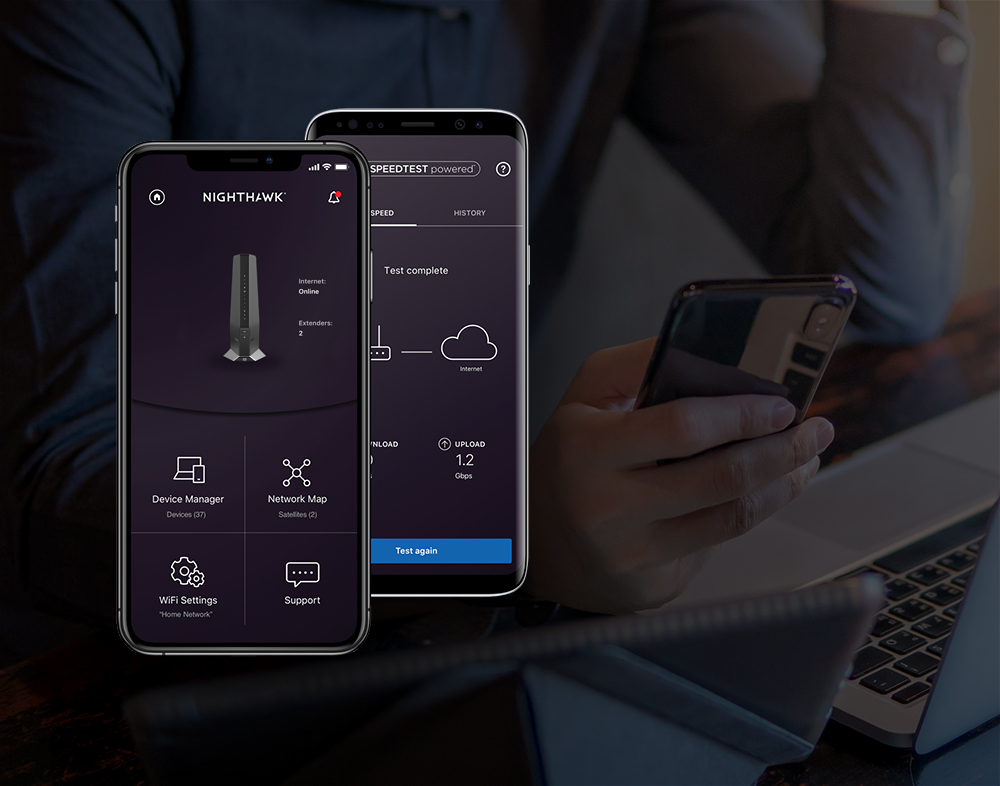 Nighthawk App
The NETGEAR Nighthawk® App makes it easy to set up your cable modem router and get more out of your WiFi. With the app, you can install your router in few steps - just connect your mobile device to the router network and the app will walk you through the rest. Once set up, you can use the intuitive dashboard to pause Internet on your connected devices, run a quick Internet speed test and much more.
IDEAL USES
Upgrade to the Fastest Tiers

Internet service providers are extending Gigabit internet service throughout the country. Enjoy the fastest broadband internet speeds offered today and be ready for future upgrades.

For Multi-Gig Speeds

Nighthawk AX8 WiFi 6 Cable Modem Router is one of the first cable modem routers to support Multi-Gig 2.5Gbps and LAN port aggregation that allows combining two Gigabit Ethernet ports to deliver Gigabit+ internet speed from your service provider's networks to your home (where supported).

Own and Save Money

Replace your existing cable modem and router with this two-in-one cable modem + WiFi router. With no monthly equipment rental fees, own your modem and save up to $168 per year.**
TECH SPECS
WiFi Technology

802.11ax Dual Band WiFi (AX6000)
2.4GHz AX: 4x4 (Tx/Rx) 1024 QAM 40MHz, up to 1.2Gbps
5GHz AX: 4x4 (Tx/Rx) 1024 QAM 160MHz, up to 4.8Gbps

Speed and Range

DOCSIS® 3.1 supports 1Gbps+ Internet speed

Modem

Built-in high-speed DOCSIS® 3.1 Cable
OFDM 2x2+ 32x8 channel bonding

Number of Ethernet Ports

Four (4) Gigabit Ethernet LAN ports
Dual Gigabit Ethernet Port Aggregation
One (1) 2.5Gbps Ethernet Port

Number of USB Ports

One (1) USB 3.0 port—Connect storage
Devices to store & stream your own media

Key Features

Eliminate monthly cable modem rental fees and save up to $168 per year**
Works right out of the box with XFINITY® from Comcast, Spectrum® COX® and more
4X Better Performance than an AC Cable Modem Router—8 Stream WiFi with up to 1.2 + 4.8 Gbps† for ultra-fast wireless speeds*
More WiFi for More Devices—OFDMA allows efficient data transmission up to 8 devices at the same time. Uplink OFDMA improves scheduling during high volumes of upload traffic, particularly when that traffic is created simultaneously.§
Powerful Processor— dual-core 1.5GHz processor ensures smooth 4K UHD streaming & gaming
Multi-Gig Ethernet Port 2.5G—2.5 times the wired speed of a typical Gigabit port to be used for LAN or Internet connectivity
Smart Connect—Intelligently selects the fastest WiFi band for every device connection. One WiFi name for the entire home
Nighthawk® App—Easily set up your router and get more out of your WiFi. Includes remote access to manage your network away from home
WiFi 6 supports all current WiFi devices and is backward compatible with WiFi 5 and earlier generation devices

Security

VPN Support—Secure access to your home network away from home
Firewall protection (SPI and NAT)
Denial-of-service (DoS) attack prevention

System Requirements

Cable Broadband Internet service
Please check your Cable Internet Service Provider web site for data speed tier compatibility and to ensure it provides DOCSIS® 3.1 service, otherwise this modem will only work as a DOCSIS® 3.0 modem
Not compatible with Cable bundled voice services

Physical Specifications

Dimensions: 10.4 x 8.5 x 4.3 in / 264 x 215 x 110 mm
Weight: 2.55 lb / 1.16 kg

Package Content

Nighthawk® AX8/8 Stream WiFi 6 Cable Modem Router
Ethernet cable, Quick Start Guide, power adapter
Warranty
This product is backed by a NETGEAR limited 1-year Hardware Warranty. 24/7 basic technical support provided for 90 days from purchase date, when purchased from a NETGEAR authorized reseller.
†Multi-Gig Internet speeds require compatible service plans and equipment. Please visit support.netgear.com for more information.
*Maximum wireless signal rate derived from IEEE 802.11 specifications. Actual data throughput and wireless coverage will vary and may be lowered by network and environmental conditions, including network traffic volume and building construction. NETGEAR makes no representations or warranties about this product's compatibility with AX standards.
**Savings shown may vary by cable service providers.
§Requires compatible AX clients.