4G LTE Modem (LM1200)
NETGEAR 4G LTE Modem
4G LTE Modem (LM1200)
NETGEAR 4G LTE Modem
For homes with a slow Internet option (DSL) or no Fixed-line broadband service, NETGEAR® LM1200 4G LTE Modem provides reliable Internet connection via LTE network. Blast past your limitations and maximize your internet speeds up to 150Mbps† to experience fast download speeds for ultimate streaming and gaming.
Fast and reliable LTE connection
Maximize your speeds in areas where cable, DSL or fiber Internet are limited or unavailable.
Instant LTE Internet
Plug in an active Nano SIM card from your service provider and instantly access the LTE network as the primary connection for your home or business.
Works with Any WiFi Router or System
Connect to any WiFi Router or System for a boost in range and speed for all devices in your entire home or office.
Compact, modern design
The compact, modern design fits in well within any space.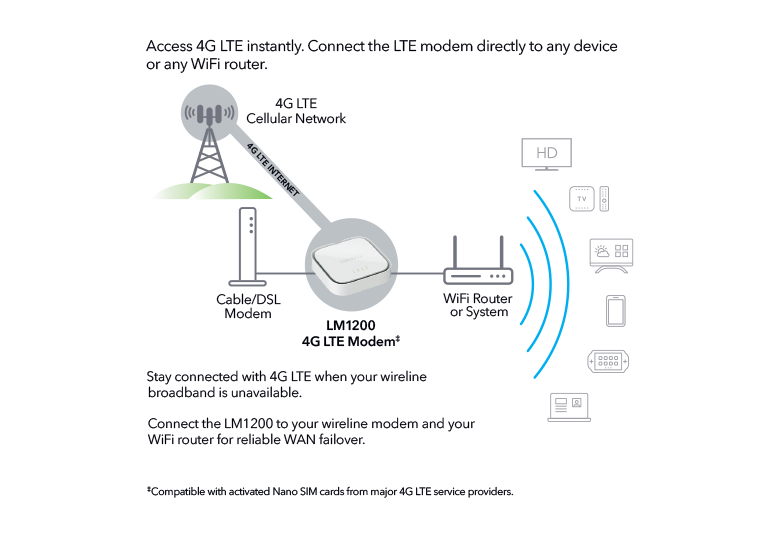 Supports Modem/Router Mode
Use your Multi-Gig Cable Modem as a two-in-one combo for more adaptability wherever you take it.
Bring 4G LTE Internet to your home or office
Connect the modem directly to any device or any WiFi router.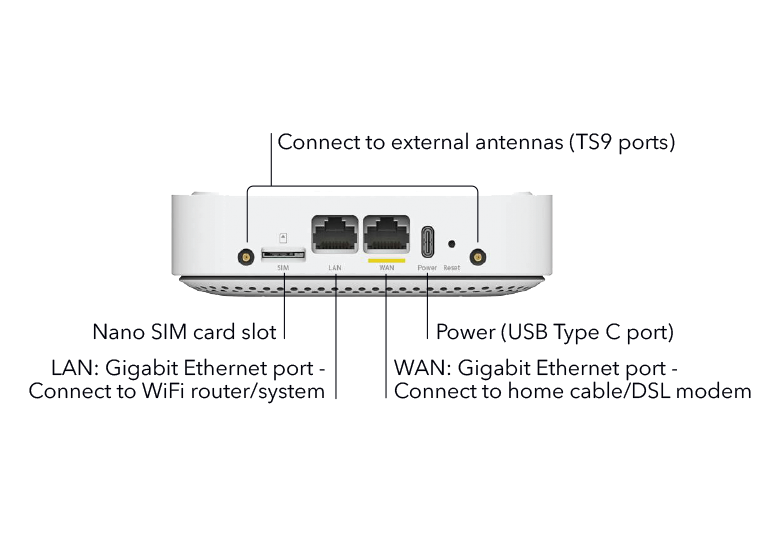 Dimensions :

4.56 x 4.56 x 1.27 in (116 x116 x 32.25 mm)

Weight :

0.39lb (180g)
Band Support :

LTE CAT 4 (Up to 150Mbps DL and 50Mbps UL):
— FDD:700/800/900/1800/2100/2600MHz
— TDD: 2300/2500/2600MHz
UMTSDC-HSPA+ (up to 42Mbps): 900/1200MHz

Power Adapter :

DC 5V, 2A
USB Type-C cable

External Ports :

One (1) USB Type-C for power
Two (2) Gigabit Ethernet ports**
One (1) Nano SIM slot
Two (2) TS9 RF ports
SYSTEM REQUIREMENTS :

Compatible 2G/3G/4G LTE Mobile Service (3FF Micro-SIM)
Microsoft Windows® 7, 8, 8.1, 10, Vista, XP, Mac OS® (10.6.8. and newer) and other operating systems running a TCP/IP network (for accessing Web Management User Interface)
Compatible browsers such as Microsoft® Internet Explorer® 5.0, Firefox® 2.0, Safari® 1.4, or Google Chrome™ 11.0 browsers or higher (for accessing Web Management User Interface)
LM1200 4G LTE Modem
USB power adapter
USB Type-C cable
Ethernet cable
Quick start guide
Footnotes :

**WAN port feature will be enabled with future firmware upgrade. †Actual LTE speed may vary depending on network conditions and internet plan.