300 Series SOHO Plus (GS305EP)
5-Port Gigabit Ethernet Plus PoE Switch (63W)
300 Series SOHO Plus (GS305EP)
5-Port Gigabit Ethernet Plus PoE Switch (63W)
Easy to manage, fundamental network features at an affordable cost for SMBs. GS305EP offers 63W total power budget to power devices PoE devices such as VoIP phones, IP cameras, wireless access points, etc.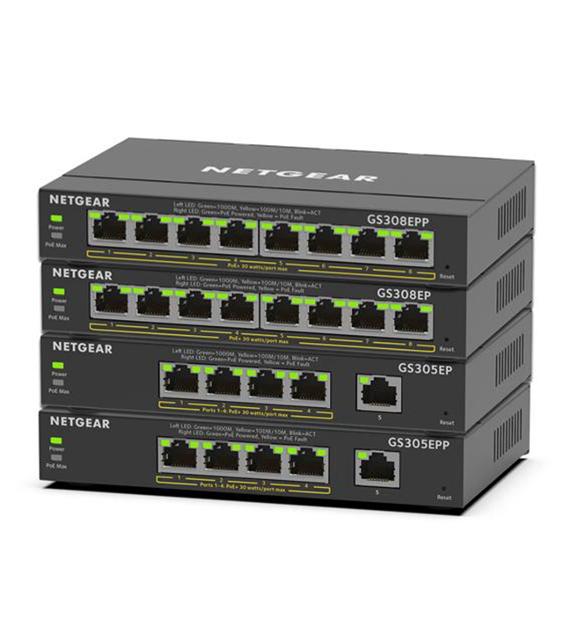 New and improved Plus switches
Along with the already great Plus features, GS305EP enhances your business networking experience even more with exciting new features: advanced PoE controls with uninterrupted PoE and more, business-friendly GUI, simplified VLAN and QoS set-up, and multi-language support.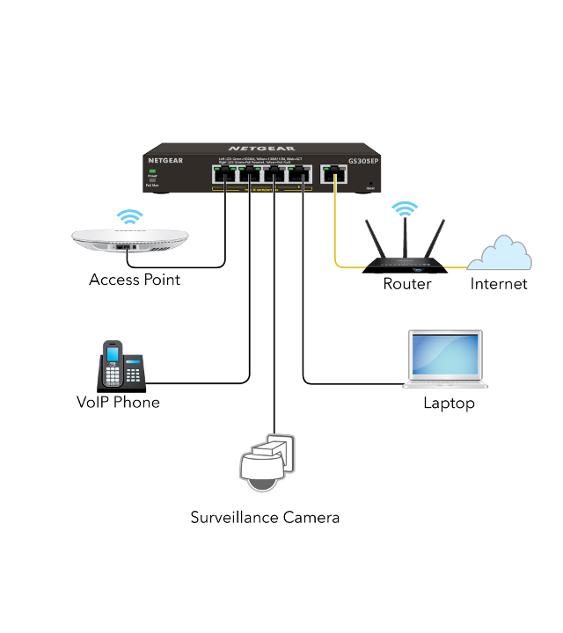 Why GS305EP?
Cost-effective business networking management features: VLAN, QoS, advanced PoE controls, etc.
Data security and network separation to safeguard your business 
Advanced per port PoE controls (including power allocation override) and remote enable/disable/power cycle Plus switch that now provides PoE+ to power devices such as wireless APs, IP cameras, VoIP phones, access-controlled security door locks or any other IoT PoE-powered devices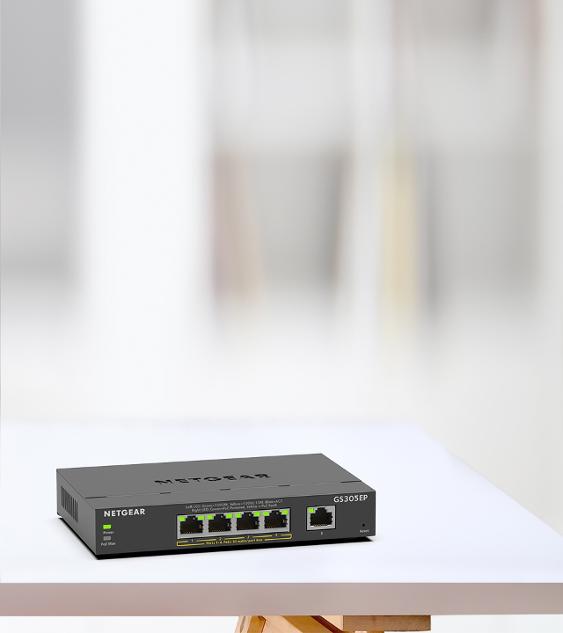 Why 300 Series NETGEAR Plus?
NETGEAR has the largest PoE switch portfolio in the market 
Provides both basic and advanced management features at a cost-effective price for SMBs 
Uninterrupted PoE and PoE controls in a Plus switch 
Reliability of the NETGEAR switches 
Provides an industry-leading 5-year warranty
EASY MANAGEMENT
Plug-and-play Plus switch fundamental network management features. No need for an IT expert or a complicated user manual, just configure your network with the user-friendly NETGEAR Web GUI
CONSUMER AND BUSINESS-FRIENDLY GUI
Easily manage and configure advanced features for your network simply through a responsive consumer and business-friendly web and mobile GUI
VLANS
Port-based and 802.1Q-based network separation into smaller groups for more secure and efficient use of network resources
COMPREHENSIVE QOS
Advanced controls for optimized network performance and better delivery of mission-critical traffic such as voice and video
MULTI-LANGUAGE SUPPORT
Context in 3 different languages (English, German, and Japanese)
PoE+ SUPPORT
4 ports PoE+ for a total of 63W of power enabling powering of all types of PoE devices with a single wire deployment of power and network connectivity to PoE+ devices such as wireless AP, IP cameras, VoIP phones, access-controlled security door locks or any other IoT PoE-powered devices
ADVANCED PoE CONTROLS
Power management of the PoE connected devices by enabling and disabling PoE power per port, PoE prioritization, PoE power limit per port and more. Simplifies management of PoE powered devices
UNINTERRUPTED PoE
Keep PoE power on even when the switch is updating firmware or performing a software reboot
5 GIGABIT PORTS
Gigabit connection delivers up to 1000 Mbps of dedicated, non-blocking bandwidth per port
FANLESS & VERSITILE MOUNTING
Completely silent operation within a desktop small form factor, and also wall-mountable
NON-BLOCKING SWITCHING
10Gbps (10/100/1000 Mbps) line rate fabric for great connectivity to your devices without congestion
COST-EFFECTIVE
Businesses do not necessarily have budget or advanced network training to deal with complex managed switches, the GS305EP offers affordable management features for a small additional cost above an Unmanaged switch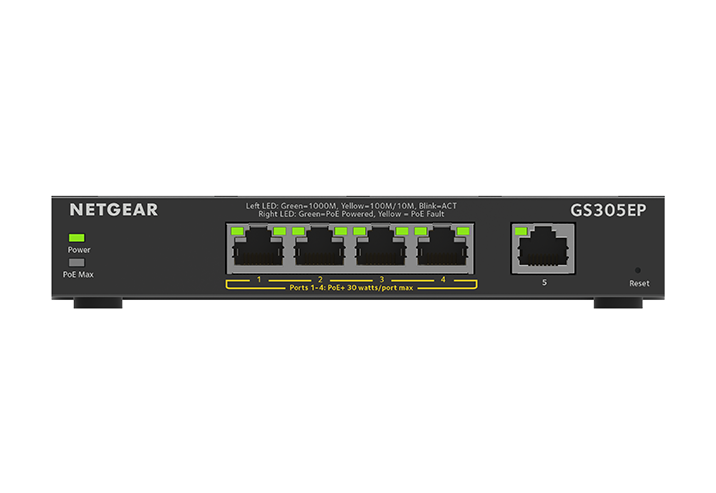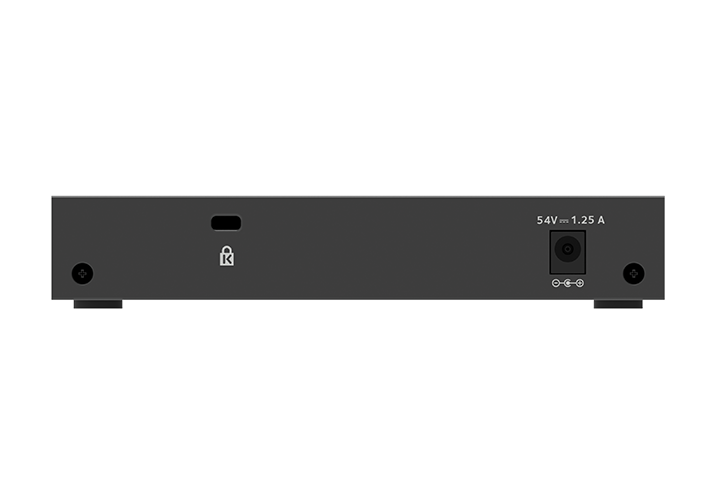 Dimensions (W x D x H) :

158 x 101 x 27 mm (6.2 x 4.0 x 1.1 in)

Weight :

0.39 kg (0.86 lb)
Speed :

Gigabit

Total PoE+ Ports :

4

Total PoE+ Budget :

63W

Uninterrupted PoE :

Yes

Bandwidth :

10Gbps

Max Mac Entries :

4K

Buffer Size :

192KB

Energy Efficient Ethernet (IEEE 802.3az) :

Yes

Priority Queuing :

WRR

Jumbo Frame Support :

9,216 bytes