NETGEAR 4G LTE MODEMS KEEP YOUR BUSINESS ONLINE WHEN CABLE OR DSL IS NOT READILY AVAILABLE
Get secure, affordable, super-fast connectivity with 4G LTE for instant internet in temporary sites or for backup connectivity in case of primary broadband service disruptions
LAS VEGAS — January 4, 2017 — NETGEAR®, Inc. (NASDAQ: NTGR), the leading provider of networking devices that power today's smart home and small and medium-sized businesses (SMBs), is expanding its portfolio of mobile broadband solutions with two new 4G LTE Modems offering a simple, fail-safe connectivity solution. The NETGEAR 4G LTE Modem 1120, 4G LTE Modem 1121 with PoE and 4G LTE Modem 2120 to provide instant 4G LTE connectivity for all your devices and equipment in temporary worksites, or can act as a backup to your primary broadband network for avoiding service disruptions when your fixed wireline connection goes down.NETGEAR will demonstrate the new LTE Modems this week in its suite at the CES® trade show, along with other innovative new NETGEAR products.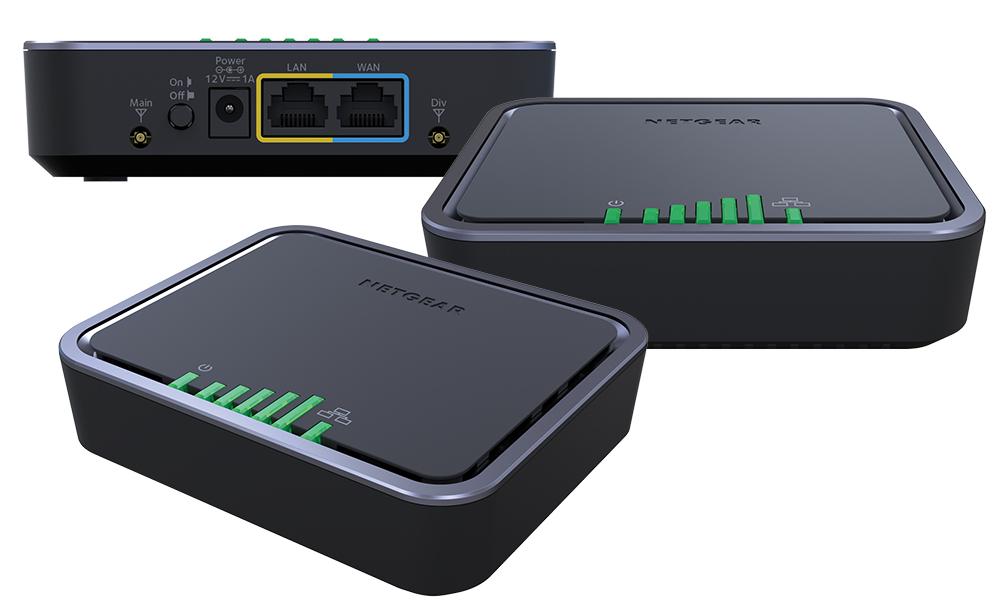 The 4G LTE Modem 1120 is a supremely easy-to-use, flexible LTE connectivity solution for all your devices. Simply connect the Ethernet port on the LTE Modem directly to your WiFi router, switch or computer so the modem can share a 4G mobile broadband connection with download speeds of up to 150 Mbps.
Businesses using Power over Ethernet(PoE)networking equipment (such as NETGEAR ProSAFE® PoE/PoE+ switches) for reliable connectivity and power through a single Ethernet cable can use the PoE-enabled 4G LTE Modem 1121 to extend an LTE connection for deploying video surveillance, wireless access points, and  voice over IP (VoIP)phones.
With dual Ethernet ports, the 4G LTE Modem 2120 is ideal for businesses where continuity is critical.  Even if your business has DSL or cable broadband, the LTE modem can run discreetly in the background to provide an automatic 4G LTE or 3G fallback connection during wireline network outages, ensuring business-critical functions such as retail POS terminal operations keep moving like clockwork.
Unlike other connectivity sources, the NETGEAR 4G LTE Modem can be easily installed in a matter of minutes, making it a practical, instant Internet-without-wires solution ideal for a wide range of environments including rural areas, outdoors, and locations where a wireline option is not readily available:
temporary offices at construction sites or emergency response command centers
mobile retail businesses such as food trucks
temporary retail businesses such as kiosks or pop-up stores at trade shows, sporting events and festivals
"Your business depends on an always-on broadband connection, so you need a reliable internet solution that kicks into action when the situation demands it. NETGEAR 4G LTE Modems provide maximum connectivity at minimum cost, keeping business-critical equipment such as security cameras and payment processing devices online when wireline broadband goes offline, "said Andrew Green, vice president of mobile network products at NETGEAR. "And if your business is mobile or doesn't have a long-term fixed location, a 4G LTE modem can get your team online in minutes and provide a secure, reliable local network solution without requiring any tech support."
Technical Features for NETGEAR4G LTE Modems (LB1120, LB1121and LB2120)
Built-in Ethernet WAN port – LB 2120 modem includes two – offers flexible home and office connectivity for sharing LTE connection to the Internet for a router, switch, computer,

Arlo™ Security Camera

, etc.
Fast 4G LTE backup speeds up to 150Mbps* for downloads and up to 50Mbps* for uploads
Power over Ethernet (PoE) option for reliable network connectivity and power through a single Ethernet cable (LB1121 modem only)
SMS message alerts for firmware updates, data usage, and failover to LTE
Direct IP-pass-through for secure enterprise VPN configuration
Light, compact design for easy portability anywhere
NETGEAR Limited Warranty and free 90-day technical support
AT&T Network-Ready Device
Pricing and Availability
NETGEARLTE Modems are available now from major retailers, at the following suggested retail prices (MSRP):
NETGEAR4G LTE Modem 1120 (LB1120-100NAS): $119.99 (USD)
NETGEAR 4G LTE Modem with PoE 1121 (LB1121-100NAS): $139.99 (USD)
NETGEAR 4G LTE Modem 2120 (LB2120-100NAS): $159.99 (USD)
The LTE Modem product family includes the LTE 4G Modem (LB1110) and LTE 4G Modem with Power over Ethernet (PoE) (LB1111), both already available in Europe, and the LTE 4G Modem with dual Ethernet ports (LB2120)
More Information
Check out other connectivity devices in the NETGEAR family of mobile broadband products.
About NETGEAR, Inc.
NETGEAR(NASDAQ: NTGR) is a global networking company that delivers innovative products to consumers, businesses and service providers. The Company's products are built on a variety of proven technologies such as wireless(WiFi and LTE), Ethernet and powerline, with a focus on reliability and ease-of-use. The product line consists of wired and wireless devices that enable networking, broadband access and network connectivity. These products are available in multiple configurations to address the needs of the end-users in each geographic region in which the Company's products are sold. NETGEARproducts are sold in approximately 28,000 retail locations around the globe, and through approximately 27,000 value-added resellers,as well as multiple major cable, mobile and wireline service providers around the world. The company's headquarters are in San Jose, Calif., with additional offices in approximately 25 countries. More information is available from the NETGEAR investor page or by calling (408) 907-8000.Connect with NETGEAR on Twitter, Facebook and our blog.
©2017NETGEAR, Inc. NETGEAR, the NETGEARlogo, Arlo and ProSAFE are trademarks and/or registered trademarks ofNETGEAR, Inc. and/or its affiliates in the United States and/or other countries. Other brand and product names are for identification purposes only and may be trademarks or registered trademarks of their respective holder(s). The information contained herein is subject to change without notice. NETGEAR shall not be liable for technical or editorial errors or omissions contained herein. All rights reserved.
* Actual data throughput and wireless coverage will vary. Network conditions and environmental factors, including volume of network traffic, building materials and construction, and network overhead, lower actual data throughput rate and wireless coverage. NETGEAR makes no express or implied representations or warranties about this product's compatibility with any future standards.
Safe Harbor Statement under the Private Securities Litigation Reform Act of 1995 for NETGEAR, Inc.: This press release contains forward-looking statements within the meaning of the U.S. Private Securities Litigation Reform Act of 1995. Specifically, statements concerningNETGEAR's business and the expected performance characteristics, specifications, reliability, market acceptance, market growth, specific uses, user feedback and market position of NETGEAR's products and technology are forward-looking statements within the meaning of the Safe Harbor. These statements are based on management's current expectations and are subject to certain risks and uncertainties, including, without limitation, the following: the actual price, performance and ease-of-use of NETGEAR's products may not meet the price, performance and ease-of-use requirements of customers; product performance may be adversely affected by real world operating conditions; failure of products may under certain circumstances cause permanent loss of end user data; new viruses or Internet threats may develop that challenge the effectiveness of security features in NETGEAR's products; the ability of NETGEARto market and sell its products and technology; the impact and pricing of competing products; and the introduction of alternative technological solutions. Further information on potential risk factors that could affect NETGEARand its business are detailed in the Company's periodic filings with the Securities and Exchange Commission. NETGEARundertakes no obligation to release publicly any revisions to any forward-looking statements contained herein to reflect events or circumstances after the date hereof or to reflect the occurrence of unanticipated events.
Source: NETGEAR-G
U.S. Media Contact: Nathan Papadopulos, (408) 890-3889, NPapadopulos@netgear.com
U.S. Sales Inquiries: (408) 907-8000, sales@netgear.com
U.S. Customer Inquiries: (888) NETGEAR