Gigabit Plus Switch Series (GS116Ev2)
16-Port Gigabit Plus Switch
Gigabit Plus Switch Series (GS116Ev2)
16-Port Gigabit Plus Switch
On top of the plug-N-play Gigabit Ethernet connectivity, these switches also offer essential networking features such as VLAN, QoS, IGMP Snooping, port mirroring.
Control and Configure Beyond Plug-N-Play Connectivity
Today's growing businesses demand and rely more on their network to carry out mission-critical business activities. Companies are putting more network traffic and applications such as VoIP phones and IP cameras on their Ethernet infrastructure. It needs the network intelligence to separate the voice and video traffic from data, and prioritize them accordingly. However, companies do not necessarily have more money or advanced training to deal with complex managed switches. NETGEAR Plus Switches meet this growing need by providing fundamental network features that will help optimize the performance of business networks. On top of the plug-N-play Gigabit Ethernet connectivity, these switches also offer essential networking features such as VLAN, QoS, IGMP Snooping, Link Aggregation / Port Trunking on models with 16 ports or more, rate limiting and traffic monitoring. NETGEAR Plus Switches are an exceptional value for businesses looking to add intelligence to their network beyond what unmanaged switches can provide.
Prioritize Voice/Video
With the ability to set up and configure QoS, these Gigabit Plus Switches can detect different types of network traffic and assign the desired priority to latency-sensitive traffic, such as voice and video. This helps improve the delivery quality of related applications such as VoIP, multimedia broadcasting, and video conferencing.  
Build Multiple Network Groups
These Gigabit Plus Switches can help divide big networks into smaller more manageable groups and have resources dedicated for one or several groups rather than making the same resources open to all. This feature improves overall network performance, adds security to network traffic, and makes more efficient use of network resources. 
Troubleshoot Cable Problems
All Gigabit Plus Switches come with a cable diagnostic feature that enables users to easily find out the health status of their network cables. If there are any problems, this feature helps quickly locate the point where the cabling fails; allowing connectivity issues to be fixed much faster, potentially saving technicians hours of troubleshooting.
IGMP Snooping for Optimized Multimedia Traffic Delivery
By listening in on the IGMP conversation between hosts and routers, the Gigabit Plus switch can maintain a map as to which links need which IP multicast streams. The switch will be able to forward multicast traffic only to the links that have asked for them and cut multicast traffic from links that do not contain a multicast listener. Essentially, IGMP snooping helps optimize multicast performance at Layer 2 and is especially useful for bandwidth-intensive IP multicast applications such as IPTV.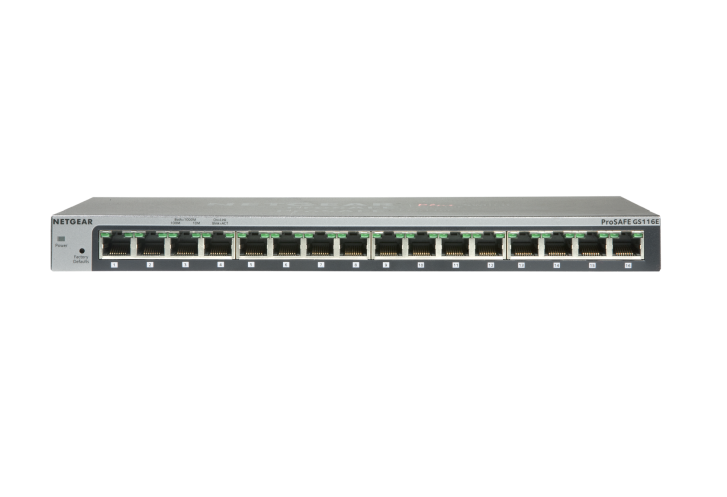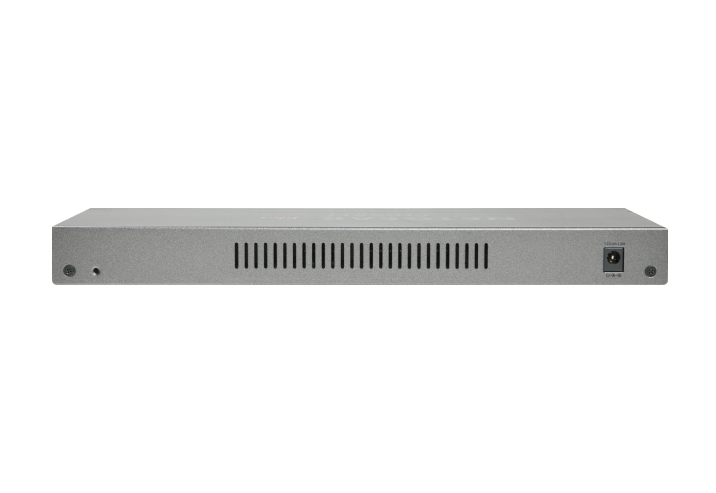 Weight (kg) :

0.84Kg

Dimensions (WxDxH) mm :

286x101x26
Gigabit Ports :

16

10 Gbps Port :

n/a

Number of PoE ports :

n/a

Total PoE Power budget (Watts) :

n/a

Max MAC entries :

16K

Buffer size :

6Mb or 768KB

VLAN (Number Supported) :

100

Number of LAGs & number of members :

8 LAGs & 2 to 4 members

Supported Mulitcast groups :

64

Max number of source ports allowed (many to 1) :

15

Internal/External :

External
Input: 12V/1.0A

Max consumption (Watts) :

10

FAN :

0

Acoustic Noise Level @25C (dBA) :

0

Operating Temperature :

0° to 50° C

MTBF :

504,993

Electromagnetic Compliance (A or B) :

A
Warranty :

This product is backed by a NETGEAR Limited Lifetime Hardware Warranty.
Lifetime Next Business Day Hardware Replacement. Click here for coverage, availability and terms and conditions.

Support :

ProSUPPORT 24x7 Advanced Technical Support via phone for 90 days (Remote diagnostics performed by our technical experts for prompt resolution of technical issues). ProSUPPORT coverage can be extended by purchasing one, three, or five year contracts.
ProSUPPORT Lifetime 24x7 Advanced Technical Support via chat.