NETGEAR INTRODUCES 96-PORT MODULAR 10G SWITCH TO TAKE COMPLEXITY OUT OF AV-OVER-IP DEPLOYMENTS
New SDVoE-ready switch streamlines audiovisual display solutions to scale with your business needs
AMSTERDAM — Feb. 6, 2018 — NETGEAR®, Inc. (NASDAQ: NTGR), the leading provider of networking devices that power today's smart home and small to medium-sized businesses (SMBs), is introducing the NETGEAR M4300-96X Stackable 10G and 40G Modular Managed Switch at the Integrated Systems Europe (ISE) AV industry trade show, taking place February 6-9 in the RAI convention center in Amsterdam.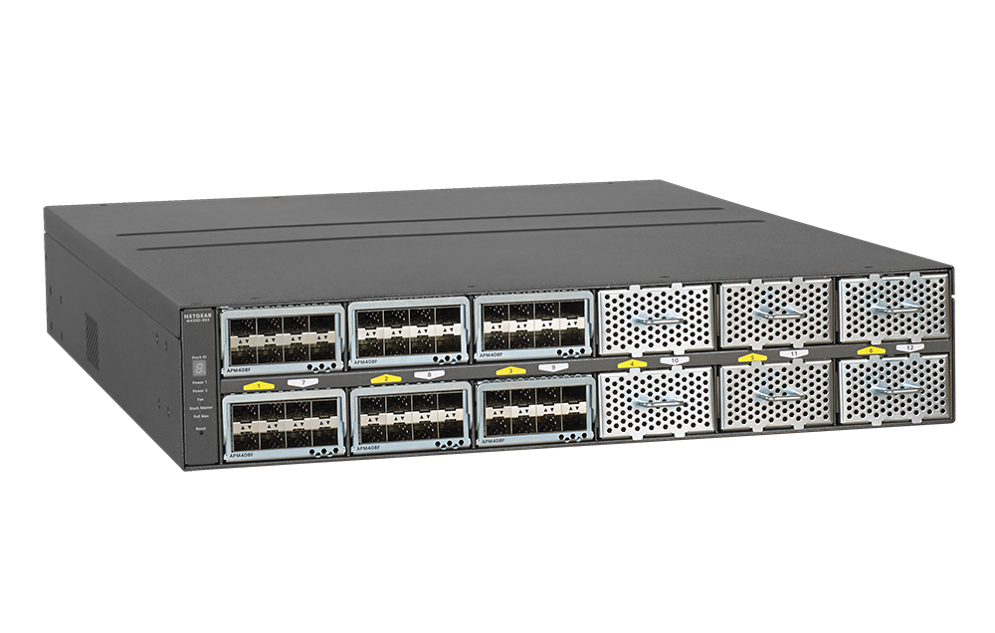 The NETGEAR M4300-96X is the world's only 2U rack height modular switch starting at $100 per port that comes either empty or pre-populated and scales up to 96 ports of 10G Ethernet or up to 24 ports of 40G Ethernet, or a combination. With 12 open slots and two redundant power supplies, the M4300-96X supports maximum granularity between copper, PoE+ and fiber and unrivalled headroom for organizations buying infrastructure for the long term.
IP convergence has already happened with telephony, surveillance, and audio, and now the professional AV industry is also moving to the network. The Software Defined Video over Ethernet (SDVoE™) Alliance provides a standard programming interface so that even if components are sourced from different suppliers, products and solutions such as the M4300-96X Switch merge easily and cost-effectively into a modern and open platform without complex coding.
To truly converge IT and AV networks, pre-configured 10 Gbps infrastructure is ready with NETGEAR SDVoE-ready M4300 switches. Instant installation with pre-enabled IGMP/multicast, scalability and affordability gets your ProAV deployment running in no time, with optimal 4K no-compromise quality.
To take unnecessary complexity out of AV-over-IP deployments, NETGEAR created M4300 switches that are preconfigured for easy, true AV and multicast Zero Touch network configuration. IGMP Snooping, IGMP Fast Leave and IGMP Querier are already enabled for the default VLAN 1 that devices will automatically use – no need to log onto the switch. Simply select the M4300-96X port expansion cards that fit your requirements, insert the cards, connect your SDVoE encoders and decoders, and power on the switch.
"Our M4300-96X Managed Switch is far superior to a fixed port solution, as you can start small and add capacity in non-blocking mode, merely by adding port expansion cards. And the fact that it's SDVoE-ready means it can easily co-exist with products from multiple AV vendors, without the need for separate programming interfaces," said Richard Jonker, vice president of product line management for SMB products at NETGEAR. "It supports intuitive configuration of your entire AV system with higher flexibility, lower complexity, and stronger investment protection."
Justin Kennington, president of the SDVoE Alliance, said, "The SDVoE Alliance unites leading companies in and around the AV-over-IP space with the shared aim of creating a standardized hardware and software platform for the next generation of audiovisual applications. The commitment of NETGEAR to the SDVoE standard means that alliance members can leverage NETGEAR switching products that are easy to set up and use to provide the backbone network for their audio-video products."
Key features of the M4300-96X Modular Managed Switch
Streamlines AV-over-IP SDVoE solutions, replacing 48x48 circuit switchers
1.92Tbps Non-blocking fabric for 96x10G or 24x40G or a combination
12 empty slots in 2RU for 8x10G or 2x40G port expansion cards
Two empty slots for redundant power supply units (PSU)
PoE over 10G is supported in first 6 slots (48x10G PoE+ 30W each)
Use the M4300-96X 

online configurator

to design your modular switch
Zero Touch AV-over-IP with pre-configured L2 Multicast (SDVoE-ready)
Advanced Layer 2, Layer 3 and Layer 4 feature set - no license required
IGMP Snooping, IGMP Fast Leave, IGMP Querier are already enabled
Innovative Spine-and-Leaf 1G, 10G and 40G mixed stacking with non-stop forwarding
Front-to-back cooling for hot/cold aisle containment in server rooms
1G OOB, RJ45 RS232 and Mini-USB console management, USB storage
Easy-to-use Web browser-based management GUI
"The NETGEAR M4300-96X Managed Switch makes AV over IP solutions simple. The zero-touch configuration eliminates the need for switch programming, making SDVoE installations plug and play," said Williams Clark, executive vice president of content management and processing for Christie. "The card-frame design and 8-port modules allow the M4300-96X to be cost effective for modest -sized systems, while also providing the ability to scale the system larger to support any combination of SDVoE transmitters and receivers. SDVoE systems with symmetric input-output configurations are supported such as 48x48, and asymmetric solutions such as 24x72 can also be prepared. The NETGEAR M4300-96x is truly an ideal 10G switching solution for SDVoE systems."
Attendees at the ISE show will find the NETGEAR M4300-96X Managed Switch at the SDVoE Alliance stand 3-B150 (in Hall 3) from Feb 6th to 9th.
Pricing and Availability
The NETGEAR M4300-96X Stackable 10G and 40G Modular Managed Switch (XSM4396K0-empty version) will be available in April 2018 worldwide through authorized NETGEAR partners and other reseller channels and ecommerce sites. It has a suggested price (MSRP) starting at just $100 per port, or $9,600 (USD) for the 96-port 10G SFP+ fully populated version.
The M4300-96X Managed Switch is also available as a 48xSFP+ Starter Kit with a 600W Power Supply Unit. Consult the website for details on additional PoE Power Supply Units and port card variations.
More Information
NETGEAR backs the M4300-96X Managed Switch by the industry-leading ProSAFE® Lifetime Limited Warranty, Lifetime Next Business Day shipping for part replacement, and Lifetime Technical Support options.
About NETGEAR, Inc.
NETGEAR (NASDAQ: NTGR) is a global networking company that delivers innovative products to consumers, businesses and service providers. The Company's products are built on a variety of proven technologies such as wireless (WiFi and LTE), Ethernet and powerline, with a focus on reliability and ease-of-use. The product line consists of wired and wireless devices that enable networking, broadband access and network connectivity. These products are available in multiple configurations to address the needs of the end-users in each geographic region in which the Company's products are sold. NETGEAR products are sold in approximately 30,000 retail locations around the globe, and through approximately 25,000 value-added resellers, as well as multiple major cable, mobile and wireline service providers around the world. The company's headquarters are in San Jose, Calif., with additional offices in approximately 25 countries. More information is available from the NETGEAR investor page or by calling (408) 907-8000. Connect with NETGEAR on Twitter, Facebook and our blog.
©2018 NETGEAR, Inc. NETGEAR, the NETGEAR logo, and ProSAFE are trademarks and/or registered trademarks of NETGEAR, Inc. and/or its affiliates in the United States and/or other countries. Other brand and product names are for identification purposes only and may be trademarks or registered trademarks of their respective holder(s). The information contained herein is subject to change without notice. NETGEAR shall not be liable for technical or editorial errors or omissions contained herein. All rights reserved.
Safe Harbor Statement under the Private Securities Litigation Reform Act of 1995 for NETGEAR, Inc.: This press release contains forward-looking statements within the meaning of the U.S. Private Securities Litigation Reform Act of 1995. Specifically, statements concerning NETGEAR's business and the expected performance characteristics, specifications, reliability, market acceptance, market growth, specific uses, user feedback and market position of NETGEAR's products and technology are forward-looking statements within the meaning of the Safe Harbor. These statements are based on management's current expectations and are subject to certain risks and uncertainties, including, without limitation, the following: the actual price, performance and ease-of-use of NETGEAR's products may not meet the price, performance and ease-of-use requirements of customers; product performance may be adversely affected by real world operating conditions; failure of products may under certain circumstances cause permanent loss of end user data; new viruses or Internet threats may develop that challenge the effectiveness of security features in NETGEAR's products; the ability of NETGEAR to market and sell its products and technology; the impact and pricing of competing products; and the introduction of alternative technological solutions. Further information on potential risk factors that could affect NETGEAR and its business are detailed in the Company's periodic filings with the Securities and Exchange Commission. NETGEAR undertakes no obligation to release publicly any revisions to any forward-looking statements contained herein to reflect events or circumstances after the date hereof or to reflect the occurrence of unanticipated events.
Source: NETGEAR-G
U.S. Media Contact: Nathan Papadopulos, (408) 890-3889, NPapadopulos@netgear.com
U.S. Sales Inquiries: (408) 907-8000, sales@netgear.com
U.S. Customer Inquiries: (888) NETGEAR