Nighthawk® Multi-Gig Speed Cable Modem for XFINITY® Voice (CM1150V)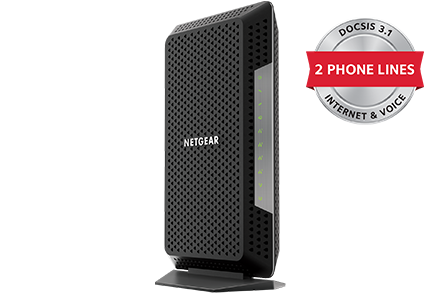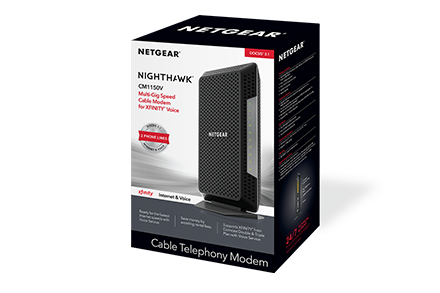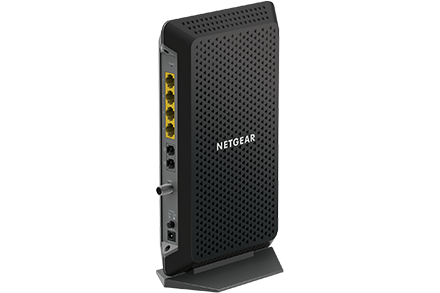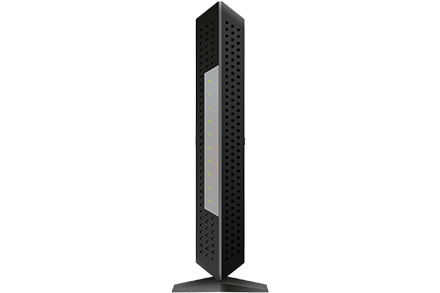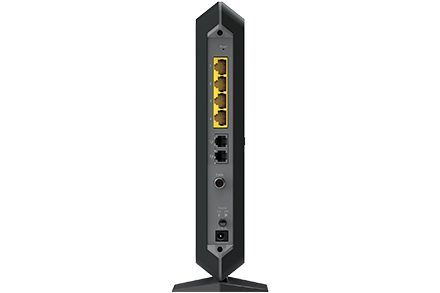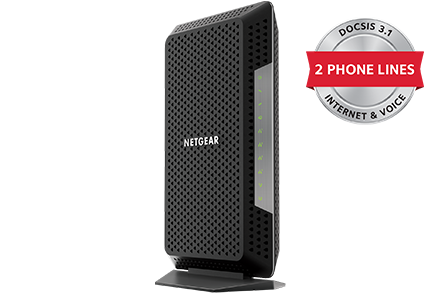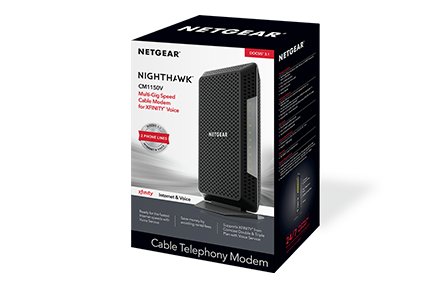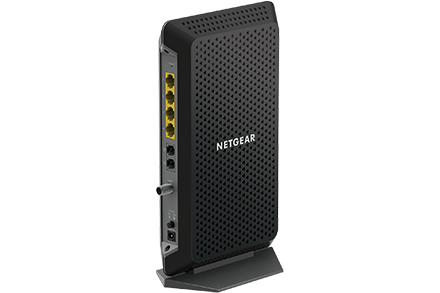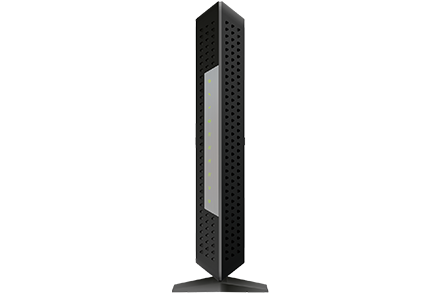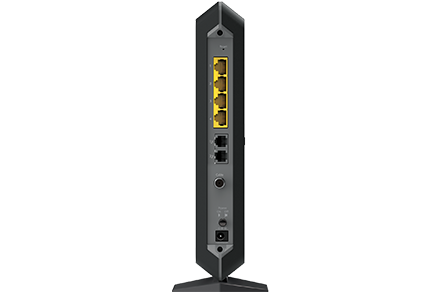 Price:
In Stock
Features:
NETGEAR Nighthawk® CM1150V Cable Modem with Voice is built to support all of today's Internet service plans and designed for the fastest speed tiers available in near future.
Ideal for Gigabit cable Internet plan. Delivers true Multi-Gig Internet speeds with link aggregation** support.

Fast self-activation for XFINITY® customers –Get connected without a service call.

DOCSIS® 3.1

technology supports speeds up to 10X faster than the DOCSIS

®

3.0 standard. Fully backwards compatible with previous DOCSIS

®

standards.

Built for XFINITY® from Comcast Internet with Voice with enhanced call features including 3-way conference calling, caller ID, call forwarding and more.

Two (2) telephone ports automatically prioritize voice over internet for the best call clarity.

Gigabit Ethernet Ports—Four (4) Gigabit Ethernet ports (allows 2 LAN port aggregation to double maximum wired speeds). Use with any wired devices for faster access and downloads.

Save money by eliminating monthly cable modem rental fees and save up to $168 per year*



Ultra-High Speed Connections with DOCSIS® 3.1
DOCSIS 3.1 offers a huge jump in download and upload internet speeds, supporting up to 10 Gbps download and 1 Gbps upload speeds. Since the technology is backwards compatible, upgrading to a DOCSIS 3.1 modem means you'll still enjoy your current internet service and be ready for the fastest speeds available in your area when your service provider upgrades to DOCSIS 3.1.



Works with your WiFi Router
Use an Ethernet cable to connect the CM1150V cable modem Ethernet ports to WAN port of your existing WiFi router, WiFi System or directly to your computer and get high-speed connectivity for all your devices. Aggregate two (2) LAN ports to double maximum wired speeds (compatible WiFi router like the
Nighthawk AX8
). With two integrated telephone lines and support for enhanced calling features such as 3-way conferencing, caller ID, call forwarding and more, the C1150V is an ideal choice for a home office. Works with all Internet speed tiers with voice plans.>
TECH SPECS
Modem

DOCSIS® 3.1 Cable Modem with two (2) telephone ports

Product Diagram
Number of Ethernet Ports

Four (4) Gigabit Ethernet ports

Key Features

Two (2) telephone ports
Enhanced call features include 3-way conference calling, call forwarding and more
Delivers true Multi-Gig internet speeds with link aggregation support
DOCSIS® 3.1 technology supports speeds up to 10 times faster than the DOCSIS® 3.0 standard
32 downstream and 8 upstream channels with 2x2 OFDM
Backward compatible 32x8 channel bonding in DOCSIS® 3.0 mode
Required for the fastest Gigabit XFINITY Internet with Voice plans
Save up to $168* per year by eliminating monthly cable modem rental
Supports IPv6 - Internet standard

System Requirements

Cable Broadband Internet service
Please check your Cable Internet Service Provider web site for data speed tier compatibility and to ensure it provides DOCSIS® 3.1 service, otherwise this modem will only
Requires XFINITY® from Comcast Voice service plans

Physical Specifications

Dimensions: 6.1 x 3.4 x 10.3 in (155 x 87 x 261 mm)
Weight: 1.33 lb (603 g)

Package Contents

Nighthawk® Multi-Gig Speed Cable Modem for XFINITY® Voice (CM1150V)
One (1) Ethernet cable
One (1) RJ1 telephone cable
Quick install guide
Power adapter

Standards

Four (4) Gigabit Ethernet ports
One (1) WAN coaxial cable connection
Two (2) telephone line ports
Warranty
This product is backed by a NETGEAR limited 1-year Hardware Warranty. 24/7 basic technical support provided for 90 days from purchase date, when purchased from a NETGEAR authorized reseller.
Ideal Uses
Upgrade to the Fastest Tiers

Internet service providers are extending Gigabit internet service throughout the country. Enjoy the fastest broadband internet speeds offered today and be ready for future upgrades.

For Multi-Gig Speeds

The dual WAN ports on the CM1150V allow for Multi-Gig speeds internet speeds when paired with compatible router (Nighthawk AX8 8-Stream Wi-Fi 6 Router) and service plans.

Own and Save Money

If your cable modem is through your cable company, you are probably paying a monthly rental fees that you can easily avoid by owning your modem. And, get significantly higher upload and download speeds!
* Equipment rental fees vary by service providers.
† 10Gbps is the maximum data transfer rate in the DOCSIS® 3.1 standard. In practice, your Internet speeds will be less, as the transfer rate may be reduced by the volume of network traffic or your service plan.
††Maximum rate is derived from DOCSIS® 3.1 specifications and actual throughput will vary depending on your Internet subscription with your provider.
Multi-Gig Internet speeds require compatible service plans and equipment.
NETGEAR makes no express or implied representations or warranties about this product's compatibility with any future standards.
Customer-owned modems may not be compatible with certain cable networks. Please check with your cable provider to confirm this NETGEAR modem is allowed on your cable network.