10-Gigabit/Multi-Gigabit Plus (XS724EM)
24-Port 10G/Multi-Gigabit Plus Switch with 2 Dedicated SFP+ Ports
10-Gigabit/Multi-Gigabit Plus (XS724EM)
24-Port 10G/Multi-Gigabit Plus Switch with 2 Dedicated SFP+ Ports
As a leading provider of network equipment for SMBs, NETGEAR® understands the importance of reliable and high performance networks. With the growth of virtualization, cloud-based services and applications like VoIP, video streaming and IP surveillance, SMB networks need to extend beyond simple reliability to higher speed and performance. The 10-Gigabit and Multi-Gigabit Plus Switches from NETGEAR present the right solution for this requirement; delivering unprecedented non-blocking10-Gigabit bandwidth at the most affordable cost. All of them are perfect for removing the SMB network bottlenecks caused by the proliferation of Gigabit-to-the-desktop and the upcoming 10-Gigabit/Multi-Gigabit high end workstations.
10GBASE-T Connections
Support low-latency, line-rate 10G Copper "BASE-T" technology with backward compatibility to Gigabit Ethernet and Fast Ethernet. Cost-effectively migrate current network to 10G capacity by utilizing the existing Cat 6 RJ45 short connections (up to 45m) and Cat 6a / Cat 7 connections up to 100m.
10GBASE-X SFP+ ports
Providing flexibility to uplink to 10G-capable core or aggregation switches that support fiber links. Backward compatible to Gigabit fiber. Support copper or fiber modules.
Multi-Gigabit Connections
Support line-rate 2.5G/5G "NBASE-T" technology with backward compatibility to Gigabit Ethernet and Fast Ethernet. Upgrade your current network without upgrading your existing cabling, thanks to Multi-Gigabit you will be able to run 5G and 2.5G over connections up to 100m.
Comprehensive QoS Features
Advanced controls for optimized network performance and better delivery of mission-critical traffic such as voice and video. Ingress and egress rate limiting allows for bandwidth shaping for mitigating network resources constraints or for optimizing guest access bandwidth on the network.
Port-based or 802.1p-based prioritization
Layer 3-based (DSCP) prioritization
Port-based ingress and egress rate limiting
IGMP Snooping
For improved network efficiency on delivering multicast traffic. Save cost and improve network efficiency by ensuring multicast traffic only reaches designated receivers without the need of an extra multicast router.
Loop Detection / Auto DoS Prevention
Detect accidental network loops and protect against DoS (Denial of Service) attacks.
Port-based & 802.1Q-based VLANs
Segment network into smaller groups for more secure and efficient use of network resources.
Port Trunking / Link Aggregation (LAG)
Build up bigger bandwidth to support aggregated uplink/downlink traffic.
Energy Effiecient Ethernet (IEEE 802.3az)
For maximum power savings and reduced energy costs.
Port Mirroring
For better and quicker network diagnostics and troubleshooting.
Cable Test
Easily identify bad Ethernet cables.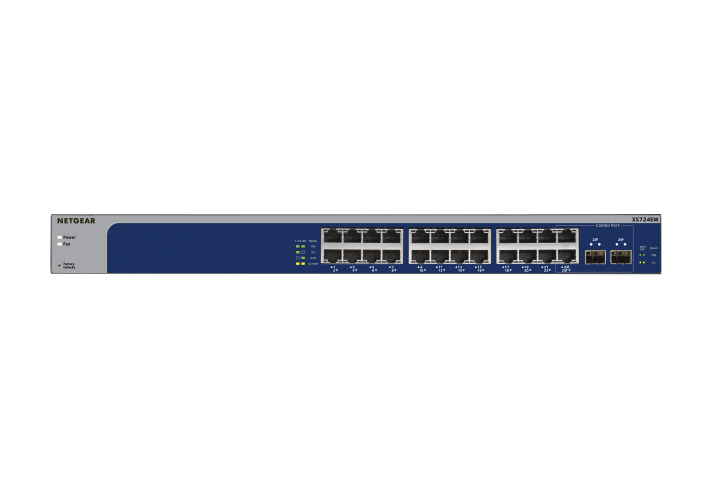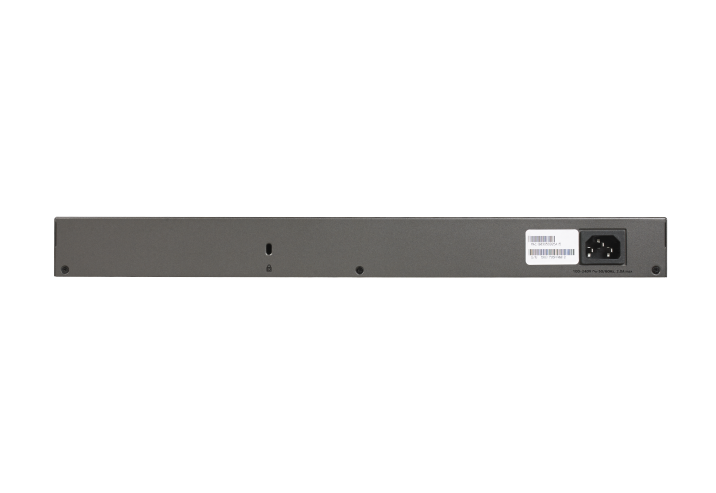 Dimensions (W x D x H) :

440 x 204 x 43 mm (17.3 x 8.0 x 1.7 in)

Weight :

3.72kg (8.21 lb)
100M/1G/2.5G/5G/10G RJ-45 copper ports :

24

SFP+ Ports :

2 (shared)

Form Factor :

Rackmount

Packet buffer memory :

3MB

Bandwidth :

480Gbps

MAC Address database size :

32K

VLAN (# supported) :

64

Number of LAGs & number of members :

8 LAGs with max 8 members in each LAG

Supported multicast groups :

128

Max number of source ports allowed (many to one port mirroring) :

23

Fan(s) :

2 (active fans)

IEEE 802.3az (Energy Efficient Ethernet) :

Yes

Max power consumption (Watts) :

76.56W

LEDs :

Power, Speed, Fan, Link/Activity

Acoustic noise level @ 25° C (dBA) :

35.91dBA

Operating temperature :

0° to 50° C

Electromagnetic compliance (A or B) :

A
Warranty:

This product is backed by a NETGEAR ProSAFE ® Limited Lifetime Hardware Warranty .
Lifetime Next Business Day Hardware Replacement. Click here for coverage, availability and terms and conditions.

Support :

ProSUPPORT 24x7 Advanced Technical Support via phone for 90 days (Remote diagnostics performed by our technical experts for prompt resolution of technical issues). ProSUPPORT coverage can be extended by purchasing one, three, or five year contracts.
ProSUPPORT Lifetime 24x7 Advanced Technical Support via chat.