Still Renting Your WiFi Modem From Your Service Provider? Here's Why You Should Buy and Not Rent.
Internet service, wireless modems and routers – the three pillars that keep your home network up and running.  To ensure a fast network, you need an internet service plan that's ideal for your needs. And to ensure support for the speed tiers, you need up-to date hardware. So, if saving money and getting the WiFi speeds you are paying for are important to you, then maybe it's time to buy a new Cable Modem / WiFi Cable Modem Router. Moving to an ownership model for your networking equipment could save you hundreds of dollars over the years.
A substantial number of US cable subscribers receive their WiFi Cable Modem Router from their Internet Service Providers (ISP) and are unknowingly paying for more than just their internet service plan. If you are one of them, chances are you're paying between $5-10 in rental fees every month above your monthly internet plan bill. That's up to $120 a year, every year! And while ISP's don't advertise it, you are NOT required to rent.
Rental fees aside, what's wrong with renting?
When it comes to rented WiFi Cable Modems, money isn't the only thing on the line. The quality of your internet connection also suffers. ISP provided Modems and Gateways are often outdated and do not have the capability to support the speeds that you are paying for.  For instance, CNET reports that Time Warner Cable modem renters are getting WiFi speeds that are "approximately 80% slower than promised", due to subpar WiFi modems.  In many instances, you are renting very dated equipment that has been redeployed and refurbished several times before arriving on your doorstep.
As a renter, you don't have any options to choose from. The ISP makes the choice for you and it could often be with a profit motive. Looking at these numbers, it's quite obvious and alarming to note: "Between May 2012 and February 2016, subscribers paid $600 million in modem fees alone." (CNET.com)
What's more, with rented modems or gateways, you're giving your ISP full reign over your internet connection. ISP owned modem routers have an added firmware that provider's control, which means they can disable or enable WiFi features whenever they want.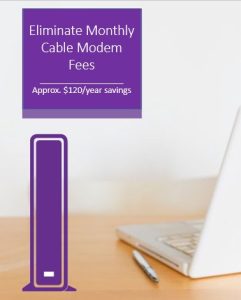 With the increased number of connected devices in the home, your network now needs higher bandwidth to support all these WiFi devices. Rented WiFi modems or gateways struggle to support every device, but with the latest WiFi modems and routers, you easily get the speeds and connection reliability that you need.
Even if you end up upgrading your purchased modem every three to five years, you'll still save money in the long run, as opposed to renting.
Get the speeds you pay for!
When looking to buy a cable modem, here's what you must check:
Compatibility with service providers
Speed – Buy one that supports at least the speed of your broadband data plan (Tip: know the broadband speeds that you pay for)
Service Plan Support—For example, NETGEAR's CM500V is capable of delivering max download speeds up to 680Mbps. However, service providers cap the download speeds at only up to 250Mbps.
DOCSIS® Channels—Higher channel bonding will deliver faster internet speeds (for example: modems with 16×4 channel bonding will deliver speeds twice as fast as the 8×4 modems)
Buying your own cable modem ensures that you can upgrade to the speeds you get through your service provider. With DOCSIS 3.0 or 3.1 compatible modems, you'll get the best performance and speeds. High-end cable modems with more channel bonding can potentially deliver even higher speeds than what your service plan may cite. Really.
When top-tier speeds and reliability are high on your list, NETGEAR WiFi Cable Modem Routers can easily handle all your high-bandwidth wireless requirements. NETGEAR WiFi Cable Modems and Routers let you take advantage of the fastest cable internet speeds and are compatible with most ISPs.  DOCSIS 3.0 and DOCSIS 3.1 compatible NETGEAR modems support multiple channels to boost speeds and are backwards compatible, offering consumers a future-proof solution to enjoy the speeds offered today and still be ready for tomorrow when their service plan upgrades to higher speed tiers.
This means a strong WiFi connection for everyone and WiFi coverage that will reach every corner of your home.  The new NETGEAR DOCSIS 3.0 Cable Modem for Internet and Voice (CM500V) provides a connection to high-speed cable Internet and supports two phone lines. It automatically prioritizes voice over Internet for best call clarity and also offers enhanced call features such as 3-way conference calling, caller ID, call forwarding and more. This cable modem is ideal for XFINITY® from Comcast Double and Triple Play service plans.
So, when it comes to renting, tell your ISP, 'No thank you!' Make the most of your internet plan, so you can surf, stream and play online games by upgrading your modem for the best internet speeds and performance.