Do you still have a landline? In 2017, approximately 46% of US households still use a telephone that is not a cellphone.
We are excited that NETGEAR has now released the world's first retail DOCSIS 3.1 cable modem that has two telephone jacks, for Comcast XFINITY® voice. The Nighthawk® Ultra-High Speed Cable Modem for XFINITY® Voice, the CM1150V, supports all of today's internet service, including – coming soon – Multi-Gigabit high performance internet plans. With Multi-Gig, when you pair the CM1150V with a compatible Nighthawk Multi-Gig supported wireless router, such as the Nighthawk RAX80, you will break through any bottleneck to reach ultra-fast internet speeds up to 2Gbps.
If you are one of the millions of Comcast customers who subscribe to XFINITY® Voice or Triple-Play bundles, you will love this cable telephony modem, because you'll be able to take advantage of the latest cable technology bringing broadband into your home, and you won't need to spend any additional fees on equipment leasing.
The CM1150V works seamlessly with your XFINITY® internet service, for all speed tiers, to provide you with the best high-performance internet speeds possible, and it prioritizes voice over internet protocol (VoIP), for clear and uninterrupted telephone calls.
With its enhanced call features of 3-way conference calling, caller ID, call forwarding and more, the Nighthawk Cable Telephony Modem for XFINITY® Voice is the perfect solution for those who want to keep their landlines, and especially for those with a home office. Installation is easy, with just a service call, and you can save over $156 per year on monthly cable modem rental fees.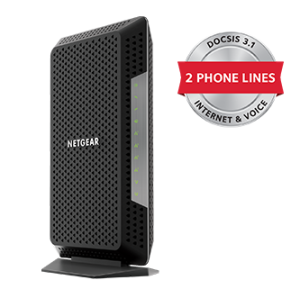 NETGEAR now offers a wide range of DOCSIS 3.1 solutions to fit all your needs.  From Gigabit (CM1000) to Multi-Gig speed (CM1100) Cable Modems, to the Nighthawk X4S AC3200 WiFi Cable Router (C7800), and now the first available DOCSIS 3.1 Cable Telephony Modem (CM1150V), with the best in the class hardware/software design, you can finally stop compromising and paying rental fees, and start enjoying the fastest internet speeds available to your home.