Choosing between the best whole-home mesh WiFi systems can be a challenge. The Orbi 970 Series with WiFi 7 is the ultimate mesh system, but the Orbi 960 Series with WiFi 6E is also a great investment for different needs and budgets. Below, we compare their features and performance and help you find the best fit for your home.
Orbi 960 vs. Orbi 970: From WiFi 6E to WiFi 7
Upgrading from WiFi 6E Orbi 960 Series to the Orbi 970 with WiFi 7, ushers a new generation of wireless technology, promising to redefine the landscape of connectivity in multiple ways. The Orbi 960's WiFi 6E capabilities already introduced multi-gigabit speeds and reduced latency, and the Orbi 970 with WiFi 7 takes these advancements to new heights with technology that is smarter and faster, resulting in revolutionary performance.
Orbi 970 vs. Orbi 960 Side by Side
Orbi 970 Series:
The Pinnacle of WiFi 7 Mesh Systems
In the world of high-speed WiFi, the all-new Orbi 970 Series is in a class of its own. Leveraging Quad-Band WiFi 7 technology, along with its patented antenna design, the Orbi 970 Series delivers the ultimate whole-home WiFi for people want the best of the best.
Quad-Band WiFi 7 with 5Ghz & 6Ghz Enhanced Dedicated Backhaul
Whole-home WiFi speeds up to 27Gbps
Patented antenna design boosts 360° WiFi coverage
Up to 10,000 sq. ft. of coverage (using 3-pack RBE973SB)
10Gbps Internet WAN & LAN ports, 4x 2.5Gbps LAN Ports
10Gbps wired backhaul ready
Supports up to 200 connected devices
Available in Black or White 2–3 pack configuration. Add-on Satellites coming soon (RBE970 | RBE970B)
Orbi 960 Series:
Industry's First Quad-Band WiFi 6E Mesh System
The world's first and most powerful WiFi 6E mesh system, the Orbi 960 series, set a new standard for WiFi when it was released. Engineered to deliver elite WiFi performance and unprecedented coverage across your entire home.
Quad-Band WiFi 6E with 5Ghz Dedicated Backhaul
Whole-home WiFi speeds up to 10.8Gbps
Patented antenna design boosts WiFi coverage
Up to 9,000 sq. ft. of coverage (using 3-pack RBKE963)
10Gbps Internet WAN port, 1x 2.5Gbps, and 3x 1Gbps LAN Ports
Supports up to 200 connected devices
Available In Black or White 2–4 pack configuration. Add-on Satellites available (RBSE960 | RBSE960B)
Orbi 960: The Power of WiFi 6E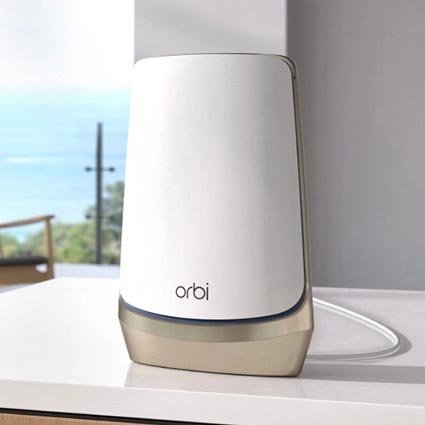 The Orbi 960, WiFi 6E Mesh System, offers a powerful wireless networking solution designed to meet the demands of a modern, connected home. It provides whole-home WiFi speeds up to 10.8Gbps, supports up to 200 connected devices, and offers outstanding property-wide coverage for areas up to 9,000 sq ft. in a 3-pack configuration. With a dedicated backhaul for communication between the router and satellites, along with Smart Connect and Beamforming technologies, the Orbi 960 delivers high-performance, optimized connections. Ideal for 4K/8K video streaming, high-speed online gaming, and home office setups, it provides a stable and fast internet experience for the entire family.
Orbi 970: Unleash Groundbreaking WiFi 7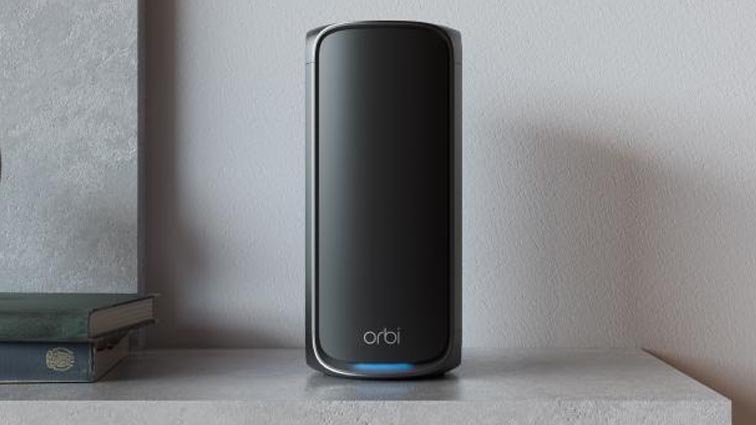 Building on the foundations of the Orbi 960, the Orbi 970 brings the future to your doorstep with WiFi 7. Delivering superior speeds across the whole home, up to 27Gbps, it significantly outpaces its predecessor, ensuring users can harness the full potential of multi-gigabit and new 10G internet plans.
With new 320MHz bandwidth channels, devices enjoy 2.4X faster download speeds for demanding AR and VR applications. Latency is reduced by up to 100x, assuring real-time responsiveness essential for gaming and video conferencing. 4K QAM data modulation results in 20% more efficient data transmission, making high-definition video streaming and video calls smoother than ever.
The Orbi 970 Series system also introduces innovative features like Multi-link Operation (MLO), which taps into multiple WiFi bands at once for optimal data delivery, and Preamble Puncturing, which circumvents interference from neighboring WiFi networks. This Orbi System not only offers unparalleled speed and reliability but also promises a future-proofed home network that's prepared for the demands of emerging digital trends.
In essence, the shift from WiFi 6E to WiFi 7 isn't merely incremental – it's transformative. WiFi 7 ushers in a future where online experiences are faster, clearer, and more immersive, catering to both present needs and future innovations.
Orbi 970: Detailed Features
Packed with innovative features that take advantage of the latest WiFi 7 technology, the Orbi 970 offers a significant upgrade over its predecessors. Here are some of the most cutting-edge innovations you can expect with this new frontier in next-gen WiFi.
Multi-Link Operation
One of the standout features of the Orbi 970 is its ability to utilize multiple WiFi bands (2.4GHz, 5GHz, and 6GHz) simultaneously. This Multi-Link Operation results in faster speeds and seamless roaming between satellites, reducing latency, and enhancing reliability. Whether you're gaming, video conferencing, or exploring AR and VR, this feature ensures that you experience the internet at maximum speeds.
Preamble Puncturing
In crowded environments where multiple WiFi networks vie for the same frequency channels, interference can significantly reduce your network performance. Preamble Puncturing addresses this issue by allowing the Orbi 970 to block interference and tap into unused portions of faster, high-bandwidth channels. This approach ensures that your WiFi speed and reliability are less impacted by neighboring networks.
Wider Channels


The Orbi 970 offers high-capacity 320MHz channels, which are double the bandwidth of what previous generations offered. These ultra-wide channels enable multi-gigabit speeds and are especially beneficial for applications like advanced AR and VR experiences and 8K streaming, enabling your devices to function with peak WiFi speed.
4K QAM
Modulation is the process of converting digital data into radio waves, and WiFi 7 takes this a step further with its 12-bit 4K QAM (Quadrature Amplitude Modulation). This enables 20% more data to be packed into each transmission, improving the quality of video streaming, and making your Zoom calls significantly smoother.
Orbi 960 vs. Orbi 970: Leap to Next-Gen WiFi
While the NETGEAR Orbi 960 Series offers best-in-class WiFi 6E connectivity, the Orbi 970 takes everything to the next level with WiFi 7 class technology. Here's a detailed dive into the specs, features, and different technological offerings of these wireless marvels.

Speed
With WiFi 6E support, the Orbi 960 provides whole-home speeds of up to 10.8Gbps, which is impressive but still limited compared to what's possible with WiFi 7.
On the other hand, the Orbi 970, leveraging the power of WiFi 7, offers a remarkable increase in speed, reaching up to 27Gbps. In practice, WiFi 7 provides boosts of up to 2.4x the speed of WiFi 6E, making it capable of supporting the most data-intensive tasks with ease.
Bandwidth
Both 970 and 960 systems feature Quad-Band WiFi capabilities, allowing them to tap into the uncrowded 6Ghz band – a significant leap from their WiFi 6 predecessors.
Orbi 960 can use channels up to 160MHz in width, allowing for gigabit-plus speeds on your connected devices. Orbi 970, on the other hand, offers download speeds that are up to 2.4X faster with 320MHz ultra high-capacity channels and 4K QAM. It's particularly beneficial for AR and VR applications, as well as congested neighborhoods.
Latency
While Orbi 960's WiFi 6E significantly reduced latency compared to older standards, it doesn't hold a candle to its successor. The Orbi 970 offers a reduction of up to 100x in latency, making it almost imperceptible. This is a game-changer for real-time activities like gaming and video conferencing.
Data Transmission
Utilizing technologies like MU-MIMO and beamforming, the Orbi 960 ensures efficient data transmission and optimized communication between devices. It's efficient and powerful, however, WiFi 7 offers additional performance and capabilities.
The Orbi 970, adds all-new 4K QAM modulation, allowing a 20% increase in the data packed into WiFi radio waves. This modulation upgrade from 10-bit to 12-bit ensures that more data is transmitted at once, making video streaming and calls clearer than ever.
Device Support
Both systems are fully backward compatible with earlier versions of WiFi, with the Orbi 970 also supporting a new generation of WiFi 7 devices.
Both systems seamlessly support up to 200 connected devices – meaning they won't break a sweat for an extensive IoT network, ever expanding smart home, or large gatherings.
Network Security
Equipped with NETGEAR Armor, the Orbi 960 and 970 offer advanced network security to protect your network and devices from malware, viruses, and data theft. But given the latter's increased throughput and broader device support, NETGEAR Armor's role becomes even more critical in protecting a greater volume of data and a larger number of devices.
Both mesh routers also feature WPA3, VPN, guest networking capabilities, and other advanced security features you can expect from a NETGEAR WiFi router or mesh system.
Parental Controls
Both Orbi 960 and 970 offer comprehensive parental controls allowing you to manage content and time online for your children. Features include website filtering, pause internet functionality, and the ability to set online time limits.
Compatibility
The Orbi 960, with its WiFi 6E support, is compatible with a wide range of devices that support WiFi 6E, WiFi 6, and older WiFi standards, like iPads, laptops, Xbox, and smart home devices. Although it might not be able to make full use of the capabilities of newer, more advanced devices that require higher speeds and lower latency.
Backward compatible with older WiFi standards, The Orbi 970 can also connect with older devices in your home without any issues. But with its WiFi 7 capabilities, it's better poised to support upcoming smart home devices that may require higher data rates and lower latency, ensuring a longer lifespan for your home or office network setup.
Future-Proofing
Orbi 960 Router comes equipped with 10 Gig Internet Port, 2.5Gbps Multi-Gig LAN/Backhaul Port, and 3x 1Gbps Ethernet LAN ports, supporting a variety of wired connections. However, several of the Ethernet ports are limited to Gigabit speeds, which could become a bottleneck for some homes as home network and internet services continue to evolve.
Orbi 970 Router also has 10 Gig Internet Port, and ups its game with 10Gbps LAN/Backhaul port and and 4x 2.5Gbps Multi-Gig LAN ports. Given its WiFi 7 architecture, it is more adaptable to future high-speed internet plans and wired peripherals that can take advantage of faster data rates. It also ensures support for future advancements in modems and mesh networking technologies.
Set-Up and Network Management
Both the Orbi 960 and Orbi 970 offer easy set-up and comprehensive network management through the Orbi App (available for both Android and Apple phones).
Both Orbi 960 and 970 can be configured with a wired Ethernet backhaul when WiFi range or penetration is a concern. Orbi 960 Wired Backhaul tops out at a powerful 2.5Gbps, whereas the advanced Orbi 970 is up to 4x faster with 10Gbps Wired Backhaul capability.
Which Orbi Mesh WiFi System is Right for You?


Deciding between the Orbi 960 and the Orbi 970 comes down to your specific needs, how you use your internet, and how you envision using it in the future.
Solving for the Present
If you're only concerned with getting the best performance with the connected devices of today and the prospect of high-performance AR/VR, 8K streaming, and other future WiFi 7 technologies doesn't excite you, the Orbi 960 is still a strong, reliable option that offers significant improvements over older WiFi technologies.
For Futureproofing
If you're looking for a more future-proof solution and want to take full advantage of multi-gigabit internet plans and all the latest ultra-fast next-gen WiFi 7 devices, the Orbi 970 is worth the investment. Its use of WiFi 7 technology ensures it's geared for both the demands of today and the innovations of tomorrow, like AR and VR applications, or sophisticated IoT security and home-automation devices.
For Gamers and Streamers
The Orbi 970 would particularly shine for gamers and streamers, offering up to 100x lower latency and speeds up to a stunning 27Gbps, ensuring a smooth, lag-free experience.
For Smart Homes and Large Families
Both systems offer NETGEAR Armor and robust parental controls, but the Orbi 970, with its advanced WiFi 7 with up to 27Gbps, is clearly superior for households with multiple devices connected simultaneously.
For Businesses
Small businesses may find the improved performance and advanced features like the Enhanced Dedicated Backhaul offered by the Orbi 970 to be worth the extra cost for lower latency virtual meetings, better productivity, and less downtime during large file transfers and graphics-intensive collaborative work.
In short, the Orbi 960 is a great choice for those who want powerful, high-speed internet today, but the Orbi 970 is the system for those who also want to be prepared for the internet of tomorrow.
Ready to Upgrade Your Home Network?
Whether you choose Orbi 960 or 970, both of these powerful Orbi Mesh Systems promise an unrivalled WiFi experience. From seamless streaming to work to high-performance gaming, there's a Mesh System ready for your needs. Find your perfect Orbi Mesh System and ensure the best performance for your home today.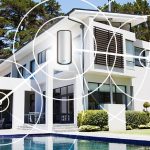 Choose the Right Orbi for you:

Orbi Buyer's Guide Compare the latest Orbi Mesh WiFi Systems.

Find My Orbi Tool Answer a few questions for an Orbi recommendation.