Insight 6.6 offers Improved VPN, Scheduled Device Reboot, Mobile Hotspot Support and Free Trial Subscription to Insight Pro
It's a fact that businesses need WiFi. From the smallest home office to the largest distributed network across hundreds of employees and sites, the last dozen meters between wired networks and business devices are increasingly connected via WiFi. Now more than ever, IT managers or managed service providers (MSPs) who provide networking services need to be able to configure, monitor, and manage networks remotely and efficiently. With an ever-increasing number of internet-connected devices, from laptops and tablets to smartphones and more, WiFi networking tools need to have powerful business-class features including deployment, security, and continual monitoring.
NETGEAR Insight
is a comprehensive tool that a growing number of IT managers trust to remotely manage their networks, from access points to switches, routers, and more. Version 6.6, released this week, features tools to help MSPs and IT professionals monitor network health and ensure that they can quickly discover problem areas and adjust their deployments with a single powerful interface. New features available in version 6.6 include Business VPN wired device support, the ability to schedule a device reboot, mobile hotspot support, a guided tutorial, and a 3-month trial subscription to NETGEAR Insight Pro.
Business VPN Wired Support
With Insight 6.3, we introduced the Insight Business VPN subscription service, a 2022 CES Innovation Award winner. Insight Business VPN allows businesses to provide secure connections from Insight-managed routers on their main office network to employee home offices and branch office sites over a virtual private network (VPN). Version 6.6 boasts improved VPN operation and introduces the ability to attach wired devices such as printers, desktop PCs, and much more to the VPN. Wired devices can now connect to all the available remote router LAN ports on Orbi Pro routers, such as those included with Orbi Pro WiFi 6 mesh systems –SXK30, SXK50 or SXK80 – (link), using 802.1x access control policy enforcements to control which device can connect to the Business VPN LAN ports.
Scheduled Device Reboot
The ability to remotely reboot a device or group of devices on a schedule or as needed is critical for IT managers and service providers, especially when the devices and manager are not in the same location. With this latest version of Insight, Insight Pro users can schedule device reboots any time.
Functionalities include:
• Device reboot on an organization level
• Multi-device selection
• Multiple scheduling polices
• Status reporting
Mobile Hotspot Support
Insight 6.6 provides support for Nighthawk mobile hotspots (link to M1/M5) on NETGEAR Insight Pro. IT managers can centrally orchestrate device deployments to their team for Internet access from anywhere with simple always-on connectivity. They can also manage distributed hotspots to ensure the correct configuration and policies are applied and to continually monitor and manage with NETGEAR Insight Pro.
Guided Tutorial and Insight Pro Trial
To make deployment and management even easier for customers, VARs, and MSPs, Insight 6.6 includes a step-by-step guided tutorial to walk Insight Premium and Insight Pro users through configuration, account management, and much more. The guided tutorial is located conveniently under the Account Management menu. For users who have not yet tried Insight Pro, we're offering a free three-month trial of Insight Pro for a maximum of 25 devices with Insight 6.6.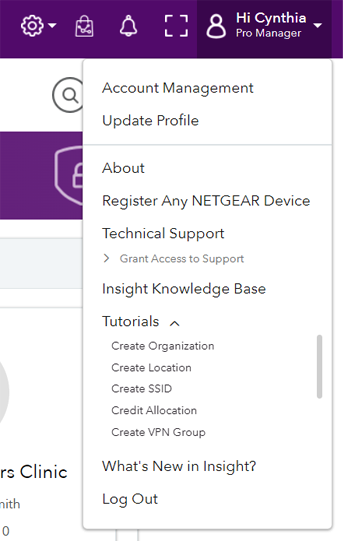 The Insight Journey Continues
We're coming up on six years since we first launched NETGEAR Insight Management on select access points, and we've come a long way since then in terms of both software and hardware advancements. Now we have dozens of access points, switches, and more that support Insight with more to come. We strive to make work easier by providing the tools necessary to easily manage your vital networking infrastructure no matter where you conduct business.
Learn more about NETGEAR Insight Management for Switches, AP's and Business Routers.
More Insight Blogs: The Cloud Network Management is Now to see how Insight can work for your business or home office.