Stream AV over IP with switches from NETGEAR. Get the best deals on top-quality hardware and elevate your setup today.
NETGEAR's commitment to the Pro AV industry has grown exponentially thanks to the many partners who work with us to certify operability and ensure complete compatibility. One of our newest strategic collaborations, with the Vizrt Group, has resulted in instant configuration of NDI® on our popular M4250 AV Line of switches through a unique NDI configuration profile.
NDI has rocked the world with its royalty-free software technology used by hundreds of manufacturers allowing broadcast-quality video and audio to be shared across an IP network. This eliminates the need for proprietary network equipment, costly point-to-point connections, and complex infrastructure upgrades.
IP-based audio and video workflows can be complicated. Making it easier for people to tell their story is what propels NETGEAR's Pro AV team. From switches with profiles you simply assign to ports, to a dedicated Engineering Services team to help design and install your network, NETGEAR is here to help make deploying AV over IP easier.

What is NDI?
NDI (Network Device Interface) is a new open standard for live production IP workflows over Ethernet networks. NDI allows systems and devices to identify and communicate with each other, and to encode, transmit, and receive high quality, low latency, frame-accurate video and audio over IP in real time.
Broadcast studios, houses of worship, even corporate AV all benefit from the new NDI 5 codec. The list of manufacturers who have adopted NDI is growing daily providing a plethora of cameras, switchers, controllers, converters and more to choose from.
Traditionally, IP-based audio and video workflows required costly equipment and complex configuration settings at the production end. As such, creation of high-quality audio/video content was restricted to professional studios. The NETGEAR AV Line of M4250 switches with its new, easy-to-use web interface combined with NDI software greatly reduce the cost and complexity associated with audio and video workflows. With NETGEAR and NDI, content creators can focus on telling a better story and not worry about getting to a professional studio or deal with the traditional AV workflow technology.
NETGEAR Pro AV Switches

NETGEAR has been making a name for itself for years with switches that are engineered for AV over IP. Unique features built into all NETGEAR Pro AV switches like NETGEAR IGMP Plus™, Auto-Trunk and Auto-LAG follow IT best practices to ensure that any NDI AV over IP deployments will work with minimal configuration required.
The AV Line of M4250 switches creates an entirely new, much easier way of deploying AV over IP systems. The unique AV graphical user interface (AV GUI) simplifies configuration by using profiles with all the specific settings for each type of AV codec, like NDI 5. All you have to do is to choose the codec and choose the ports using that codec. That's it. All the settings are handled for you, automatically, greatly reducing setup time.
The M4250-10G2F-PoE+ AV Line Managed Switch (GSM4212P) is the perfect switch for use with NDI with 8x1G PoE+ ports with 125W of PoE budget, 2x1G standard ports, and 2xSFP ports for 1G uplinks as well. This switch makes it easy to configure with profiles for NDI 4 and a brand new profile for NDI 5 with Q-SYS, Dante, or AES67 audio, all through the simple AV GUI.
NETGEAR M4250 Switches Perfect for NDI 5
The new NETGEAR M4250 line of switches combined with the world of NDI 5 mean the possibility of simple, affordable IP-based broadcasting and recording can now be realized.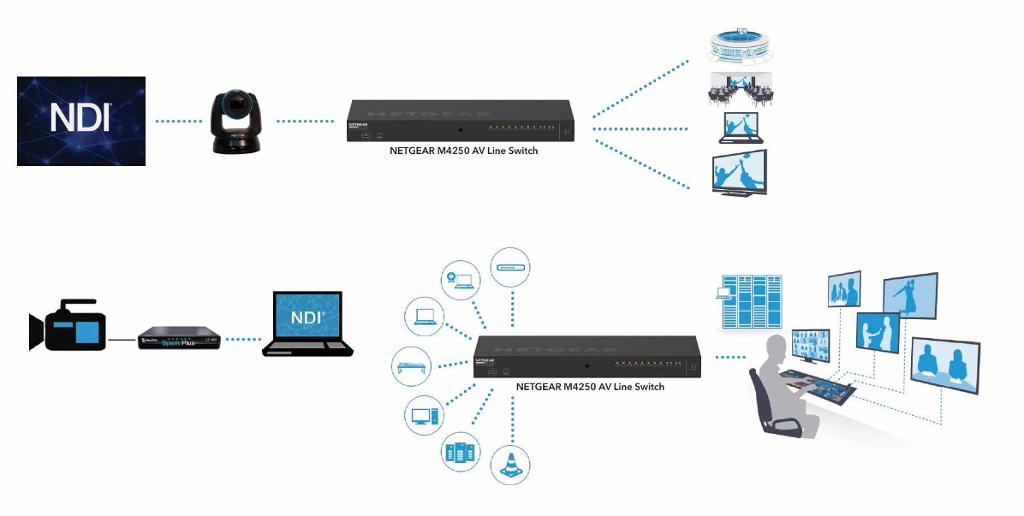 Find out more: netgear.com/gsm4212p netgear.com/avline netgear.com/proav
Press Release: NETGEAR Leads the Industry with NDI ® Instant Configuration