Nearly a third of Americans would give up dining out (among other things) for a year to ensure flawless WiFi
We all know how critical WiFi is to our lives. It powers everything we love as well as all we need to do to stay productive. We recently commissioned a poll to put this reliance in context. The findings helped to confirm things we thought we knew, but also uncovered some surprising insights.
Internet and Data Usage Skyrockets
Research shows just how important Americans view strong in-home WiFi, with 45% of respondents reporting that they cannot live without it.
It's no surprise that the pandemic spurred huge changes in internet usage due to social distancing norms and nationwide lockdowns. Across the world, people began doing everything from home including streaming, working, online shopping, learning, gaming, social networking, and more – a trend continuing to this day. From emailing for work and managing finances to watching TV and listening to music, much of our lives now occur online. According to the study, Americans now spend an average of 16 hours daily online – with many reporting the amount of time spent online increased substantially – primarily working, streaming, and consuming the most popular social media channels, leaving only eight hours each day, at most, to disconnect and sleep.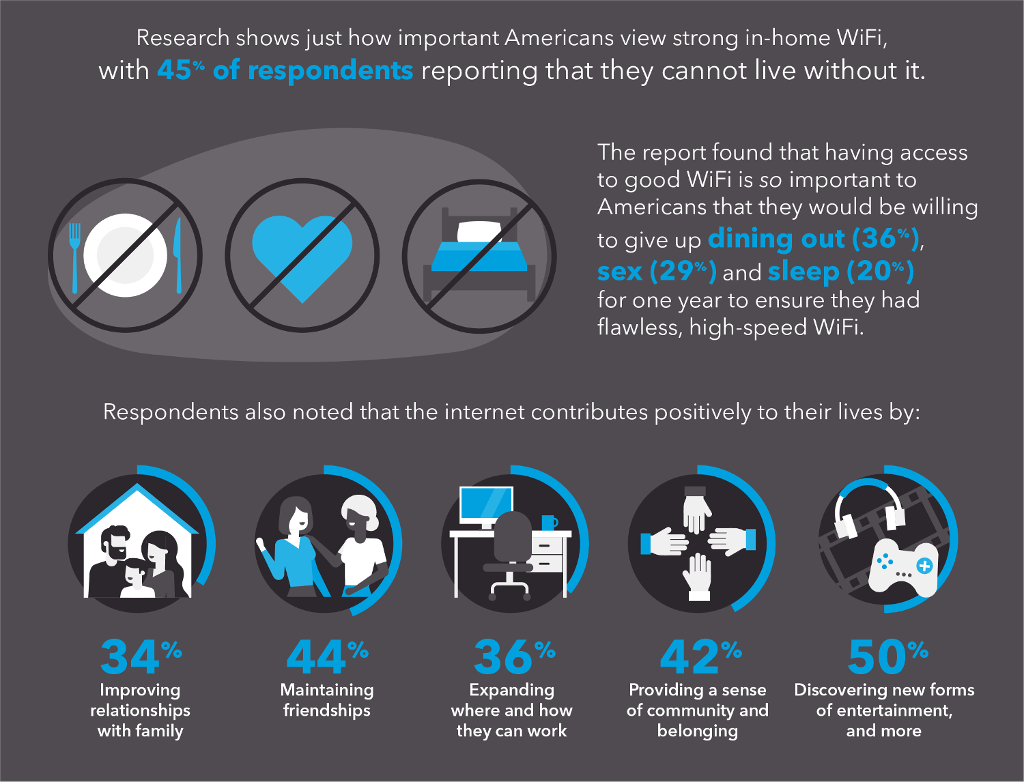 In fact, the survey highlighted just how important Americans view strong in-home WiFi, with 45% of respondents reporting that they cannot live without it. The report also found that having access to good WiFi is so important to Americans that they would be willing to give up dining out (36%), sex (29%) and sleep (20%) for one year to ensure they had flawless, high-speed WiFi. They also indicated that internet use contributes positively to their lives by:
– Improving relationships with family (34%)
– Maintaining real-time friendships
– Expanding where and how they can work (36%)
– Providing a sense of community and belonging (42%)
– Discovering new forms of entertainment, and more (50%)
While the internet has become a daily necessity, we found that many Americans still experience connection issues with their home WiFi network that interferes with their ability to work, learn and play online. Unstable WiFi can often be caused by network congestion, too many devices including mobile devices trying to connect, or slow speeds due to the wrong or outdated equipment. So many Americans rely on networking equipment rented to them by their internet service provider (ISP). Most don't realize they are getting charged a monthly rental fee or that they can upgrade their performance by investing in their own networking equipment. With so much riding on WiFi performance, slow, bad or intermittent connections can lead to decreased productivity, user frustration, and a poor overall online experience. The study showed:
70% of consumers experience connection issues with their home WiFi networks
Nearly a third of respondents reported that an unreliable WiFi connection is among the biggest causes of stress at home
Only 10% of Americans surveyed reported that their online experience is "great"
Many believe that upgrading their devices (34%) and networking equipment such as a router or mesh system (28%) would improve their time online.
Respondents also believe purchasing new networking equipment, such as a new router or mesh system, would improve their biggest concerns about WiFi in their homes, such as:
Speed (24%)
Security (21%)
Ability to support multiple devices at once (12%)
The Key to Better Internet
Compounding the issue, we found that Americans continue to buy new IoT devices for their homes at a high rate, with many planning to purchase new computers or tablets (34%), gaming consoles (32%), a smart doorbell (31%), and smart lights (29%), among others in 2023 alone. Survey participants revealed they have about eight connected devices in their homes, but industry research has shown that most people woefully underestimate, and the average is closer to 16 connected devices. While most households plan to add more internet connected devices, the study revealed that most are not paying as much attention to their home WiFi networks to support the growing number of devices, services, and applications they use in their home (11%).
And it's not just the number of devices in the home to think about. We're constantly adding new streaming services, online gaming platforms and equipment, apps and software that all add to the load on the home network. We look at it like this – you would never add a bathroom to your home without thinking about the plumbing. The same can be said about WiFi and ensuring you have the proper infrastructure to support everything you plan to do online. Investing in the best broadband internet service and networking equipment will ensure you get the speeds you pay for to every corner of your home. The number of internet users and devices should always be a primary consideration.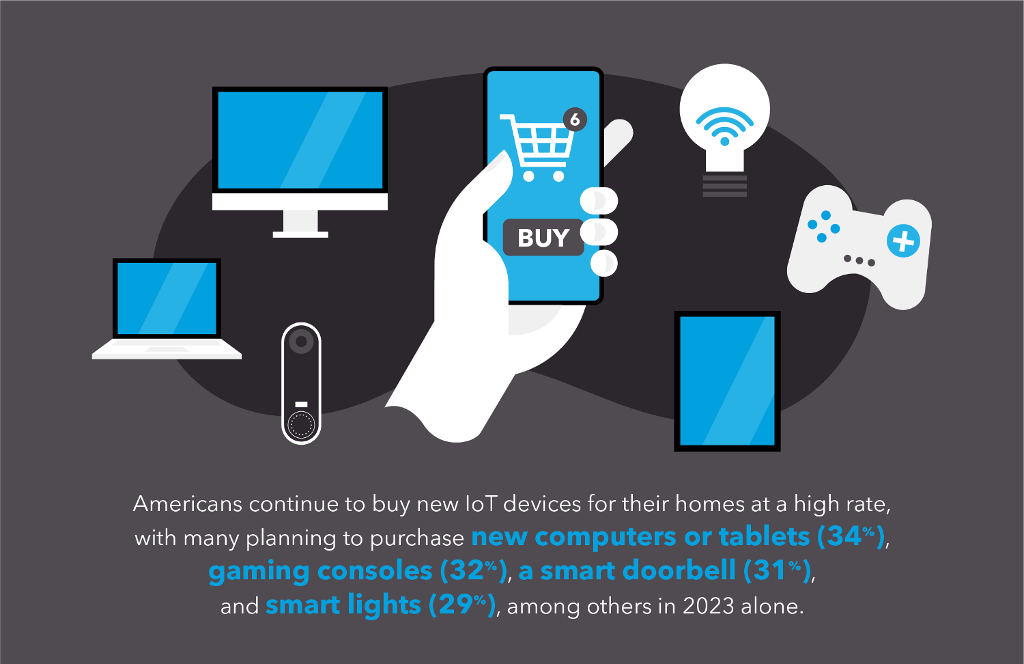 The Connected Future
The future includes even more connected devices, not less. In fact, it's difficult to find new gadgets from kitchen appliances to children's toys that don't require an internet connection. Entertainment will become more immersive with the rise in 8K video streaming and AR/VR gaming. As we're all coming to realize, the future will not be televised. More and more cultural and sporting events such as NFL's Thursday Night Football will be available exclusively over streaming platforms where any drop in network performance could mean an unwatchable game or missing out on socially impactful events. As cord cutters begin to outpace cable subscribers, a bulletproof network will be just as important as enjoying the latest entertainment as the device on which it's viewed.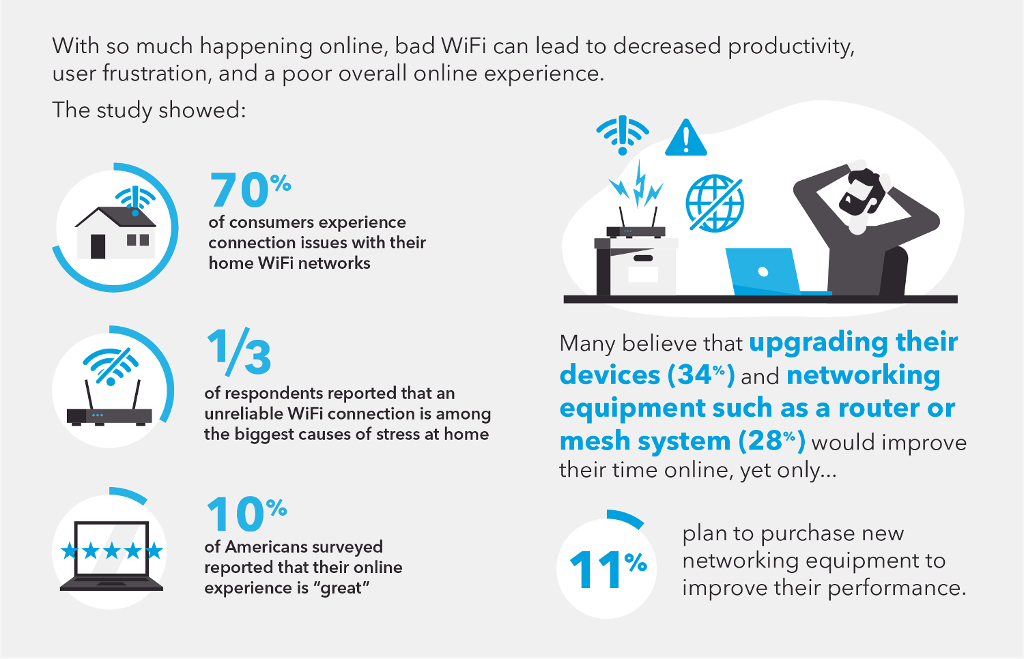 This is all in addition to the increasing need for always-on, secure internet in and around the home for work, school, socializing and much more; the availability of faster Gigabit-plus speeds from ISPs; and new internet standards on the horizon.
All these factors put pressure on homeowners to choose the right networking services and devices. It can be daunting. We all just want everything to work and to be set for the foreseeable future without having to think about changing out equipment every year. It may be counterintuitive, but not surprising, that some choose to do nothing. It's akin to eating well, exercising, or getting enough sleep – all the things we know are good for us. Getting started seems difficult or we just don't know where to begin. That's where NETGEAR can help.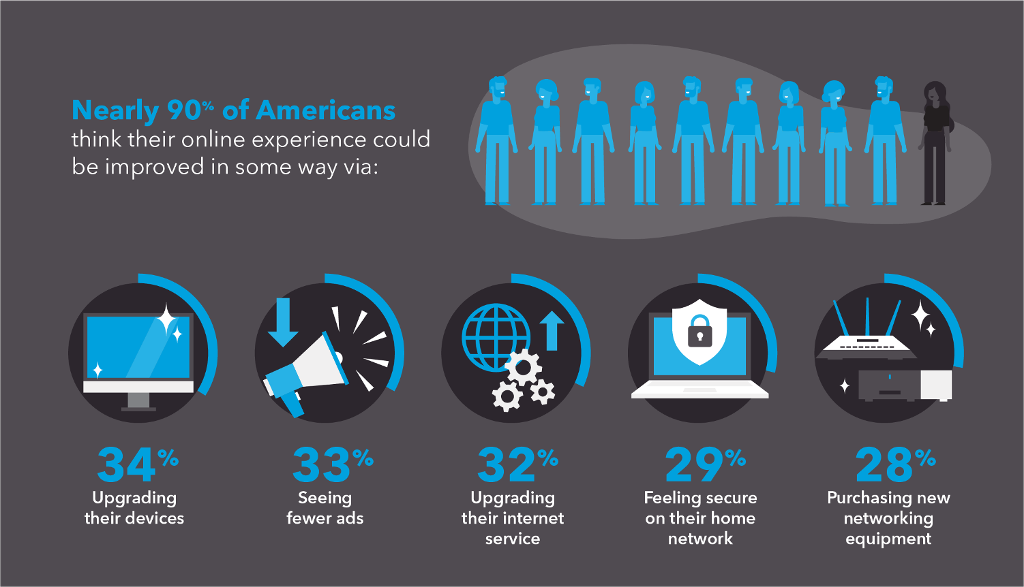 Bridging the Gap with NETGEAR
As a trusted industry leader with more than 26 years of home networking experience, NETGEAR provides solutions with the latest WiFi technology and proprietary innovations that let internet users get the most out of the internet speeds they pay for. The patented technology in our Orbi mesh systems ensure that families get the highest speeds in the furthest reaches of their home or property without dead zones or drops. Additionally, our services take the hassle and worry out of keeping personal information safe and all of this comes in an elegant package that's very easy to use.
For those with the latest Android and Smart phones or Windows-based PCs that support WiFi 6E, the Orbi 960 series offers the fastest speeds and best performance for the whole home. Our new Orbi 860 series mesh system is designed to keep connections strong in large homes without slow-downs or buffering for households using devices that support WiFi 6. For those on-the-go or who live in rural areas without internet access to a reliable wired connection, the Nighthawk M6 delivers blazing-fast WiFi 6 and 5G speeds to your devices, anywhere a cellular signal is available.
Every new smart home device we connect to our home networks introduces a new threat. For peace of mind, NETGEAR Armor protects the connected home from online threats. Unlike traditional endpoint antivirus products, Armor is built into the router as a comprehensive security solution to monitor activity going to and from the Internet, protecting computers, security cameras, baby monitors and other IoT devices and flagging external threats while eliminating the need for multiple security subscriptions or software.
NETGEAR has been pioneering networking technology for more than a quarter century. No other competitor has a similar track record or pedigree. We help families and businesses connect to not only what the need to do to stay productive, but also what they love to do. We do it with the best technology available and make it easy to install and enjoy. Check out our award-winning line of routers and mesh systems and upgrade your experience today.
Methodology: "How Americans are Using the Internet"
NETGEAR's How Americans are Using the Global Internet was conducted by OnePoll between November and December 2022 and surveyed more than 2,000 consumers across the United States on their experience with WiFi and connected devices in the home, what their online habits are, and which factors they view as important to maintaining a quality online experience. The survey was posed to OnePoll's group of general population respondents and remained open until 2,000 survey responses were complete.