NETGEAR's Insight App
Let's face it – running a business is not easy. Top that with having to manage your own IT, and you have a challenging situation on your hands. The last thing you want to do is spend the whole day trying to troubleshoot your network, WiFi, or data storage, when there are other business or customer related tasks that need to be dealt with. Now, when confronted with these complicated IT issues, you may wonder how you can swiftly resolve your problems.
Good news – you don't have to fight this network management battle alone. NETGEAR brings you an easy-to-use, simple solution. We call it "Insight".
Insight is the first cloud based, mobile-first network management solution for small businesses. The NETGEAR Insight management app lets you easily discover, setup, monitor and manage select wireless access points, switches, and ReadyNAS directly from your iOS or Android device. From the palm of your hand, you can easily discover and install your device through a QR code scan or WiFi discovery, identify device status and usage at a glance, and quickly recognize issues or take action on problems on your network devices. Click here to download the Insight App for iOS or Android.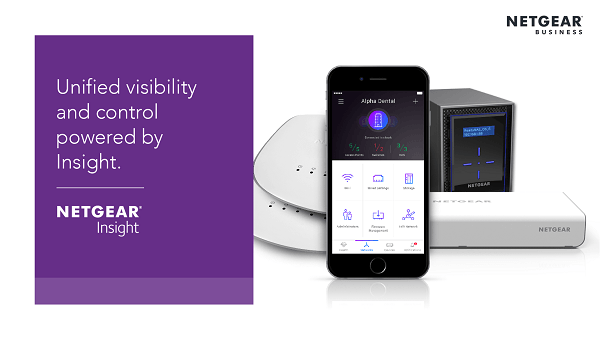 So why mobile first? As a business owner, you are always on the go, often having clients or vendors to visit, or perhaps even having multiple locations to operate, and you aren't always necessarily on the premises of your establishment. This app is available for you to use remotely with anywhere access, but also, it is always on and available for your business needs. Whether you're enjoying the summer in Milan or are in the comforts of your home, you'll be able to manage your network smoothly and swiftly.
Additionally, Insight also has an ecosystem that allows you to connect your NETGEAR devices such as Insight Managed Switches, Insight Managed Wireless Access Points, and ReadyNAS. The Insight Ecosystem makes management and usage a breeze.
With NETGEAR, managing your IT and small business connectivity don't have to be complicated. Your Network. Anytime. Anywhere.
In our next blog about Insight, we will be introducing you to business owners like yourself that use the Insight app to help manage their business network. Stay tuned and we'll see you back soon!