In today's households, WiFi has become truly critical and is often seen as the 4th utility, being just as important as electricity, gas and water. The average American home uses 11 connected devices, and that number is expected to double by 2019. These devices range from typical smart phones and tablets streaming HD and 4K videos and games, to smart home gadgets like video security cameras, thermostats, smoke detectors, lights and door locks. With all the bandwidth required for these devices and their connection to the cloud, it's no wonder that we often experience dreaded buffering and lag times.
To address these challenges, NETGEAR has developed the award winning Orbi Tri-band WiFi System, a distributed WiFi system that works to bring the internet speeds you get near your ADSL or cable modem throughout your entire home, eliminating dead zones.
What is Tri-Band?
Most modern WiFi devices are dual-band, meaning that they have 2 radios, one on 2.4GHz, originally designed to support devices running older WiFi protocols like 802.11A/B/G, and a more modern 5GHz -802.11ac running at speeds 3x faster than 2.4GHz. A few of the key benefits of using the 5GHz band is that it occupies a channel that typically has less interference, is much less congested, and supports better speeds; while the 2.4GHz band has better range, but is more susceptible to outside interference.
Where Orbi is unique is that NETGEAR has actually added a third radio to the Orbi WiFi system (hence Tri-band). There are a few reasons why having this 3rd radio is beneficial.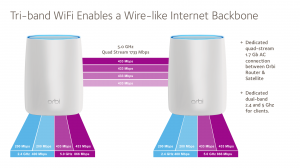 First, Orbi dedicates this third radio for backhaul communication between the Orbi router and its satellite(s), or in other words, creates a virtual wire that is dedicated solely for data flow between the router and satellite(s). In contrast, dual-band solutions use the same WiFi bandwidth to not only connect to end devices (what we call front haul), but also between access points. By using a tri-band architecture, the front haul channel is immediately available for devices to connect. This dynamic dramatically improves efficiency by up to 50% as compared to dual-band WiFi systems, especially as more devices are brought onto the network.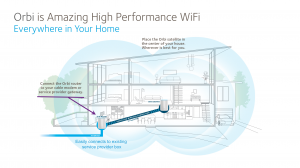 A second benefit is that, since the speed of the extra radio (theoretically rated at 1.7Gbps) is faster than typical internet speeds, the fast internet speeds don't end just at your DSL/cable modem, but are brought to the furthest reaches of your property. Imagine having WiFi to stream HD video in the every bedroom, by the pool or out on the patio.
For example, let's assume that you have a 100Mbps internet connection coming into a cable modem and your Orbi router is plugged into it. End devices (like your iPhone) that are connected to the router already have access to speeds at an aggregate of (400 + 867 Mbps) to be shared among all devices connecting to it. In addition, the tri-band radio operating at up to 1.7Gbps brings internet speeds to all the satellites, meaning that the fast internet speeds are available throughout your entire home.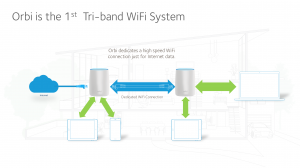 A third benefit is that a system of Orbi and satellite, connected over the Tri-band, functions in concert, so it's almost like deploying a single, virtual, distributed gigabit Ethernet switch in your house. You can place your Orbi in your home office and plug in wired Ethernet devices like printers, Network Attached Storage (NAS) or media servers into your Orbi and have those services available throughout your house.
The best part of all this advanced technology is that setting up the Orbi could not be easier. Just plug the Orbi router into your cable modem, and place the satellite at the center of your house and use the Orbi app to install & personalize your system within minutes. It's very simple to deploy and has intuitive color notifications on the router and the satellite. Orbi creates one single high-speed network in your home and automatically moves your device between bands, so that you and your whole family can simultaneously enjoy a consistent and buffer-free, high-speed WiFi experience.
Orbi Tri-band WiFi. Just sit back and enjoy better WiFi.