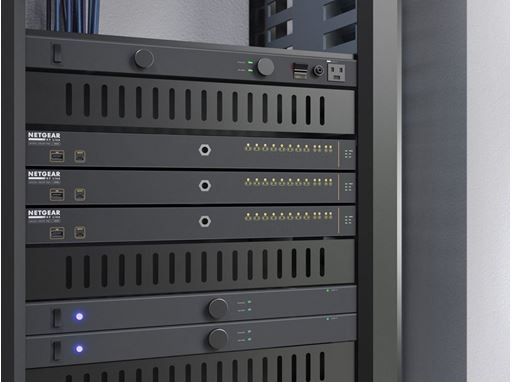 NETGEAR®, Inc. (NASDAQ:NTGR), the leading provider of networking products that power businesses both large and small, and Crestron Electronics, Inc., a global leader in workplace collaboration technology, today announced that 4 models of the versatile M4250 AV Line Series switches are now available directly through Crestron. A dominant player in the growing transition to AV-over-IP, Crestron will resell select NETGEAR AV switches as a part of the Crestron DM NAX™ Audio-over-IP and DM NVX® AV-over-IP solutions.
NETGEAR AV's M4250 line of switches are designed to work out of the box for most AV-over-IP installations – and this is the case for Crestron DM NAX and DM NVX endpoints as well. Most other network switches require complex and time-consuming configurations to function properly. M4250 switches provide an incredibly simple configuration for AV-over-IP deployments, enabling streamlined integration with Crestron DM NAX and DM NVX solutions. The result is less time spent configuring the switch and more time to focus on the other parts of the installation.
"As leaders in our respective spaces, NETGEAR and Crestron share a similar vision for flawless AV-over-IP deployments," said Laurent Masia, Director of Product Line Management, Managed Switches at NETGEAR. "We're pleased to enhance our partnership ensuring our customers are able to bring their projects to life as seamlessly as possible."
"Our goal is to continuously evolve our ecosystem to fit into as many use cases as possible, including conference rooms, active learning classrooms, huddle spaces, homes, and many more," said Ekin Binal, Director of Product Management AV Solutions at Crestron. "Working with NETGEAR and making these switches available through our extensive network ensures that our dealers have the best technology and scalability available to support their growing AV deployments."
NETGEAR AV M4250 Series Switches
The NETGEAR AV M4250 Series switches are unique in the industry with an innovative AV-oriented GUI, a clean aesthetic and multiple mounting options. The AV GUI provides a simple AV friendly, template-based approach to switch configuration removing all the complex menus filled with arcane IT network jargon. This streamlined workflow enables AV integrators and installers to dive right into projects with the confidence that all the network settings are correct for their AV application.
With both desktop and rackmount models, the M4250 switches offer multiple mounting options depending on the installation. And all Crestron M4250 models provide Power over Ethernet (PoE) for single cable power and data delivery, making installation even easier.
NETGEAR AV Launched
NETGEAR's AV-focused division, NETGEAR AV, has been recently launched to concentrate on the needs of both the commercial and residential custom integration AV markets. This includes products that are only available in the AV distribution channel, design teams for Pro AV and Pro WiFi installations, and software to help configure and manage wired and wireless networks.
For more details on this offering, please contact your Crestron representative.
About Crestron
At Crestron, we build technology for every way people work, everywhere in the world – from desktop to boardrooms, offices to multi-nationals. Technology that adapts to what you have and prepares you for what you will need. Platforms, devices, and systems designed to improve communication and collaboration. All managed by a cloud-based system for easy deployment, monitoring and upgrading. At Crestron, we create simpler solutions so people can work faster, better, and more productively. Discover Crestron at www.crestron.com.
About NETGEAR, Inc.
NETGEAR® (NASDAQ: NTGR) has pioneered advanced networking technologies for homes, businesses, and service providers around the world since 1996 and leads the industry with a broad range of award-winning products designed to simplify and improve people's lives. By enabling people to collaborate and connect to a world of information and entertainment, NETGEAR is dedicated to delivering innovative and advanced connected solutions ranging from mobile and cloud-based services for enhanced control and security, to smart networking products, video over Ethernet for Pro AV applications, easy-to-use WiFi solutions and performance gaming routers to enhance online game play. The company is headquartered out of San Jose, Calif. with offices located around the globe. More information is available from the NETGEAR Press Room or by calling (408) 907-8000. Connect with NETGEAR: Twitter, Facebook, Instagram and the NETGEAR blog at NETGEAR.com.
©2023 NETGEAR, Inc. NETGEAR and the NETGEAR logo are trademarks and/or registered trademarks of NETGEAR, Inc. and/or its affiliates in the United States and/or other countries. Other brand and product names are for identification purposes only and may be trademarks or registered trademarks of their respective holder(s). The information contained herein is subject to change without notice. NETGEAR shall not be liable for technical or editorial errors or omissions contained herein. All rights reserved.