With millions of active video surveillance cameras in use around the world, they've proven to be a highly effective way for businesses to maintain safety and security. However, installation and maintenance can often be a complicated process for traditional cameras that require separate cabling for both power and data, making them costly to install.  Power over Ethernet (PoE) simplifies IP camera installation, with both power and data carried over a standard network cable. Using PoE means less modification to your premises, requires no electrician or building permit, and will need less maintenance. Supported by an increasing number of new cameras, the PoE standard can deliver power to even high-end devices, making advanced monitoring systems available to a wider range of organizations.
Visit our PoE page to learn – How do security cameras get power?
In the United Kingdom, surveillance cameras have been a security success story. Of the estimated six million surveillance cameras in use, the overwhelming majority are operated by private companies as a means for keeping their business premises safe. Their visibility reassures customers and staff, and the footage they produce often provides valuable answers in the event of any incident.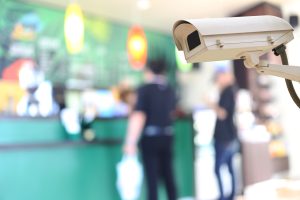 Of course, CCTV technology has evolved over time. Long gone are the unwieldy, tape-based systems of yesteryear, replaced with cameras that record directly to digital formats, now based on IP data streams that make remote monitoring available to businesses of all sizes. But the power requirements of CCTV are a remaining obstacle that makes installation costly and complex, preventing many organizations from installing a modern and effective camera system.
Any business that wishes to install CCTV on its premises has to think about how to supply power to wherever it wants to place a camera, and that will probably mean paying for additional electrical work, which can create a significant cost. Listed buildings may require a permit, or even prohibit the kind of modifications needed to support CCTV. A business may even have to compromise on its security plans, as there might be no feasible way to bring power to places where a camera will be most effective, such as in a ceiling mount or a remote corner.
The solution is something we're all familiar with in our phones and other USB devices – both power and data delivered over a single cable. This is now possible with the kind of high-end, IP-based CCTV cameras that a business will need, thanks to a technology called Power-over-Ethernet, or PoE.
PoE offers a number of unique business benefits:
Power and data delivered to devices using standard network cabling (Cat 5e / Cat 6 / Cat 7)
Central management of an organization's entire IP infrastructure from a single PoE switch
Applications include cameras, wireless access points, IP phones, biometric access panels
Delivers up to 30w of power to each device, and soon more to come
Support even high-end devices, including advanced cameras
Adopting PoE means you only need one cable to both connect and provide power to remote devices up to 100 meters away from the switch. You may already have networking cable installed throughout your business premises, which means adopting PoE could be as simple as purchasing a compatible switch and turning it on.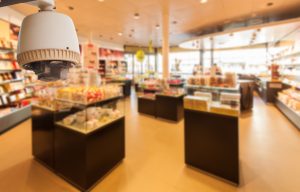 If not, the installation of the required cabling for a PoE CCTV system will certainly be simpler, safer and cheaper than anything involving electrical work, with one cable run required rather than two, leading to easier maintenance further down the line that won't require paying an electrician or acquiring permits.
PoE switches come in a wide range of configurations to suit businesses of all sizes. Both managed and unmanaged switches are available to satisfy different IT requirements. An 8-port switch has enough power to connect a small environment, such as a few cameras and access points in a single small area, while larger models can generate enough power to supply high-end IP equipment throughout an entire building. PoE usually reduces the total cost of security installation, and planning for it now will make it easier to maintain equipment within your business in the years to come.
And it's still early days for PoE. While the technology is already fully mature, in the future we will be able to connect an even greater range of devices to a PoE network, powering even more kinds of devices and business equipment.
The PoE market encompasses a number of fully independent IEEE standards – 802.3af (PoE) and 802.3at (PoE+) with a third called 802.3bt recently ratified. This new standard will further raise the power output for connected devices up to 100w, allowing for even more advanced devices to be connected.
In time, PoE has the potential to have a huge impact on all industries, besides security. It opens new markets for products that were previously impractical or simply not cost effective. It simplifies power, as well as data requirements for not just a business, but entire buildings.
We envisage the proliferation of all kinds of equipment powered and controlled using PoE hardware, including displays, speakers and advanced IoT sensors. The secure, smart, green building of the future is only possible with the right infrastructure, and PoE is the technology that can make it a reality. Visit NETGEAR online and contact us to find out more today!
See our Full Selection of PoE Switches by NETGEAR Business.