Meeting the needs of scaling businesses, NETGEAR has launched its latest unmanaged switch – the GS108X, featuring 8 Gigabit Ports and 10G SFP+ port for non-blocking uplink over longer distances.
The business case for GS108X Switch
Powerful Yet Cost-Effective Unmanaged Switch Built for Growing Businesses
To meet the needs of scaling businesses and the ever-increasing speeds of connected devices, NETGEAR has launched its latest unmanaged switch – the GS108X, featuring a 10G SFP+ port for non-blocking uplink over longer distances. The switch is energy efficient, providing additional cost savings on top of the affordable price point. It is also built to last and rigorously tested to provide the reliability that today's modern business needs.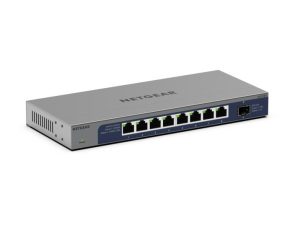 As a business becomes more complex, the need for strong network connectivity grows with it. With more devices required to run day-to-day operations, business owners may find that they have outgrown the Ethernet connections on their router which is where the GS108X Switch fits in. The cost-effective solution provides seamless connectivity to a router (such as the NETGEAR PR60X) or a core switch for powerful networking with a smaller port count without compromising quality. With minimal management required, the GS108X is easy to set up and use for companies that may not have dedicated IT support.
In addition to the 10G SFP+ port, the GS108X switch comes with eight 1G ports that offer gigabit speed to overcome Ethernet overload so your connection is not slowed down or interrupted entirely. The robust speeds on each port are able to manage high-demand applications, allowing business operations to continue without worry.
The technical specifications of GS108X Switch
8x Gigabit Ethernet ports for high bandwidth devices – Connect devices instantly and give each device the Gigabit speed they need.
1 SFP+ Fiber Uplink – Expand to a high-speed, long-distance connection for more than 100m. Requires fiber transceiver.
Plug-and-play, automatic connectivity to your router – No need for an IT expert or a complicated user manual, just plug-and-play!
Flexible mounting options (desktop or wall mount) – Adapts to your needs and configuration in a home or business environment.
LED to indicate activity on each port – Check port activity directly on the switch for network activity status.
Auto-negotiation for automatic connection at the highest common speed between switch and end device – Get the best of your device connectivity automatically.
The switch comes in a sturdy metal case that can live in a variety of places, including mounted on a wall or under a table. The fanless design also allows the switch to operate silently in a noise sensitive environment. Advanced features of the switch which include 802.1p traffic prioritization and jumbo frame support allow for seamless integration with more sophisticated networks.
The GS108X feeds into the broader NETGEAR ecosystem, which provides a one-stop shop for all connectivity needs, with solutions that work seamlessly for an optimized network. The switch also comes with a Limited Lifetime warranty at no extra cost with product registration and is available on the NETGEAR website today for $99.99.