NETGEAR M4250 Switches Crestron Certified for Worldwide Acceptance
Certification and new features help ease transition to AV over IP
There is both constant excitement and apprehension towards the transition from circuit-based AV systems, like HDMI, to packet-based systems otherwise known as AV over IP.
For years, AV integrators and consultants have honed their skills and adapted to various video and audio signal types and methods for distribution. Some have already taken the plunge into the networked AV world, but many are still wary of this change.
The good news is that NETGEAR and Crestron are working together to help make this transition easier – painless, even.
Any discussion about AV equipment, whether it is used in the home, office, or somewhere in between, involves an undisputed leader in the industry: Crestron. Creston is known for its cutting-edge technology, and part of its appeal lies in its ability to control and manage a wide range of devices. Customers know that Crestron makes AV easier.

NETGEAR is committed to the Pro AV community, ensuring its products are fully certified with as many endpoint manufacturers as possible. Crestron's program for certifying equipment within their ecosystem carries special significance due to the sheer number of installations that are done worldwide using their products.
Having Crestron rigorously test and certify the M4300 series switches earlier this year and the new M4250 series switches currently distinguishes NETGEAR's dedication to the AV market and provides users with the confidence they need to make the transition to AV over IP.
Part of the trepidation in moving to AV over IP is network configuration. But here is where NETGEAR has really made a name for itself. The successful M4300 Series switches lay the groundwork for out-of-the-box functionality thanks to NETGEAR IGMP Plus™. With most simple installations, you can plug in your encoders and decoders, turn the switch on, and get going.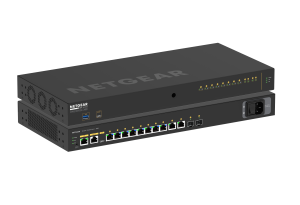 The new AV Line of M4250 switches takes AV-over-IP installation to the next level with an all-new AV-centric user interface. When you need special settings for a specific type of installation, you don't have to read a 20-page configuration guide and hunt down archaic settings meant for a certified IT administrator. With the M4250 AV GUI, you simply assign the appropriate profile to any or all of the ports, and you're done. The profiles have all the settings you need — right from the start.
The coveted Crestron certification of the new AV Line of M4250 switches highlights NETGEAR's attention to the needs of Pro AV integrators and installers and its aim to make their lives easier, which is a driving force within the NETGEAR team.
After all, you don't just have a product; you have a team behind the product that is committed to simplifying your work. Through great products like the new M4250 switches and help from the free Pro AV Engineering Services team, the NETGEAR team is dedicated to helping you make the transition to AV over IP a little easier.