A Piece of the AV over IP Puzzle
The growing interest in AV over IP has generated more attention on the IT products used in these installations.  For many in the AV world, including myself, managed switches are unfamiliar territory. And for those IT-savvy integrators and consultants, the importance of the switch has become more apparent with every networked AV deployment.

Commercial Integrator has helped shine some light on just why the managed switch is now so important.  These vastly configurable devices allow for some quite complex environments which can come at a cost of time and effort when trying to configure them for AV over IP. But that's where NETGEAR comes in.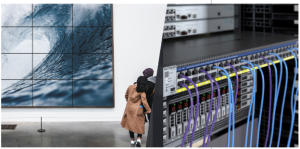 NETGEAR M4300 (and the just-released M4500) series switches offer an unheard-of ease of use for managed switches.  These switches have been completely engineered for AV over IP and come out of the box with NETGEAR IGMP Plus™ which makes deploying these projects a breeze. 
While the NETGEAR switches support any networked AV standard, they really excel when using endpoints built with the Software Defined Video over Ethernet (SDVoE) standard.  Allowing video, audio, control, and Ethernet with optional scaling, videowall, multiviewer, and multichannel audio downmixing features, SDVoE products take advantage of the high throughput and low latency of the M4300 and M4500 switches. 
Download the full report and find out why the Managed Ethernet Switch is the most integral piece of the AV puzzle.