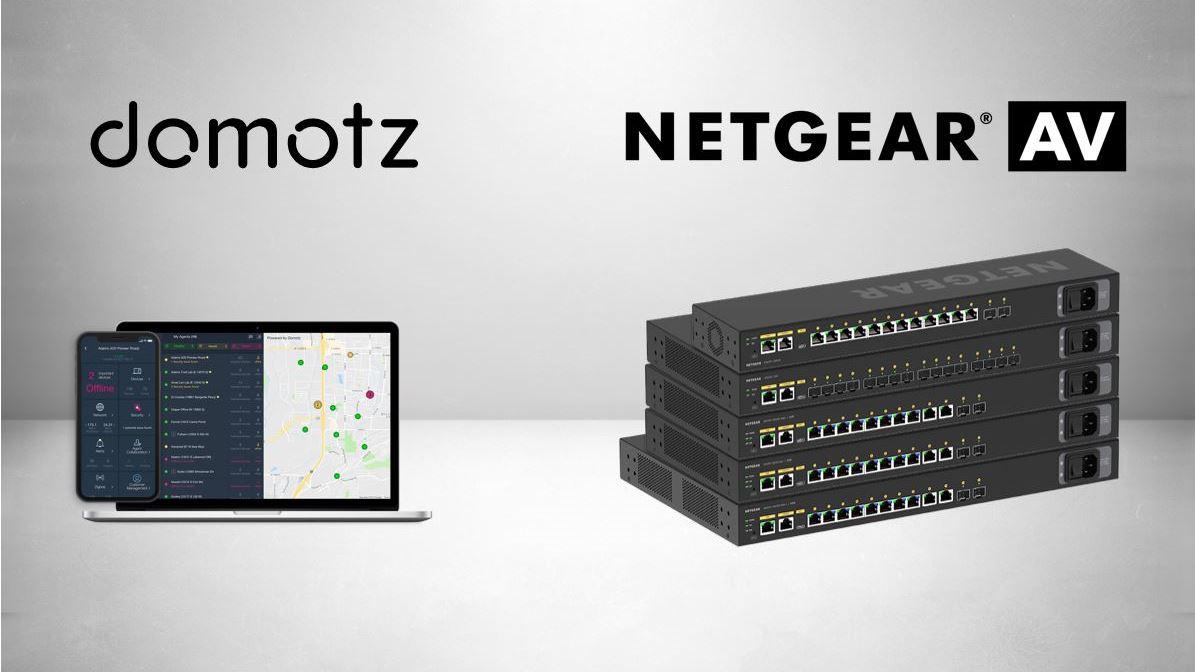 DOMOTZ AND NETGEAR ANNOUNCE NEW PARTNERSHIP TO BRING INNOVATIVE NETWORK MANAGEMENT FEATURES TO SWITCHES, ACCESS POINTS AND ROUTERS
Draper, UTAH  September 15th, 2022 –  Domotz, the award-winning leader in network monitoring and management, device inventory and security awareness, today announced a partnership with NETGEAR®, Inc. (NASDAQ: NTGR), the leading provider of networking products that power businesses both large and small,  to add cutting-edge new features to NETGEAR managed switches, Insight-based access points and Orbi Pro wireless systems.
Domotz provides unparalleled visibility of digital assets and data flows, empowering users with mission critical knowledge and actionable insights The company works closely with partners to ensure integration of its Domotz Agent software is seamless and easy to use. For NETGEAR switches, it provides features such as port mapping, PoE control and configuration backup. For NETGEAR wireless access points and Orbi Pro routers and mesh systems Domotz-enabled features include end-point mapping, WAP reboot, signal strength indications and more. The integration allows Domotz users to add and manage a wide range of NETGEAR devices to their existing networks quickly and easily.
"At NETGEAR we are always looking to make the lives of our business customers easier by providing them more control with less complication," said Laurent Masia, director of product line management for managed switches at NETGEAR. "The addition of Domotz to our growing network of partners allows us to provide a feature-rich, elegant solution for monitoring and managing their valuable business infrastructure."
"We're thrilled to be partnering with NETGEAR, the world-renowned leader in networking products," said Silvio Di Crosta, CEO of Domotz. "Both Domotz and NETGEAR users will really benefit from this new partnership. These new features available for NETGEAR products will dramatically improve, visibility, control, and efficiency in managing their systems – and there's more to come."
New NETGEAR Features
A host of impressive new features are now available for NETGEAR products on the Domotz App:
For network switches — Domotz now includes automated switch port mapping, power management via PoE, bandwidth graphs, and information on errors and packet discards. Additionally, network configuration management features are now available including backup and restoration of configuration files, alerts on configuration changes that help with network security and the ability to compare and quickly roll back to previous configuration versions.
For Insight-based wireless access points and Orbi Pro routers and mesh systems — more detailed information and analytics are now available. This new information includes device, system, and network information as well as radio properties, controller and reboot details, client connections and wireless LAN properties.
Pricing and Availability
The new NETGEAR capabilities are now available on the Domotz App. Login or sign up to learn more.
About Domotz
Founded in 2015, Domotz is an award-winning network monitoring software that enables MSPs, System Integrators, and IT Departments to run their businesses more efficiently. The software enables businesses to remotely monitor and manage their networks and devices through features including automated network topology, configuration management, remote device access, SNMP monitoring, network diagnostics, remote power management, device alerts, team collaboration, network mapping, and multiple VLAN support. More than 4,000 MSPs, IT professionals, and integration businesses in 190 countries use Domotz daily to deliver remote support to tens of thousands of networks. Learn more by starting a free trial of Domotz today.
U.S Media Contact:
Violet Chepil
violet@domotz.com