With major increases in data transfers and the need for instant data travel within a network, data centers have been replacing their existing aging three-tier design with what is being referred to as 'Spine and Leaf' architecture. This architecture is more adaptable to the continuous changing needs of evolving data centers in thedata space.
Today, there is need for even more bandwidth, increased transfers, reliability in data usage and storage. Virtualized environments, big data, and an increase in bandwidth usage have been entering the enterprise space. However, many enterprises cannot afford traditional large-scale networking architecture "datacenters."
Until now.  NETGEAR is making large-scale datacenters accessible for the enterprise space, by leading the way in introducing unique Spine and Leaf carrier-grade performance, reliability and scalability in our fully managed switches portfolio, with enterprise affordability!
Netgear Spine and Leaf outsmarts existing enterprise ring topologies and brings:
Zero network downtime – instant failover and non-stop forwarding capabilities
Seamless scalability – start small and expand the network by adding more switches, when required, without discarding the existing setup
No latency or bottlenecks – each payload only has to travel to a spine switch and another leaf switch to reach its endpoint
An ideal design for virtualized and containerized architectures
Efficient East-West traffic (Server to Server: Cloud computing, Hadoop, etc.) and North-South traffic (Web content, Email, etc.)
Flexible stacking capabilities for 10Gb and 1Gb switches with 1-click activation of stacking ports
Remote site unified networking – for remote locations up to 10kms
How does it work?
Spine and Leaf is a two-layer network topology composed of leaf switches and spine switches. Servers, storage, computers connect to leaf switches and leaf switches connect to spine switches. Leaf switches mesh into the spine, forming the access layer that delivers network connection points.
Typical use case include collapsed core installations, with a variety of 1G and 10G access ports in branch offices, server rooms or campus high performance labs.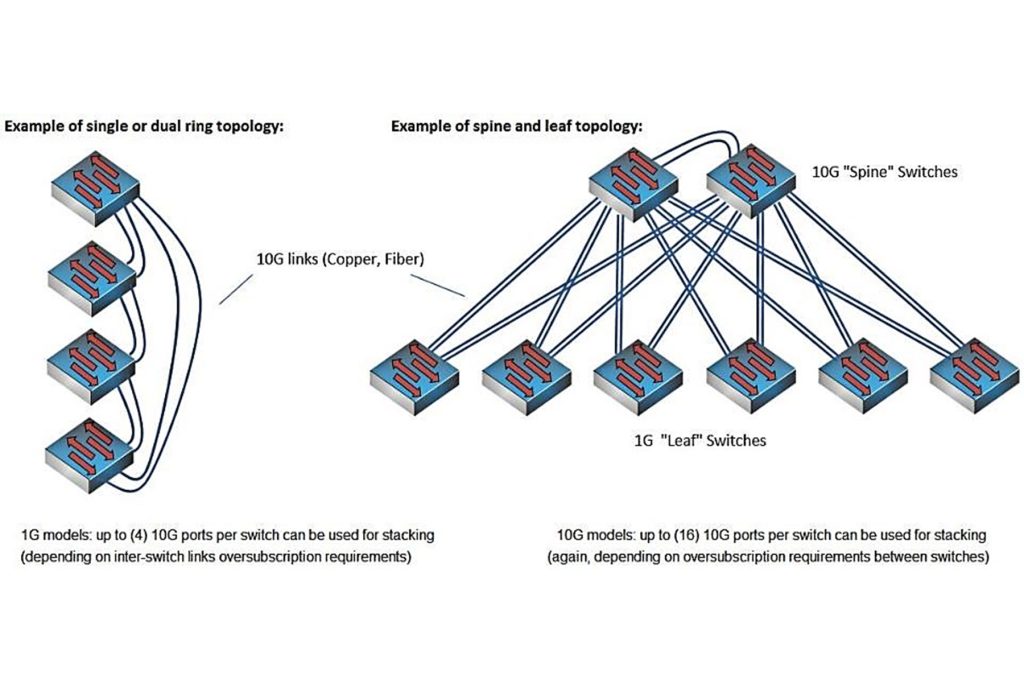 M4300 10G models can stack with M4300 1G models, enabling innovative "spine and leaf" topologies (other ring topologies are also possible). Spine and leaf architectures deliver highest performance with every leaf switch (1G) connecting to every spine switch (10G).
Any 10G port (copper, fiber) and any media type (RJ45, SFP+, DAC) can be used for stacking on any M4300 model.
On 1G models, up to (4) 10G ports per switch can be used for stacking, hence allowing for line-rate aggregation to their spine. On 10G models, any 10G ports can be used for stacking, with 1-click activation, depending on inter-switch links oversubscription requirements.
Up to (8) M4300 switches can be aggregated using a virtual backplane and a single console or web management interface. Hot swap, redundant power supplies and PoE+ full provisioning are other M4300 unique advantages.
Spine and Leaf technology on Netgear M4300 switches make "data center"-type reliable, performant and scalable networking available and affordable to modern enterprises today.