SOHO Ethernet Unmanaged (GS324P)
24-Port Gigabit Ethernet Unmanaged Switch with 16-Ports PoE+ (190W)
16 PoE+ ports with 190W power budget. Unmanaged 300-Series PoE Switches are easy, reliable, and affordable network connectivity for home and small offices. Providing power and data from a single Ethernet cable
SOHO Ethernet Unmanaged (GS324P)
24-Port Gigabit Ethernet Unmanaged Switch with 16-Ports PoE+ (190W)
16 PoE+ ports with 190W power budget. Unmanaged 300-Series PoE Switches are easy, reliable, and affordable network connectivity for home and small offices. Providing power and data from a single Ethernet cable
ETHERNET PORT CONFIGURATION
24 Gigabit ports
PLUG-AND-PLAY
Simple set up with no software to install or configuration needed
FULL PERFORMANCE
Non-blocking switching architecture for maximum throughput at wire speed
POWER-OVER-ETHERNET
16 PoE+ ports with 190W total power budget
CONNECT DEVICES
Power IP Security Cameras, VoIP phones, wireless access points, and other PoE PD-powered devices
PoE POWER AUTO-BALANCE AND ALLOCATION
NETGEAR's unique PoE technology automatically balances the PoE power at the most granular level on each port, depending on the device needs.
SILENT OPERATION
The fanless design means zero added noise wherever its located, making it ideal for noise-sensitive environments
ENERGY EFFICIENT
Designed to optimize power usage lowering its cost to operate.
Metal Case
Durable and Rugged
VERSATILE MOUNTING OPTIONS
Supports desktop and wall placement. Includes wall mount kit in the box
STANDARDS-BASED DESIGN
Ensure interoperability with any standards-based PDs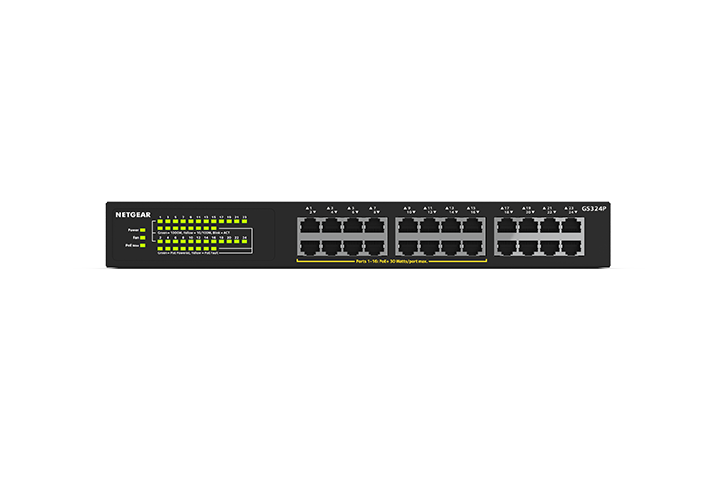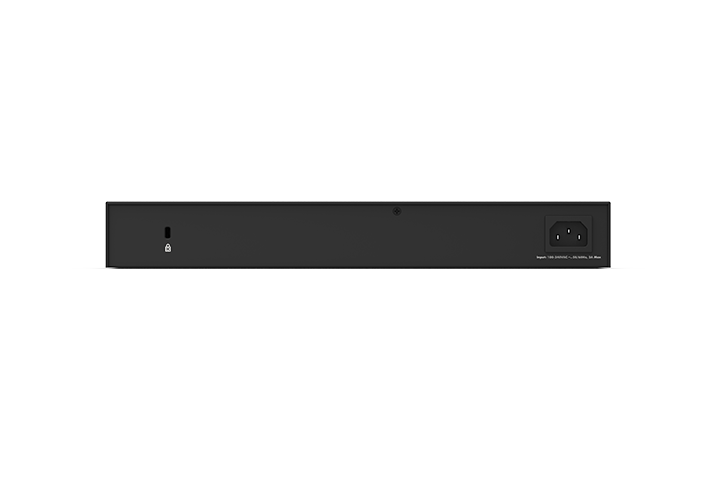 Dimensions (W x D x H) :

330 x 206 x 43mm (13 x 8.1 x 1.7 in.)

Weight :

2.44 kg (5.38 lb)
Model Description :

Introducing the NETGEAR GS324P 24-port Gigabit Ethernet Unmanaged PoE+ Switch with 190W PoE budget. Desktop and rackmount for flexible placement

Speed :

Gigabit

Auto Balance :

Yes

Number of Ports :

24

PoE Budget :

190W

PoE Ports / Max Power Per Port :

16

Energy Efficient Ethernet support :

Yes

Jumbo frame support :

10000 bytes

MAC table size :

8K

Packet buffer size :

192 KB
This product is backed by a NETGEAR limited 3-year Hardware Warranty.

Support :

24x7 basic technical support provided for 90 days from purchase date, when purchased from a NETGEAR authorized seller.