5G mmWave: Delivers Low Latency for Enhanced Performance
Experience the latest 5G mmWave technology for a strong internet connection, fast downloads, quick app responses, and ground-breaking speeds.
What is 5G mmWave?
5G mmWave (millimeter wave) expands 5G technology to improve the user experience with greater capacity, multi-gigabit internet speeds, and low latency, especially in crowded WiFi areas. These expanded capabilities are ideal for businesses and consumers to use for video conferencing in real time, online gaming, downloading large files, and sharing critical and highly sensitive data.
Who Benefits from 5G mmWave?
5G mmWave technology is suitable for a wide range of use cases, including:
Social media influencers who require an ultra-fast connection to stream content, anywhere
Gamers desiring ultra-low latencies for a lag-free online gaming experience
Professionals looking for a temporary high-speed connection for video distribution at events
Businesses, such as food trucks, needing a secure, reliable internet connection to make sales
First responders needing a strong internet connection to stay in contact with each other during emergencies
Consumers looking for a wireless connection at "fibre-speeds" for apartments and homes in densely populated cities
AR/VR applications in sporting events, education, or healthcare
Difference between 5G mmWave and 5G Sub-6 GHz
Compared to the 5G Sub-6 GHz frequency bands widely available today, 5G milimeter wave delivers more bandwidth, faster WiFi speeds, and minimal delay when using heavy-data processing apps such as HD video. It has a shorter, more concentrated range that can only be accessed close to the tower, limiting the ability to penetrate walls. 5G mmWave delivers better performance in crowded areas with a large number of WiFi users, such as outdoor festivals, construction areas, stadiums, and other public, urban spaces.
The next-generation technology after 4G LTE, 5G Sub-6 GHz allows users to experience the 5G higher performance and improved efficiency where mmWave is not available. It also has a longer range than 5G mmWave which allows the signal to easily reach inside buildings.
With a mobile hotspot that supports both 5G mmWave and Sub-6 GHz, a user can enjoy all the advantages of 5G mmWave (where coverage is available) and seamlessly switch to 5G Sub-6 GHz and 4G LTE for full coverage when on the go or inside buildings.
5G-Sub-6 GHz: A balance between performance and range.
5G mmWave: Multi-gigabit speeds with lower latency at short range.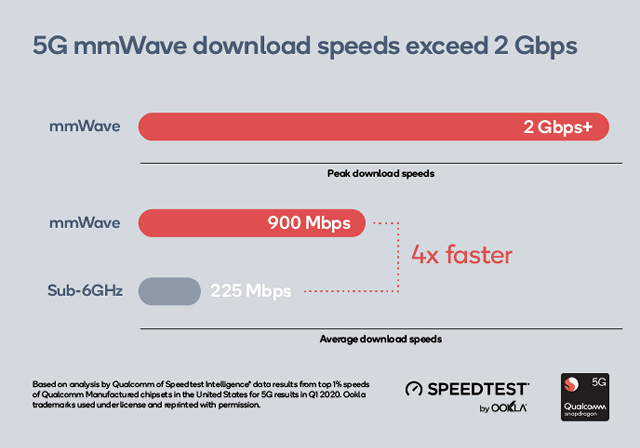 What is the range of 5G mmWave?
5G mmWave operates on a higher frequency with a shorter range up to 1 km (0.62 miles), which limits the ability for the signal to penetrate buildings. This means the connected device needs to be close to the 5G mmWave tower with minimal obstruction.
When using a mobile hotspot, it is recommended to place it as close to a window as possible and in line of sight of the 5G mmWave tower to get the best signal. Conversely, accessing the 5G Sub-6 GHz signal is not dependent on where your mobile hotspot is positioned.
The NETGEAR ADVANTAGE
With 5G mm Wave already available in the US and Japan and rolling out through Europe and the UK, NETGEAR is taking the lead by providing exceptional products that are uniquely engineered to take advantage of this new technology. Combining over 25 years of networking and mobile broadband experience, NETGEAR offers mobile hotspots to provide an ultra-fast, secure internet with superior performance, no matter where users are. With lots of power packed in a sleek design, everyone can have the confidence of always being connected for their streaming, social media, gaming, or work activities.
Footnotes:
*Connectivity range of 5G mmWave frequencies
Millimeter wave refers to frequencies above 24 GHz. The higher the frequency of the radio waves, the shorter the length of each wave. Due to the high frequency of millimeter waves, the range of typical low-powered devices is limited to less than 1 km (0.62 mi), making it difficult to penetrate buildings. In contrast, 3G and 4G networks can move further and penetrate better into building materials. Until recently, millimeter waves were used only in satellite and radar systems and were typically operated in the military and aerospace industry. However, as data consumption has substantially increased, the industry recognized the need to use mmWave in next-generation cellular networks.