AX6000 WiFi Mesh System (SXS80)
AX6000 Tri-Band Orbi Pro WiFi 6 Add-On Satellite
AX6000 WiFi Mesh System (SXS80)
AX6000 Tri-Band Orbi Pro WiFi 6 Add-On Satellite
With the Orbi Pro WiFi 6 Tri-Band WiFi Add-On Satellite, you can extend unparalleled coverage, speed, and capacity to more parts of your office, even hard-to-reach places.

The Best Speeds
WiFi 6 speeds and tri-band technology work together to ensure you're getting the fastest WiFi on every device.

No More Dead Zones
Mesh WiFi 6 covers every part of your space with powerful WiFi so you don't have to worry about dead zones or dropped connections.

Business-Class Security
Set up separate, secure networks for different groups of people, like employees and customers.

Easy Local Installation
Built for small business professionals who demand easy and intuitive installation and management, Orbi Pro WiFi 6 is easy to set up through the local UI. Orbi Pro WiFi 6 also includes a 1-Year Insight Premium or Pro subscription with purchase, for optional remote Cloud monitoring and management.
Business-Minded WiFi
All the business features you need for fully secure, fast WiFi
Full WiFi Coverage for 3,000 Sq. Ft. per unit
Covers your entire business with consistent WiFi so your customers and employees have stable internet
Easy Local Installation
Connect to your existing cable modem to set up and customize in minutes through the local UI
Securely Share your WiFi
Guests can connect to a dedicated SSID separate from staff use. Deploy up to 4 different SSIDs.
Grows with Your Business
Connect additional satellites with or without wires to extend your coverage indoors and outdoors by 3,000 sq. ft.
Wall and Ceiling Mounts
Mount out of reach or in the most convenient locations.
Great performance
100% more throughput than WiFi 5 Orbi Pro - AX6000 vs. AC3000
More capacity
4x more client device handling for less congestion and simultaneous WiFi 6 streaming, file transfer, and browsing on more devices.
Secure WiFi zones
Supports WPA3 wireless security protocols and includes VLAN management and client separation enabled by VLAN-SSID tie-in
Tri-band WiFi
Orbi Pro establishes a dedicated connection between units, maximizing internet speeds
Daisy Chain
Satellites automatically connect to the router in the most efficient way
Wired or Wireless
Use the 7 Ethernet ports to connect to PoS, printers, IP phones, digital billboards, and more
Pre-Paired Kit for Easier Installation
When you purchase the Orbi Pro WiFi 6 kit (SXK80), the router and satellite and pre-paired for easier installation
Remote Cloud Management with NETGEAR Insight
Monitor and manage your devices from anywhere and get insightful analytics on your network usage with 1-year of Insight Premium or Pro subscription with purchase
NETGEAR Insight Management
Simple yet powerful control of your network anytime and anywhere, even across multiple locations. NETGEAR Insight handles your network so you can focus on running your business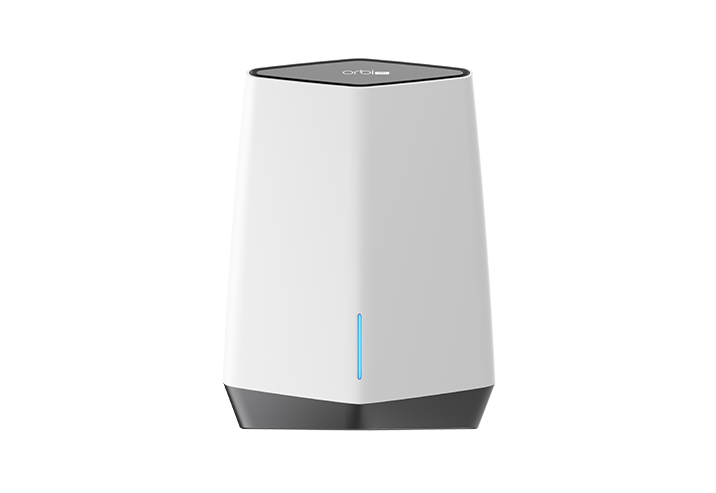 Orbi Pro WiFi 6 Satellite (SXS80) :

Dimensions 6.8 x 3.3 x 9.7 in, Weight 2.06lb
What do I need for Orbi Pro WiFi 6 to work? :

1. High-speed Internet connection 2. Connect to existing Orbi Pro WiFi 6 Router 3. Use NETGEAR Insight® app with an iOS or Android smartphone for easy setup

WiFi Technology :

(2,400 + 2,400 + 1,200) Mbps† Simultaneous Tri-band WiFi

Radio 1 :

IEEE 802.11b/g/n/ax 2.4GHz - 256QAM support

Radio 2 :

IEEE 802.11a/n/ac/ax 5GHz - 1024QAM support

Radio 3 :

IEEE 802.11a/n/ac/ax 5GHz - 1024QAM support

Ports – Orbi Pro WiFi 6 Satellite :

One (1) Gigabit or 2.5 Gigabit Ethernet LAN port, Two (2) Gigabit Ethernet LAN ports, Link Aggregation Mode4 optional, Two (2) Gigabit Ethernet LAN ports

Security :

Four (4) SSID wireless networks (Administration, Employee devices, Guest WiFi, IoT devices), Flexible VLAN configuration on all four (4) SSID WiFi networks, Client isolation by default on Guest SSID and configurable on other SSIDs, WPA/WPA2/WPA3 support,

Insight :

Insight App - Secured cloud and local management

Local Admin :

Local Admin UI available for extensive feature setting and maintenance
Compatibility with Orbi Home :

Orbi Pro WiFi 6 Router does not support and will not pair with Orbi Home or Orbi Pro (WiFi 5) WiFi System Satellites.

ProSUPPORT OnCall 24x7 Service Packs3 :

PMP0312-10000S
PMP0332-10000S
PMP0352-10000S

Insight :

1-year subscription included
One (1) Orbi Pro WiFi 6 Satellite (SXS80)
One (1) wall mounts with screws
One (1) 12V/3.5A power adapters
Installation guide
Orbi Pro Family Comparison
SXK30 Orbi Pro WiFi 6 Mini

SXK80 Orbi Pro WiFi 6

SRK60 Orbi Pro

WiFi Speed

WiFi Speed

WiFi 6 – AX1800 (Up to 1.8 Gbps)

WiFi Speed

WiFi 6 - AX6000 (Up to 6.0 Gbps)

WiFi Speed

WiFi 5 - AC3000 (Up to 3.0 Gbps)

WiFi Configuration

WiFi Configuration

Dual-Band

WiFi Configuration

Tri-Band

WiFi Configuration

Tri-Band

Physical Specifications

Physical Specifications

Dimensions: 5.8 x 2.7 x 7.4in, Weight: 1.06lb

Physical Specifications

Dimensions: 6.8 x 3.3 x 9.7 in, Weight 2.06lb

Physical Specifications

Dimensions : 6.8 x 3.3 x 9.7in, Weight : 2.06lb

# of Concurrent Users

# of Concurrent Users

40

# of Concurrent Users

80

# of Concurrent Users

40

Ideal Use

Ideal Use

Small Business and SOHO

Ideal Use

SOHO and Small Business

Ideal Use

SOHO

WiFi Coverage

WiFi Coverage

Up to 4,000 sq. ft.

WiFi Coverage

Up to 6,000 sq. ft.

WiFi Coverage

Up to 5,000 sq. ft.

Dedicated Wireless Backhaul

Dedicated Wireless Backhaul

No

Dedicated Wireless Backhaul

Yes

Dedicated Wireless Backhaul

Yes

Multi-Gig Port 2.5

Multi-Gig Port 2.5

No

Multi-Gig Port 2.5

Yes

Multi-Gig Port 2.5

No

Integrated Plus Switch with VLANs

Integrated Plus Switch with VLANs

Yes

Integrated Plus Switch with VLANs

Yes

Integrated Plus Switch with VLANs

No

Remote Management

Remote Management

Insight Remote Management

Remote Management

Insight Remote Management

Remote Management

Insight Remote Management