5-Year NETGEAR Insight Premium Subscription Included
Orbi Pro WiFi 6 Mesh System (SXK50)
AX5400 Tri-Band Orbi Pro WiFi 6 Mesh System
5-Year NETGEAR Insight Premium Subscription Included
Orbi Pro WiFi 6 Mesh System (SXK50)
AX5400 Tri-Band Orbi Pro WiFi 6 Mesh System
Cover up to 250 m2 with the latest, ultimate business-grade WiFi. The Orbi Pro WiFi 6 Tri-Band AX5400 Mesh System includes 4 SSIDs linked to 4 separate VLANs, network segmentation and Business VPN to boost business and home office productivity and network performance.
MAXIMUM SECURITY
AND CONFIGURABILITY
AT WORK
SMALL BUSINESS CONTROL
Securely isolate your back-office network and critical data from the networks your guests and employees access, while optimising WiFi performance for everyone's needs.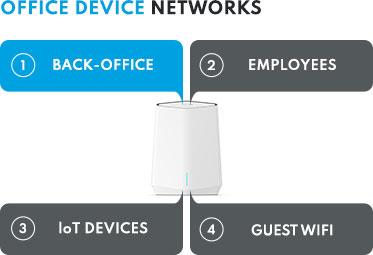 WORK FROM HOME CONTROL
Separate your work devices on their own network, for maximum security and the performance you need for fast streaming, uninterrupted video calls and large file downloads.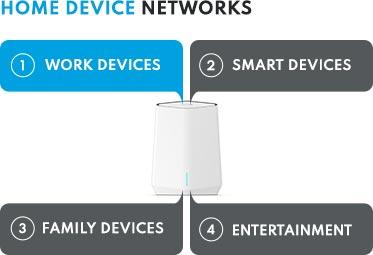 UNRIVALED SECURITY WITH NETWORK SEGMENTATION
Orbi Pro is the industry's first mesh system to support IP segmentation across wired and wireless interfaces. Isolate network segments by assigning individual Ethernet ports and SSIDs across the router and all satellites to any VLAN you create.
WHITE PAPER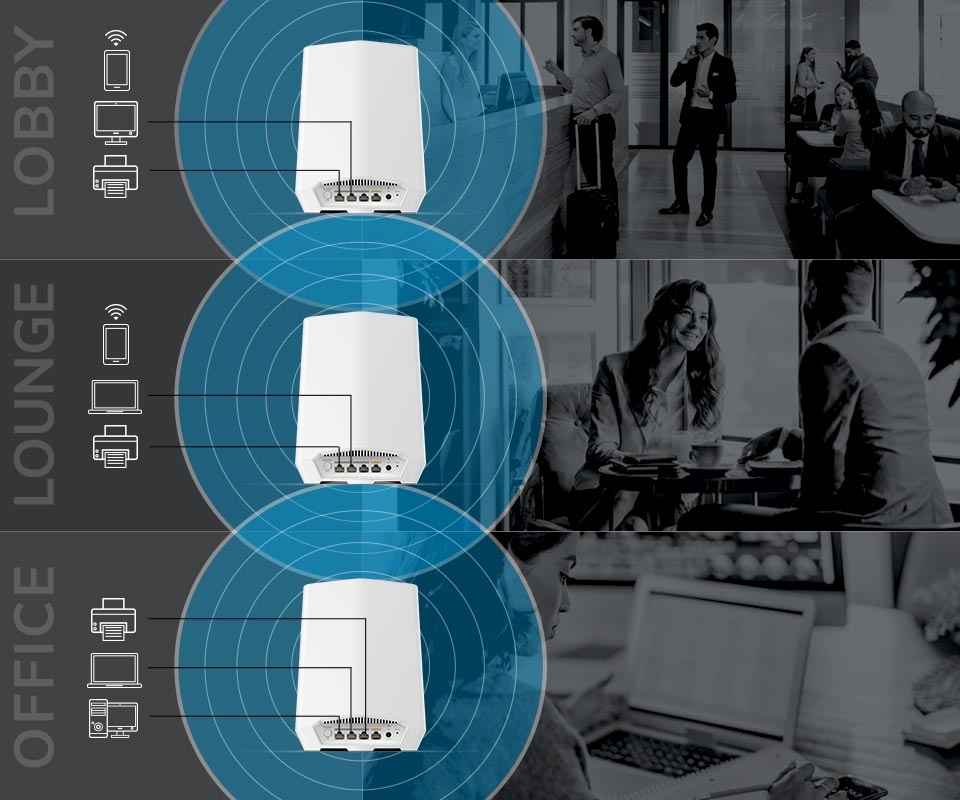 THE BEST PERFORMANCE, PERIOD
Orbi Pro's unique shape, height and array of high-power antennas deliver longer, stronger WiFi signals and maximum speed in every corner of your home or business.
EXPANDABLE AS YOUR NEEDS GROW
Easily add WiFi coverage with additional wireless satellites — each expands coverage by 125 m2 (sold separately).
For the correct configuration and number of satellites, consult the KB here
NETGEAR INSIGHT MANAGEMENT
Manage locally or remotely through the Cloud for simple yet powerful control of your network anytime, anywhere.

One-Step VPN Connectivity for your Business
Site-to-site and site-to-multisite VPN to connect the main office with branch and home offices, all through a common SSID with the NETGEAR Insight add-on service, Business VPN*
*30-day trial included with the purchase of an Orbi Pro. One Orbi Pro router is required in the main office, and one additional Orbi Pro router required in each branch or home office.
Dimensions: 6.5 x 2.9 x 8.8 (167mm x x 75.6mm x 224.5mm) each
Weight: 1.6 lbs (0.72kg) each
WiFi Technology :

WiFi 6 (IEEE 802.11ax) Tri-Band WiFi (AX5400) 6-Streams
2.4GHz AX: 2x2 (Tx/Rx) 1024/256-QAM 20/40MHz, up to 573 Mbps
5GHz Low AX: 2x2 (Tx/Rx) 1024/256-QAM 20/40/80/160MHz, up to 2402 Mbps
5GHz High AX: 2x2 (Tx/Rx) 1024/256-QAM 20/40/80/160MHz, up to 2402 Mbps
Backwards compatible with IEEE 802.11 a/b/g/n/ac WiFi

WiFi Speed :

AX5400 (.6+2.4+2.4Gbps)

WiFi Bands :

Tri-Band 5GHz Hi + 5GHz Lo +2.4GHz

WiFi Range :

2,500 square feet

Ethernet Ports :

Router
1 x GbE WAN port
3 x GbE LAN ports
Satellite
4 x GbE LAN ports

Security :

NETGEAR Insight — Secure cloud and local network management. 5-Year NETGEAR Insight Premium included with purchase
NETGEAR Insight Business VPN - Add-on site-to-site VPN solution
4 SSID wireless netowrks
Guest network access—Separate & secure
Flexible VLAN configuration on all 4 SSID WiFi networks
Supports WPA3, the latest and cutting-edge WiFi security protocol

Third party support : Domotz
Broadband Internet service (DSL/cable/fiber)
One DSL/cable/fiber modem that has an RJ45 connector
Android® phones, iPhones®, or computers (with a Chrome® or Safari® browser) with Ethernet or WiFi connection
Orbi Pro WiFi 6 AX5400 Router
Orbi Pro WiFi 6 AX5400 Satellite
Ethernet cable
Quick start guide
Power adapter
This product is backed by a NETGEAR limited 5-year Hardware Warranty

Warranty :

Extend your warranty & technical support within 90 days of product purchase

Support :

Find troubleshooting tips to diagnose product issues in our knowledge base
Why buy directly from NETGEAR?
FREE
SHIPPING
EXCLUSIVE
OFFERS
PRE-PURCHASE
CONCIERGE LIVE CHAT
HASSLE-FREE
RETURNS