AC1200 WiFi Router (R6120)
Dual-Band WiFi Router (up to 1.2Gbps)
AC1200 WiFi Router (R6120)
Dual-Band WiFi Router (up to 1.2Gbps)
Upgrade your WiFi to deliver improved performance for up to 20 devices and 1200 square foot coverage. Simultaneous dual band and 300+900Mbps† WiFi speed gives you reduced interference for reliable connections. With Nighthawk® App, it's easy to set up your router and get the most out of your WiFi.
Speed
Any place you need WiFi speed you've got everything you need for a fast connected home with NETGEAR. 
Faster AC WiFi: Up to 300+867Mbps †
WiFi Range
Homes come in all shapes and sizes. NETGEAR provides WiFi connectivity throughout your home for all your Internet-enabled devices. 
Better Range: For large homes
Reliability
Stay connected—with your devices, your media, and your friends—with less interference-prone streaming with NETGEAR. 
Simultaneous dual band: Two separate 2.4GHz and 5GHz WiFi networks reduce WiFi interference and doubles bandwidth 
Compatible with current and future WiFi devices
Sharing
If it's secure and shared storage access you want, NETGEAR has easy ways to do it. 
Wirelessly share your music, photos, and videos 
ReadySHARE® USB Access: Wirelessly access and share USB hard drives via one (1) USB port 
Five (5) Ethernet ports (1 WAN & 4 LAN) for faster file sharing and transfers
Ease of Use
Connect quickly and make sure you stay that way with NETGEAR's easy installation and management. 
Nighthawk App: Easily set up your router and get more out of your WiFi 
Easy Install: Easy setup for iPad®, tablets, smartphones & computers 
Push 'N' Connect: Easy push button WiFi connections (WPS) 
WiFi & Power on/off: Convenient power savings
Security
Maintain high security across your network to ensure your privacy and family is safe online. NETGEAR has you covered. 
Guest network access: Separate and secure access for guests 
Secure WiFi Connections: Standards-based WiFi security (802.11i, 128-bit AES encryption with PSK)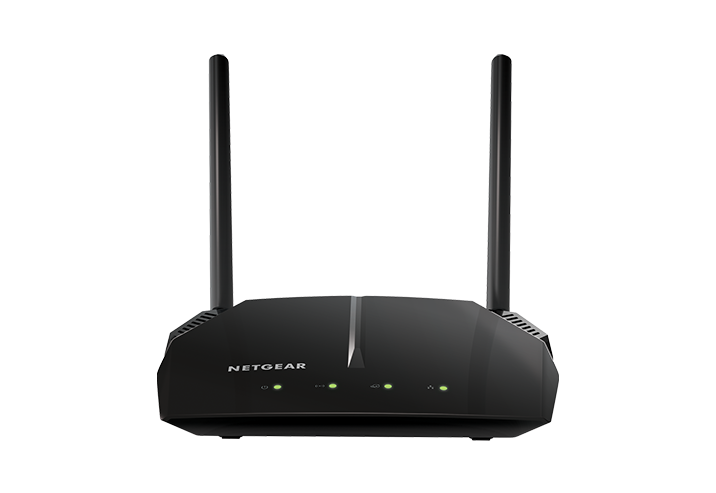 Dimensions :

7.2 x 5.4 x 1.8 in (185 x 136.5 x 46 mm)

Weight :

0.55 lb (250 g)
WiFi Technology :

802.11ac

WiFi Performance :

AC1200 (300 + 867 Mbps)†

WiFi Range :

Medium to large homes

WiFi Band :

Simultaneous Dual Band 2.4GHz & 5GHz

Beamforming :

Not applicable

Number of Ethernet Ports :

Five (5) 10/100 Mbps fast Ethernet ports (1 WAN & 4 LAN) with auto-sensing technology

Number of USB Ports :

One (1) USB 2.0 port

Security :

Standards-based WiFi Security (802.11i, 128-bit AES encryption with PSK)
NAT firewall protection

Memory :

16 MB flash and 64 MB RAM

Standards :

One (1) USB 2.0 port
IEEE® 802.11 b/g/n 2.4GHz
IEEE® 802.11 a/n/ac 5.0GHz
Five (5) 10/100 (1 WAN & 4 LAN) Fast Ethernet ports
System Requirements :

Microsoft® Windows 7, 8, 8.1, 10, Vista®, XP®, 2000, Mac OS®, UNIX®, or Linux®
Microsoft® Internet Explorer® 5.0, Firefox® 2.0, Safari® 1.4, Google Chrome™ 11.0 browsers or higher
Broadband (cable, DSL) Internet service and modem with Ethernet connection
Use with the A6210 WiFi USB Adapter with 802.11ac Dual Band for maximum performance
AC1200 Dual Band WiFi Router (R6120)
Ethernet cable
Quick install guide
Power adapter
Warranty:

This product comes with a limited Warranty that is valid only if purchased from a NETGEAR authorized reseller..

Support :

24/7 basic technical support provided for 90 days from purchase date, when purchased from a NETGEAR authorized reseller.

Footnotes :

† Maximum wireless signal rate derived from IEEE 802.11 specifications. Actual data throughput and wireless coverage will vary and may be lowered by network and environmental conditions, including network traffic volume and building construction. NETGEAR makes no representations or warranties about this product's compatibility with future standards. Up to 1200Mbps wireless speeds achieved when connecting to other 802.11ac 1200Mbps devices.