Nighthawk Pro Gaming (XR700)
WiFi Router with 6 Ethernet Ports and Wireless Speeds Up to 7.2 Gbps, AD7200
Nighthawk Pro Gaming (XR700)
WiFi Router with 6 Ethernet Ports and Wireless Speeds Up to 7.2 Gbps, AD7200
Quad-core processor optimized for top gaming/streaming. Link Aggregation, most ports in class, Plex Media Server
GUARANTEE LOCAL CONNECTIONS & ELIMINATE LAG
Connect to closer servers for less lag and better gaming
BEST-IN-CLASS QUALITY OF SERVICE (QOS)
Control and eliminate lag caused by local devices or other players
MONITOR YOUR NETWORK
View real-time bandwidth activity by device and adjust on the fly
GEOFENCING
Distance is the main reason you lag. Get the best connection for your game by drawing boundaries to block out-of-range servers
APPLICATION QOS
Determine priorities for genres of traffic across all your devices and specify allocations based on the application
PING HEATMAP
Ping Heatmap maps your favorite game servers, visualizes your connection quality to each server in the world. You choose which server to connect to giving you the advantage
CONNECTION BENCHMARK
A pure test of your internet line, measuring all the key metrics you care about with extreme accuracy. This lets you determine the quality of your internet line
Network Monitor
Check bandwidth-hogging devices & identify what causes lag
HIGH PERFORMANCE ACTIVE ANTENNAS
Better WiFi coverage & faster speeds
10-GIGABIT WAN/LAN PORT WITH SFP+
Support for up to 10 Gigabit Internet speeds. Connect to NETGEAR SX10 gaming switch for lower latency LAN parties
PLEX MEDIA SERVER
All your movie, TV show, music, video, and photo collections at your fingertips. Anywhere you go, on the devices you love
CLOUD DRIVE
Automatically backup your precious data to the cloud
NIGHTHAWK APP
The Nighthawk App makes it easy to set up your router and get more out of your WiFi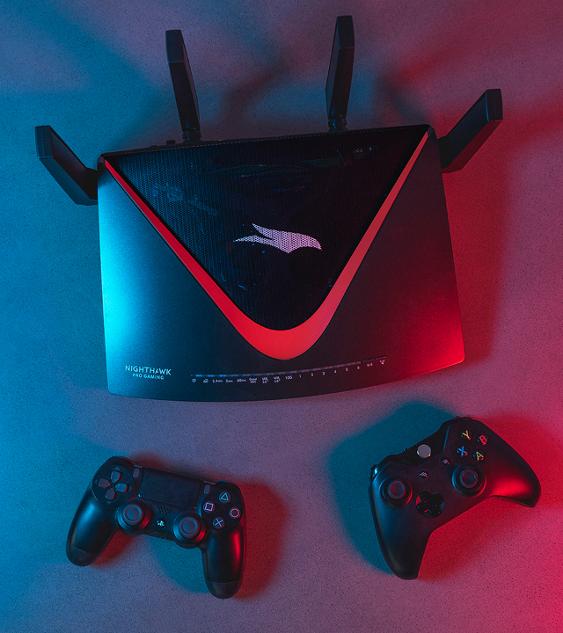 PROVEN PERFORMANCE
The XR700 is designed for the very best in gaming performance. Stabilize your connection, kick lag spikes, and concentrate on what matters: your gaming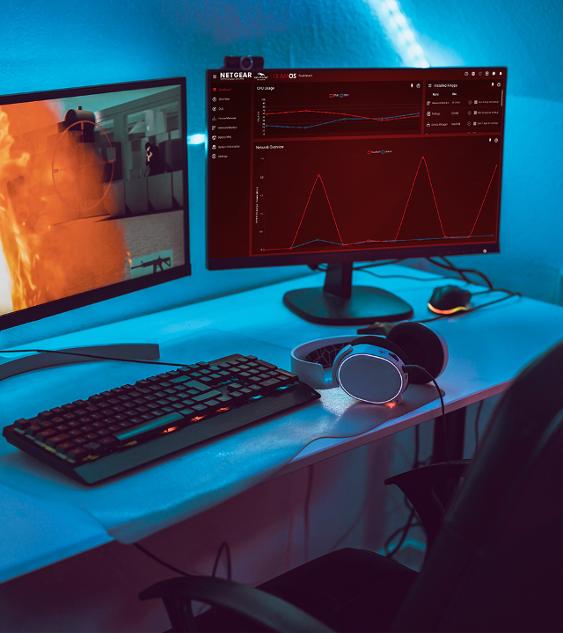 IS YOUR WIFI HURTING YOUR GAMING?
If you are not playing with hardware that's designed for gaming and gamers, the answer is probably "yes". Armed with a hefty processor and a software suite of features built for gaming, the XR700 is unbeatable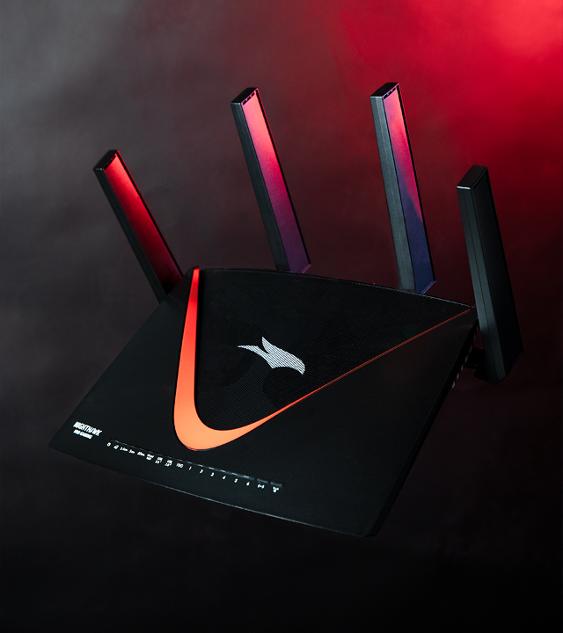 NEVER FIGHT OVER BANDWIDTH
Dial back, enhance, block any device on your home network, even those bandwidth vampires like streaming devices and voice operated home products
KICK LAG SPIKES TO THE CURB
With Advanced Quality of Service (QoS) backed by a 1ghz dual-core processor, the XR500 adeptly prioritizes even the most congested home networking traffic. That means you'll stay in the game and not in the queue.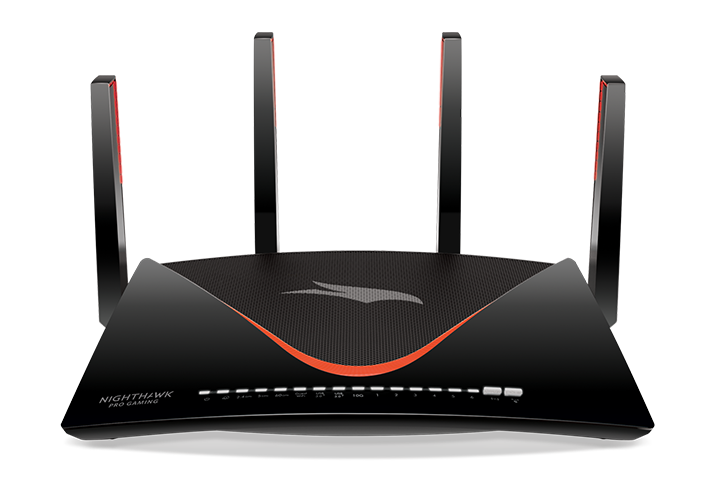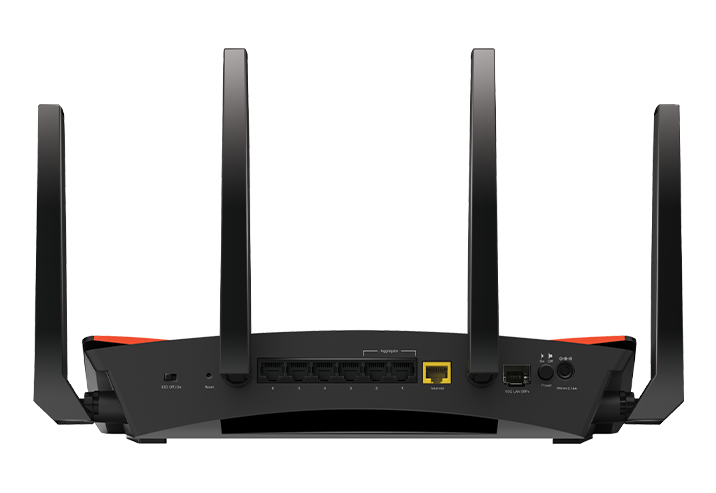 Nighthawk Pro Gaming Router (XR700) :

Dimensions 12.7 x 9.6 x 2.5 in (321.9 x 243.7 x 64.5 mm), Weight 4.11lb (1865g)
Nighthawk Pro Gaming Router (XR700) :

AD7200 WiFi Band 1: 800Mbps @2.4GHz — 256QAM, Band 2: 1733Mbps @5GHz — 256QAM, Band 3: 4600Mbps @60GHz — SC

DumaOS Gaming Software :

Gaming software features: Geo-fencing, Application QoS, Congestion Control, Ping Heatmap, Ping Assist and more

Processor :

Powerful Quad-Core 1.7GHz processor

Memory :

512MB NAND Flash and 1GB DDR3 SDRAM

Antennas :

Enhanced Active Antennas with high powered amplifiers

Beamforming :

Explicit Beamforming for 2.4 & 5GHz bands

Ports :

Seven (7) 10/100/1000Mbps Gigabit Ethernet ports (1 WAN & 6 LAN), Dual Gigabit Ethernet Port Aggregation, 10G LAN SFP+ port connection for low-latency LAN gaming parties, Two (2) USB 3.0 ports

IPv6 Support (Internet Protocol Version 6) :

Yes

LED :

On/Off LED light switch
System Requirements :

Microsoft® Windows 7, 8, 10, Vista®, XP®, 2000, Mac OS®, UNIX®, or Linux®, Microsoft® Internet Explorer® 11 or higher, Microsoft Edge, Google Chrome® 55 or higher, Firefox® 45 or higher, Safari® 10 or higher
XR700 Nighthawk® Pro Gaming Router (XR700)
Ethernet cable
Quick start guide