AX6000 WiFi Mesh System (SXS80)
AX6000 Tri-Band Orbi Pro WiFi 6 Add-On Satellite
AX6000 WiFi Mesh System (SXS80)
AX6000 Tri-Band Orbi Pro WiFi 6 Add-On Satellite
With the Orbi Pro WiFi 6 Tri-Band WiFi Add-On Satellite, you can extend unparalleled coverage, speed, and capacity to more parts of your office, even hard-to-reach places.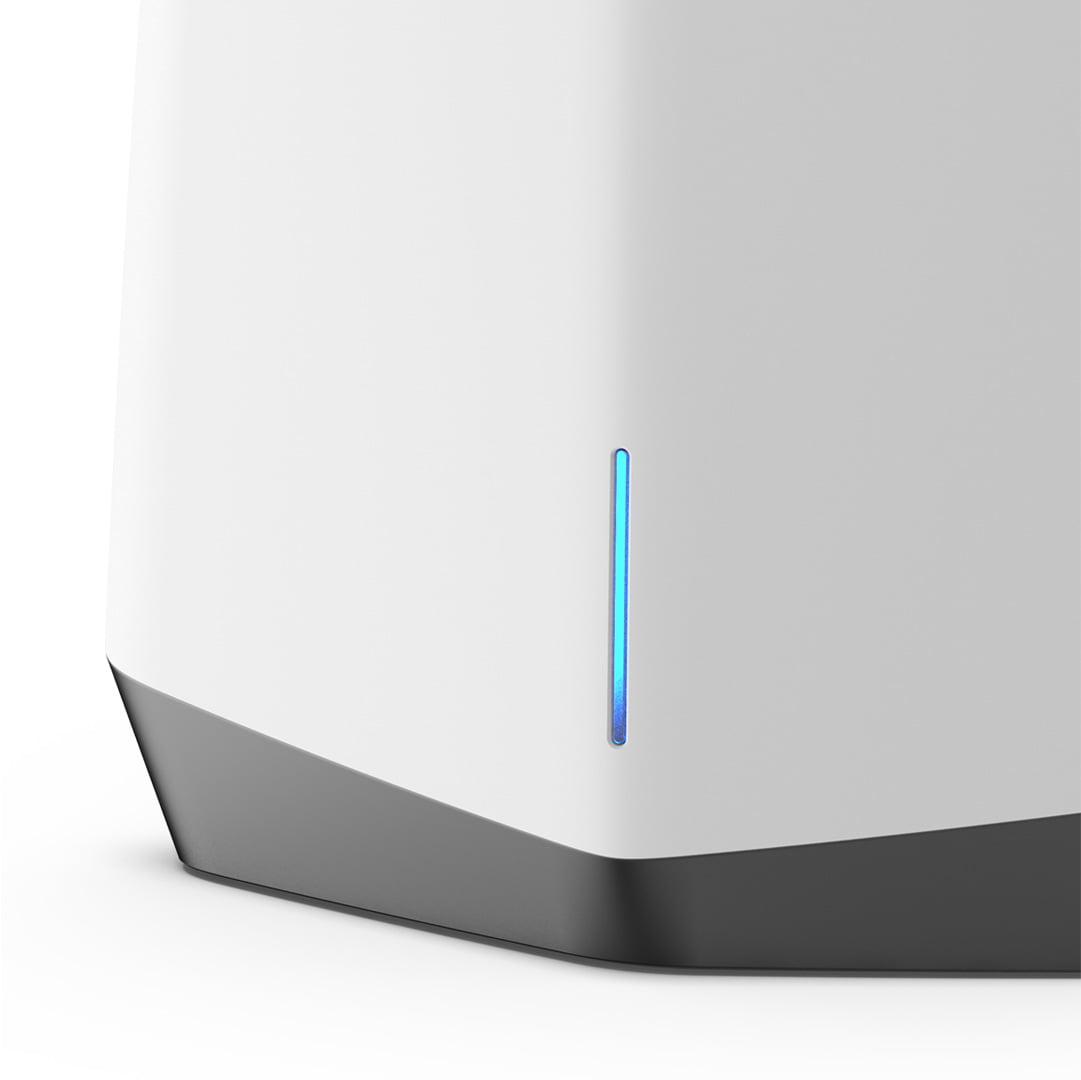 MAXIMUM SECURITY
AND CONFIGURABILITY
AT WORK
SMALL BUSINESS CONTROL
Securely isolate your back-office network and critical data from the networks your guests and employees access, while optimising WiFi performance for everyone's needs.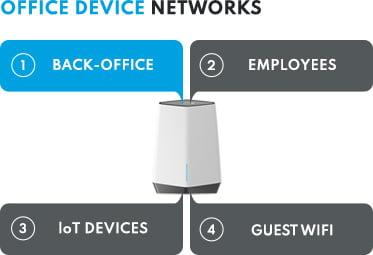 WORK FROM HOME CONTROL
Separate your work devices on their own network for maximum security and the performance you need for fast streaming, uninterrupted video calls and large file downloads.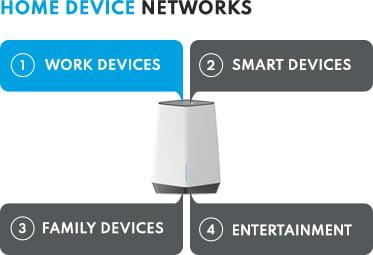 UNRIVALED SECURITY WITH NETWORK SEGMENTATION
Orbi Pro is the industry's first mesh system to support IP segmentation across wired and wireless interfaces. Isolate network segments by assigning individual Ethernet ports and SSIDs across the router and all satellites to any VLAN you create.
WHITE PAPER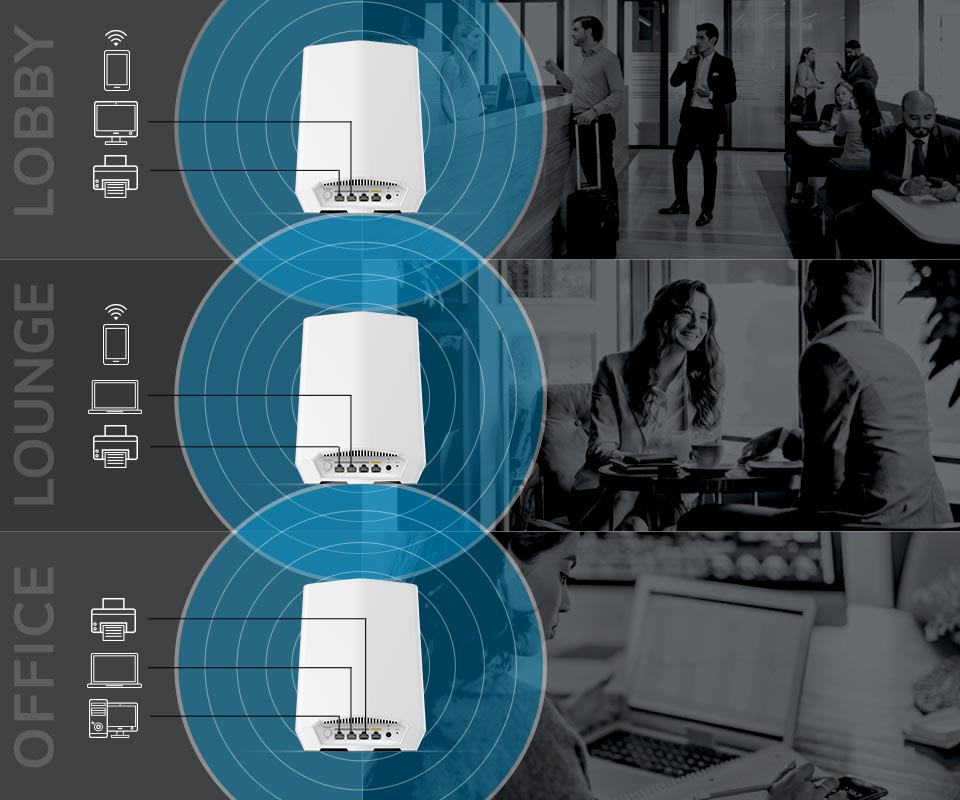 THE BEST
PERFORMANCE,
PERIOD
Orbi Pro's unique shape, height and array of high-power antennas deliver longer, stronger WiFi signals and maximum speed in every corner of your home or business.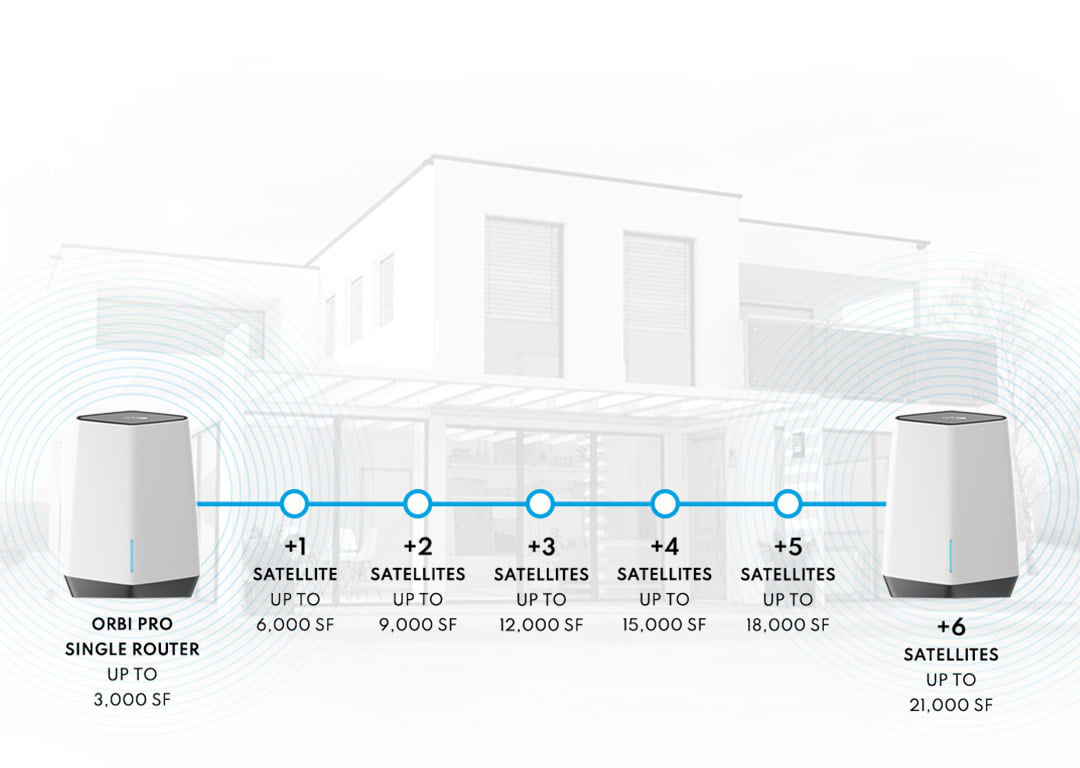 EXPANDABLE
AS YOUR
NEEDS GROW
Easily add WiFi coverage with additional
wireless satellites — each expands
coverage by 3,000 sq. ft. (sold separately).
For the correct configuration and number of satellites, consult the KB here
NETGEAR Insight Management
Simple yet powerful control of your network anytime and anywhere, even across multiple locations. NETGEAR Insight handles your network so you can focus on running your business
Orbi Pro WiFi 6 Satellite (SXS80) :

Dimensions 6.8 x 3.3 x 9.7 in, Weight 2.06lb
What do I need for Orbi Pro WiFi 6 to work? :

1. High-speed Internet connection 2. Connect to existing modem or gateway 3. Use the local UI to set up and customize in minutes

WiFi Technology :

(2,400 + 2,400 + 1,200) Mbps† Simultaneous Tri-band WiFi

Radio 1 :

IEEE 802.11b/g/n/ax 2.4GHz - 256QAM support

Radio 2 :

IEEE 802.11a/n/ac/ax 5GHz - 1024QAM support

Radio 3 :

IEEE 802.11a/n/ac/ax 5GHz - 1024QAM support

Ports – Orbi Pro WiFi 6 Satellite :

One (1) Gigabit or 2.5 Gigabit Ethernet LAN port, Two (2) Gigabit Ethernet LAN ports, Link Aggregation Mode4 optional, Two (2) Gigabit Ethernet LAN ports

Security :

Four (4) SSID wireless networks (Administration, Employee devices, Guest WiFi, IoT devices), Flexible VLAN configuration on all four (4) SSID WiFi networks, Client isolation by default on Guest SSID and configurable on other SSIDs, WPA/WPA2/WPA3 support,

Local Admin :

Local Admin UI available for extensive feature setting and maintenance

Insight :

Insight App - Secured Cloud for remote monitoring
Compatibility with Orbi Home :

Orbi Pro WiFi 6 Router does not support and will not pair with Orbi Home or Orbi Pro (WiFi 5) WiFi System Satellites.

ProSUPPORT OnCall 24x7 Service Packs3 :

PMP0312-10000S
PMP0332-10000S
PMP0352-10000S

Insight :

1-year subscription included
One (1) Orbi Pro WiFi 6 Satellite (SXS80)
One (1) wall mounts with screws
One (1) 12V/3.5A power adapters
Installation guide
Orbi Pro Family Comparison
SXK30 Orbi Pro WiFi 6 Mini

SXK80 Orbi Pro WiFi 6

SRK60 Orbi Pro

WiFi Speed

WiFi Speed

WiFi 6 – AX1800 (Up to 1.8 Gbps)

WiFi Speed

WiFi 6 - AX6000 (Up to 6.0 Gbps)

WiFi Speed

WiFi 5 - AC3000 (Up to 3.0 Gbps)

WiFi Configuration

WiFi Configuration

Dual-Band

WiFi Configuration

Tri-Band

WiFi Configuration

Tri-Band

Physical Specifications

Physical Specifications

Dimensions: 5.8 x 2.7 x 7.4in, Weight: 1.06lb

Physical Specifications

Dimensions: 6.8 x 3.3 x 9.7 in, Weight 2.06lb

Physical Specifications

Dimensions : 6.8 x 3.3 x 9.7in, Weight : 2.06lb

# of Concurrent Users

# of Concurrent Users

40

# of Concurrent Users

80

# of Concurrent Users

40

Ideal Use

Ideal Use

Small Business and SOHO

Ideal Use

SOHO and Small Business

Ideal Use

SOHO

WiFi Coverage

WiFi Coverage

Up to 4,000 sq. ft.

WiFi Coverage

Up to 6,000 sq. ft.

WiFi Coverage

Up to 5,000 sq. ft.

Dedicated Wireless Backhaul

Dedicated Wireless Backhaul

No

Dedicated Wireless Backhaul

Yes

Dedicated Wireless Backhaul

Yes

Multi-Gig Port 2.5

Multi-Gig Port 2.5

No

Multi-Gig Port 2.5

Yes

Multi-Gig Port 2.5

No

Integrated Plus Switch with VLANs

Integrated Plus Switch with VLANs

Yes

Integrated Plus Switch with VLANs

Yes

Integrated Plus Switch with VLANs

No

Remote Management

Remote Management

Insight Remote Management

Remote Management

Insight Remote Management

Remote Management

Insight Remote Management