AC3200 WiFi Router (R8000)
Nighthawk® X6 Tri-Band WiFi Router (up to 3.2Gbps) with NETGEAR Armor™, Circle® Smart Parental Controls
AC3200 WiFi Router (R8000)
Nighthawk® X6 Tri-Band WiFi Router (up to 3.2Gbps) with NETGEAR Armor™, Circle® Smart Parental Controls
Built to connect with each and every device in your house, enjoy blazing-fast WiFi speeds up to 3.2Gbps, 1GHz dual-core processor for extended range, and breakthrough tri-band WiFi technology. With NETGEAR ArmorTM providing advanced cyber threat protection for your home and your connected devices and Circle® Smart Parental Controls to easily manage content.
Tri-Band WiFi
With tri-band WiFi, you get three WiFi bands, with the third dedicated for communication between your router and satellite. That means less network congestion and device interference, and more speed and efficiency. Enjoy the fastest WiFi on every device, wherever you are in the house.
NETGEAR Armor
NETGEAR Armor cybersecurity keeps your network and private data safe from online threats, at home and on the go. One subscription protects an unlimited number of connected devices, from phones and laptops to thermostats and security cameras.
Get a better streaming, gaming or video conferencing experience with ultra-fast wireless speeds, expanded coverage and reliable connections to increase the performance for your connected devices.
Extreme WiFi speeds up to 3.2Gbps† for uninterrupted streaming
Simultaneous Tri-Band WiFi give you 3 dedicated bands to optimize speeds for all your WiFi devices
Dual-core 1GHz processor boosts wireless, wired & WAN-to-LAN performance
Expanded range throughout very large homes with high-powered amplifiers with 6 external antennas
Dynamic QoS automatically recognizes & prioritizes streaming & gaming applications
Nighthawk® App allows you to easily set up your router and get more out of your WiFi from anywhere, anytime
Voice-control your WiFi network with Amazon Alexa
One USB 3.0 port for up to 10x faster connection than USB 2.0
Wirelessly access & share USB hard drive via two (2) USB ports with ReadySHARE® USB Access
Enjoy personal & secure cloud access to USB storage anytime, anywhere with ReadyCLOUD® USB Access
Protect your personal information at the network level and keep your family safe when online. From your personal devices to your smart home appliances, prevent your devices from cyber threats, phishing, and access to unwanted websites.
Get best-in-class cybersecurity with NETGEAR ArmorTM to protect your network from malware, stolen passwords, identity theft, and hacker attacks
Circle® Smart Parental Controls is the smart way for families to manage content and time online, on any device
Create a separate and secure network for your guests
OpenVPN Connect app on iOS and Android® allows remote secure access to the home network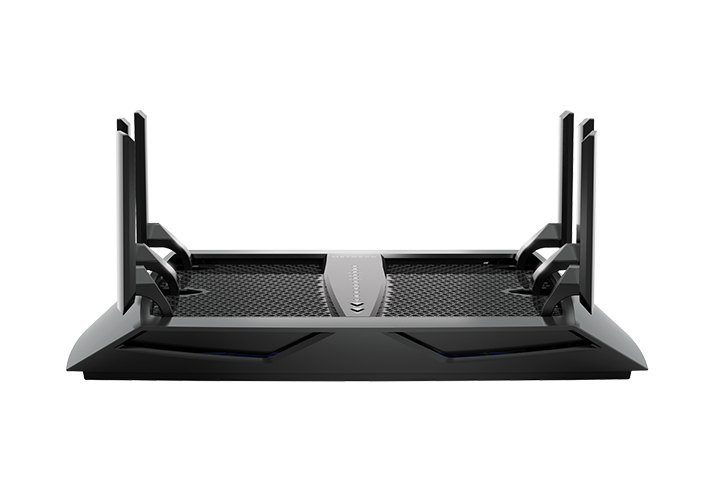 Dimensions :

11.63 x 8.92 x 2.14in (295.5 x 226.8 x 54.5mm)

Weight :

2.43lbs (1.1kg)
WiFi Technology :

802.11ac Tri-Band Gigabit

WiFi Performance :

AC3200 (600 + 1300 + 1300 Mbps)†

WiFi Range :

Very large homes

WiFi Band :

Simultaneous Tri-Band WiFi - Tx/Rx 3x3 (2.4GHz) + 3x3 (5GHz) + 3x3 (5GHz)

Beamforming :

Beamforming+—Smart, signal-focusing technology boosts the speed, reliability, and range of your WiFi connections

Number of Ethernet Ports :

Five (5) 10/100/1000 (1 WAN and 4 LAN) Gigabit Ethernet ports

Number of USB Ports :

Two (2) USB ports: 1 USB 3.0 & 1 USB 2.0 port

Security :

Standards-based WiFi Security (802.11i, 128-bit AES encryption with PSK)
Automatic firmware update delivers latest security patches to the router
Double firewall protection (SPI and NAT)
Denial-of-service (DoS) attack prevention
VPN Support—Secure access to your home network away from home

Processor :

1GHz dual core porcessor with three offload processors

Memory :

128 MB Flash and 256 MB RAM

Standards :

Two (2) USB ports: 1 USB 3.0 & 1 USB 2.0 port
IEEE® 802.11 b/g/n 2.4GHz-256QAM support
IEEE® 802.11 a/n/ac 5.0 GHz
Five (5) 10/100/1000 (1 WAN and 4 LAN) Gigabit Ethernet ports
System Requirements :

Microsoft® Windows 7, 8, 10, Vista®, XP®, 2000, Mac OS®, UNIX®, or Linux®
Microsoft® Internet Explorer® 5.0, Firefox® 2.0, Safari® 1.4, or Google Chrome™ 11.0 browsers or higher
Nighthawk® X6 AC3200 Tri-Band WiFi Router (R8000)
Ethernet cable
Quick start guide
Power adapter
Warranty:

This product is backed by a NETGEAR limited 1-year Hardware Warranty .

Support :

24/7 basic technical support provided for 90 days from purchase date, when purchased from a NETGEAR authorized reseller.

Footnotes :

†Maximum wireless signal rate derived from IEEE 802.11specifications. Actual data throughput and wireless coverage will vary and be lowered by network and environmental conditions, including network traffic volume, device limitations, and building construction. NETGEAR makes no representations or warranties about this product's compatibility with future standards. Up to 3200Mbps wireless speeds achieved when connecting to other 802.11ac 3200Mbps devices.