Orbi Pro WiFi 6 (SXK80B3)
AX6000 Tri-Band Orbi Pro WiFi 6 WiFi System - Pack of 3
Orbi Pro WiFi 6 (SXK80B3)
AX6000 Tri-Band Orbi Pro WiFi 6 WiFi System - Pack of 3
Cover up to 9,000 sq. ft. with the latest, ultimate business-grade WiFi. The Orbi Pro WiFi 6 Tri-Band AX6000 WiFi System provides unparalleled coverage, speed, and capacity to boost business productivity.
Ultimate Speed
Unlock WiFi 6 speeds that are up to 100% faster than previous generations of WiFi.
Mesh Coverage
No more dead zones. Cover your entire space in the best WiFi and stay connected even as you move around.
Multi-Gig Network Speed
Enjoy 2.5Gbps Ethernet for multi-gig broadband connection, and 4 Gigabit Ethernet ports for wired connectivity.
Greater Capacity and Battery Life
Connect up to 4X more devices than with WiFi 5, and experience improved efficiency for longer battery life on those devices.
Security
Secure WiFi zones by separating your networks and clients with VLAN-SSID tie-in.
Easy Setup and Management
With the NETGEAR Insight app, you can get Orbi Pro set up in just minutes and control your network anytime, anywhere.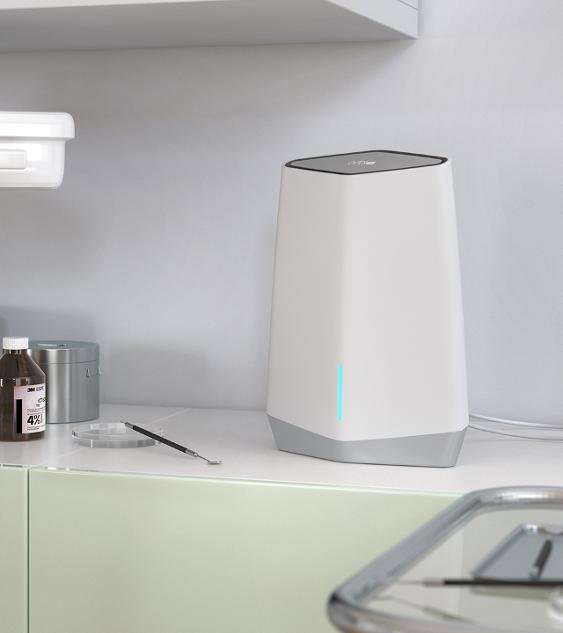 The Best Speeds
With up to 100% faster speeds than Orbi Pro WiFi 5, your customers and staff can enjoy blazing-fast WiFi and do more online without getting slowed down.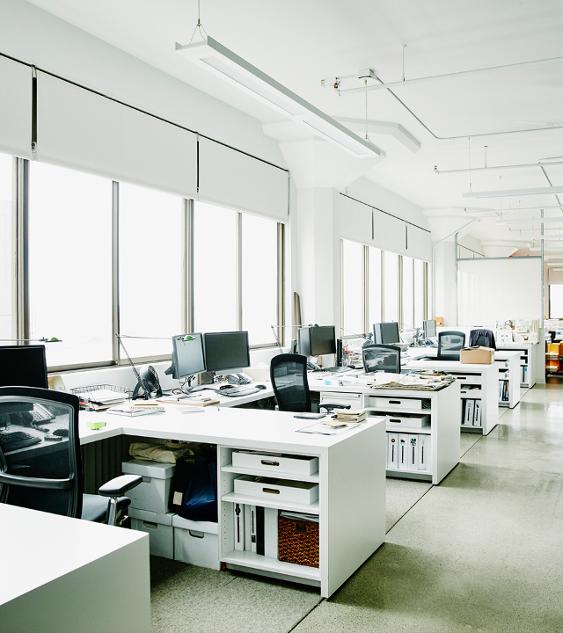 More Devices, More Coverage
Mesh WiFi 6 provides coverage for up to 9,000 sq. ft. and over 60 devices at once. Enjoy a strong connection from any part of the office.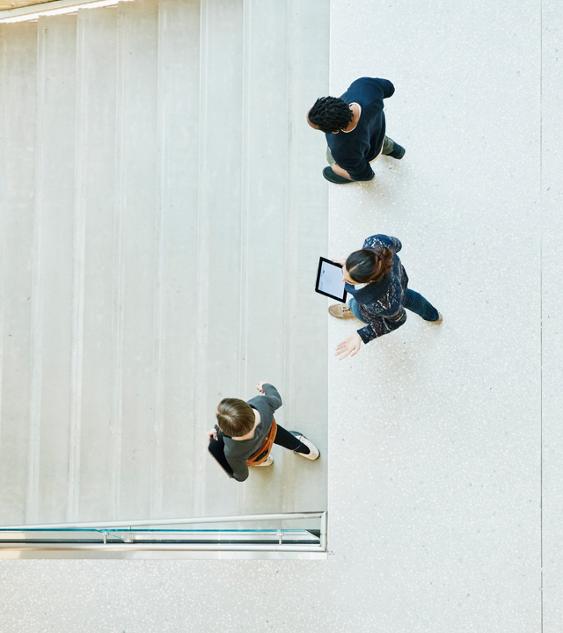 Business-Class Security
Set up separate, secure networks for different groups of people, like employees and customers.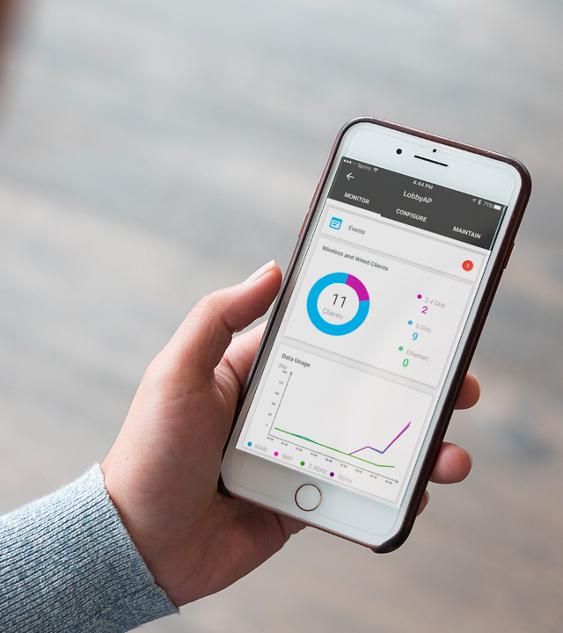 1-Year NETGEAR Insight Subscription
Manage your settings, test your speed, and monitor data usage from anywhere with NETGEAR Insight. Get your first year free.
NETGEAR Insight Management
Simple yet powerful control of your network anytime and anywhere, even across multiple locations. NETGEAR Insight handles your network so you can focus on running your business
One-Step VPN Connectivity for your Business
Site-to-site and site-to-multisite VPN to connect the main office with branch and home offices, all through a common SSID with the NETGEAR Insight add-on service, Business VPN*
*30-day trial included with the purchase of an Orbi Pro. One Orbi Pro router is required in the main office, and one additional Orbi Pro router required in each branch or home office.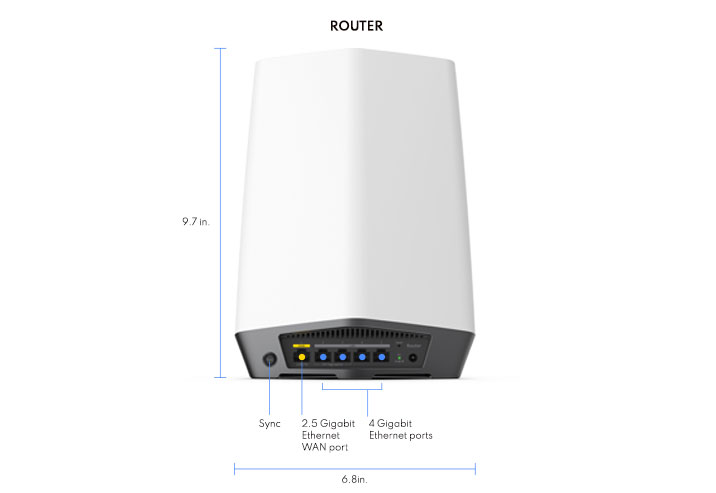 Orbi Pro WiFi 6 AX6000 Router :

Dimensions 6.8 x 3.3 x 9.7 in, Weight 2.06lb

Orbi Pro WiFi 6 AX6000 Satellite :

Dimensions 6.8 x 3.3 x 9.7 in, Weight 2.06lb each
What do I need for Orbi Pro WiFi 6 to work? :

1. High-speed Internet connection. 2. Connect to existing modem or gateway 3. Use NETGEAR Insight® app with an iOS or Android smartphone for easy setup.

WiFi Speeds :

(2,400 + 2,400 + 1,200) Mbps† Simultaneous Tri-band WiFi

Radio 1 :

IEEE 802.11b/g/n/ax 2.4GHz - 256QAM support

Radio 2 :

IEEE 802.11a/n/ac/ax 5GHz - 1024QAM support

Radio 3 :

IEEE 802.11a/n/ac/ax 5GHz - 1024QAM support

Antennas :

Eight (8) high-performance antennas with high-power amplifiers

MU-MIMO :

OFDMA and bi-directional MU-MIMO WiFi 6 throughput, MU-MIMO capable for simultaneous data streaming on multiple devices

Beamforming :

Implicit/Explicit Beamforming for 2.4GHz and 5GHz bands

Link Aggregation Grouping :

Internet Port for Router Unit 1x 2.5Gbps Ethernet, Local Area Network Ports for Router Unit 4x GbE, of which two can be formed in a LAG, Local Area Network Ports for Satellite Unit 1x 2.5GbE; 4x GbE, of which two can be formed in a LAG

Ports – Orbi Pro WiFI 6 Router :

One (1) Gigabit or 2.5 Gigabit Ethernet WAN or LAN port, Two (2) Gigabit Ethernet LAN ports, Link Aggregation Mode4 optional, Two (2) Gigabit Ethernet LAN ports

Ports – Orbi Pro WiFi 6 Satellite :

One (1) Gigabit or 2.5 Gigabit Ethernet LAN port, Two (2) Gigabit Ethernet LAN ports, Link Aggregation Mode4 optional, Two (2) Gigabit Ethernet LAN ports

Security :

Four (4) SSID wireless networks (Administration, Employee devices, Guest WiFi, IoT devices. Flexible VLAN configuration on all four (4) SSID WiFi networks. Flexible VLAN configuration on all four (4) SSID WiFi networks. Client isolation by default on Guest SSID and configurable on other SSIDs. WPA/WPA2/WPA3 support

Insight App :

Insight App - Secured cloud and local management

Local Admin :

Local Admin UI available for extensive feature setting and maintenance
Orbi Pro WiFi 6 Router does not support and will not pair with Orbi Home or Orbi Pro (WiFi 5) WiFi System Satellites.

ProSUPPORT OnCall 24x7 Service Packs3 :

PMP0312-10000S
PMP0332-10000S
PMP0352-10000S

Insight :

1-year subscription included

90-day complimentary technical support1 www.NETGEAR.com/support
SXK80 Router + 1x Satellite
SXK80B3 Router + 2x Satellite
SXK80B4 Router + 3x Satellite
SXS80 Satellite only
Router :

One (1) Orbi Pro WiFi 6 Router (SXR80)
Two (2) Orbi Pro WiFi 6 Satellite (SXS80)
Three (3) wall mounts with screws
One (1) 2m Ethernet cable
Three (3) 12V/3.5A power adapters
Installation guide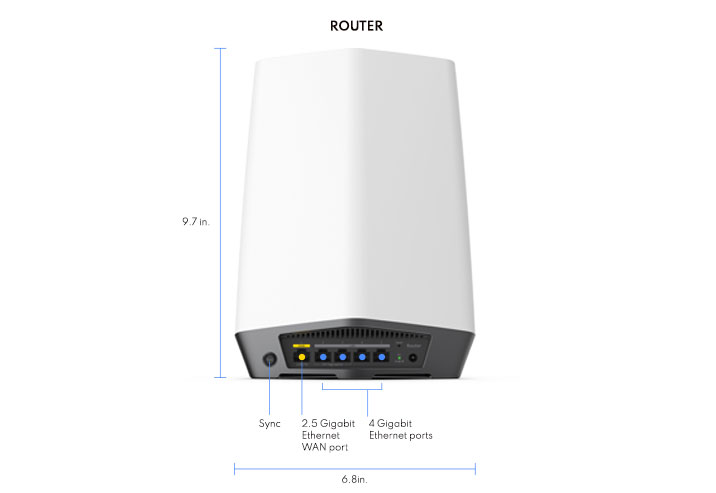 Orbi Pro WiFi 6 AX6000 Router :

Dimensions 6.8 x 3.3 x 9.7 in, Weight 2.06lb

Orbi Pro WiFi 6 AX6000 Satellite :

Dimensions 6.8 x 3.3 x 9.7 in, Weight 2.06lb each
WiFi Speeds :

(2,400 + 2,400 + 1,200) Mbps† Simultaneous Tri-band WiFi

Radio 1 :

IEEE 802.11b/g/n/ax 2.4GHz - 256QAM support

Radio 2 :

IEEE 802.11a/n/ac/ax 5GHz - 1024QAM support

Radio 3 :

IEEE 802.11a/n/ac/ax 5GHz - 1024QAM support

Antennas :

Eight (8) high-performance antennas with high-power amplifiers

Beamforming :

Implicit/Explicit Beamforming for 2.4GHz and 5GHz bands

Link Aggregation Grouping :

Internet Port for Router Unit 1x 2.5Gbps Ethernet, Local Area Network Ports for Router Unit 4x GbE, of which two can be formed in a LAG, Local Area Network Ports for Satellite Unit 1x 2.5GbE; 4x GbE, of which two can be formed in a LAG

Ports – Orbi Pro WiFi 6 Satellite :

One (1) Gigabit or 2.5 Gigabit Ethernet LAN port, Two (2) Gigabit Ethernet LAN ports, Link Aggregation Mode4 optional, Two (2) Gigabit Ethernet LAN ports
Orbi Pro WiFi 6 Router does not support and will not pair with Orbi Home or Orbi Pro (WiFi 5) WiFi System Satellites.

ProSUPPORT OnCall 24x7 Service Packs3 :

PMP0312-10000S
PMP0332-10000S
PMP0352-10000S

Insight :

1-year subscription included

90-day complimentary technical support1 www.NETGEAR.com/support
SXK80 Router + 1x Satellite
SXK80B3 Router + 2x Satellite
SXK80B4 Router + 3x Satellite
SXS80 Satellite only
Router :

One (1) Orbi Pro WiFi 6 Router (SXR80)
Two (2) Orbi Pro WiFi 6 Satellite (SXS80)
Three (3) wall mounts with screws
One (1) 2m Ethernet cable
Three (3) 12V/3.5A power adapters
Installation guide