1-Year NETGEAR Insight Subscription Included
Smart w/ optional Cloud (GC752XP)
52-Port Gigabit Ethernet PoE+ Smart w/optional Remote/Cloud Management Switch (505W)
Fully-integrated cloud-manageable devices with 1-year Insight subscription included. 505W PoE power for all of your needs, and dedicated SFP/SFP+ Fiber Uplinks.
1-Year NETGEAR Insight Subscription Included
Smart w/ optional Cloud (GC752XP)
52-Port Gigabit Ethernet PoE+ Smart w/optional Remote/Cloud Management Switch (505W)
Fully-integrated cloud-manageable devices with 1-year Insight subscription included. 505W PoE power for all of your needs, and dedicated SFP/SFP+ Fiber Uplinks.
NETGEAR Insight Management
Simple yet powerful control of your network anytime and anywhere, even across multiple locations. NETGEAR Insight handles your network so you can focus on running your business

Gigabit/10G SFP+
48 copper Gigabit Ethernet ports, 2 dedicated Gigabit SFP fiber ports, and 2 dedicated 10G SFP+ fiber ports. All copper ports support PoE+ (802.3at and 802.3af) with a PoE budget of 505W. More connections and PoE budget to power your larger deployments.
Remote Monitoring and Management from the Palm of your Hand:
With the NETGEAR Insight management solution, you can setup, manage, and monitor all of your networks and multiple locations from anywhere, anytime and any device

Network-centric configuration and management
NETGEAR Insight Managed Switches and Wireless Access Points using NETGEAR Insight allow for cross-device automated configuration of VLANs, QoS, ACLs, and LAGs. Auto-join and configure (zero-touch provisioning) allows for additional devices added to the network to automatically inherit the network configuration parameters for seamless integration.

Robust Security Features
Build a secured, converged network with all types of traffic by preventing external attacks and blocking malware while allowing secure access for authorized users.
Traffic Management
Auto Negotiation of speed and duplex modes
IEEE 802.3x Flow Control
Dynamic MAC address management
IEEE 802.1Q-based VLAN
Auto Voice VLAN
Auto Video VLAN
QoS based on WRR, strict priority, or both
Port-based and IEEE 802.1p-based QoS
TCP/UDP-based QoS
DiffServ
IPv4 and IPv6-based QoS
DSCP Support
Rate Limiting (ingress, or egress)
Link Aggregation and LACP
IPv4 and IPv6 static routing
Management
Insight mobile app or Insight Cloud Portal (Network-centric management)
Cloud/remote setup, configuration, management, monitoring, and troubleshooting
Device auto-join and configure (zero-touch provisioning)
Multi-site, multi-network single pane-of-glass view
Multi-switch, multi-port concurrent configuration
Network/global password (for all Insight Managed devices on a network)
IP Access List
Configurable management VLAN
Admin access control via RADIUS and TACACS+
IPv6 management
SNTP client over UDP port 123
SNMP v1/v2c
SNMP v3 with multiple IP addresses
RMON group 1,2,3,9
uPnP Discovery & Bonjour Discovery
Local-only web browser-based management GUI (for debugging or very advanced configuration
parameters)§
SSL/HTTPS Web-based access (version)
TLS Web-based access (version)
Firmware upgrade through the Cloud using NETGEAR Insight
Firmware update through TFTP/HTTP (using local web browser-based management GUI)
Firmware update fromt USB storage device (using local web browser-based management GUI)
Dual software (firmware) image
Memory and flash log
Syslog (RFC 3164)
Security
MAC lockdown
MAC lockdown by number of MACs
IEEE 802.1x port authentication (MD5, EAP, PEAP)
Dynamic VLAN Assignment
Guest VLAN
TACACS+
Trusted MAC
IPv4, L4-based Access Control List (ACL)
IPv6-based ACL
Carousel
Multicast Efficiency
IGMP snooping, v1, v2 and v3
IGMP snooping querier
Blocking of unknown multicast traffic
MLD snooping
Spanning Tree
IEEE 802.1D, IEEE 802.1w RSTP and MSTP
Option to enable/disable BPDU flooding when STP is disabled
Reliability, Performance and Troubleshooting
Port mirroring both on ingress and egress traffic
Jumbo frame support
Broadcast Storm Control
Cable diagnostics
Loop Detection & Prevention
DoS Prevention
IEEE 802.1ab LLDP
LLDP-MED
Option to enable/disable the flooding of EAPOL when 802.1x is disabled
Protected ports
DNS client
DHCP clients
DHCP snooping
Ping and trace route client
Energy Efficient Ethernet (IEEE 802.3az) compliant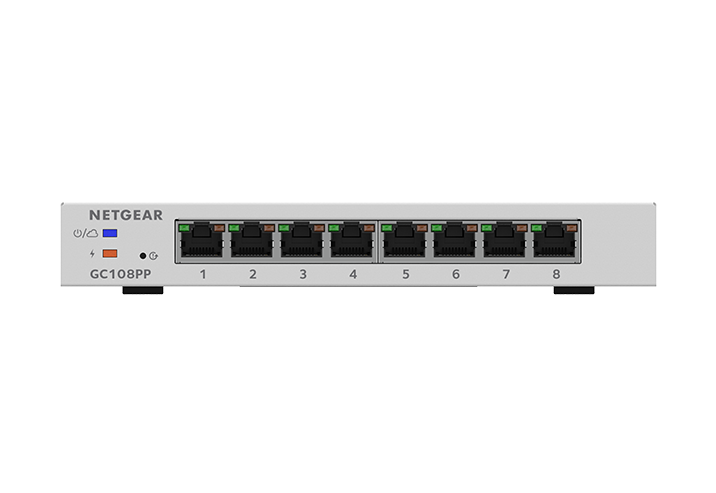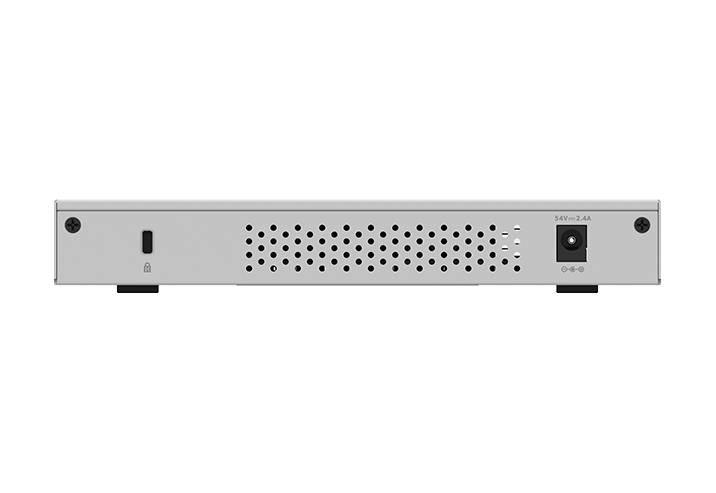 Dimensions (W x D x H) :

440 x 224 x 44 mm (17.3 x 8.8 x 1.7 in)

Weight :

4.79 kg (10.56 lb)
Gigabit copper ports :

48

SFP / SFP+ 10G Ports :

SFP Ports: 2 (dedicated)

10G SFP+ Ports :

2 (dedicated)

Number of PoE/PoE+ ports :

48 PoE+ (802.3at)

Total PoE power budget (watts) :

505W

Bandwidth (full-duplex) :

140 Gbps

Buffer size (dynamically shared across ports in use) :

2 MB

MAC address database size (48-bit MAC addresses) :

16K

VLAN (number supported) :

256

VLAN routing :

Yes

Dynamic VLAN assignment :

Yes

MLD Snooping :

Yes

Static routes :

32 (IPv4) / 31 (IPv6)

Link Aggregation / Port Trunking :

LACP (802.3ad Dynamic Link Aggregation) & Manual Static LAG

Number of LAGs & number of members :

24 LAGs with max 8 members in each LAG

Number of priority queues :

8

Supported multicast groups :

512

DoS prevention :

Yes

Loop detection/prevention :

Yes

Jumbo frame support :

Up to 9K packets

EEE (IEEE 802.3az) :

Yes

Power supply :

Internal: 100-240VAC, 50-60Hz, 10A max (power cord localized to country of sale)

Max power (worst case, all ports used, line-rate traffic) :

118.6W (no PoE) / 623.6W (full PoE)

Fan(s) :

3

Acoustic noise level @ 25°C (dBA) :

30 dBA

Operating temperature :

0° to 50°C (32° to 122°F)

MTBF (@ 25°C) :

455,682 hrs (50 yrs)

Electromagnetic compliance (A or B) :

Class A
Warranty:

This product is backed by a 5-year Hardware Limited Warranty.
Next Business Day Hardware Replacement. Click here for coverage, availability and terms and conditions.

Support :

ProSUPPORT 24x7 Advanced Technical Support via phone for 90 days (Remote diagnostics performed by our technical experts for prompt resolution of technical issues).
ProSUPPORT coverage can be extended by purchasing one, three, or five year contracts.

Some advanced settings may only be configured using the local web browser-based management interface. :

* English, German, and Japanese are the current supported languages in the local-only web GUI. The Insight mobile app and Insight Cloud Portal support local languages per the device used (phone and computer browser).