Nighthawk® 5G Mobile Hotspot Pro for AT&T  (MR5100)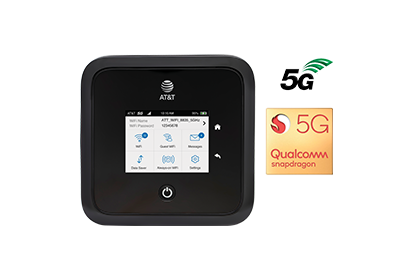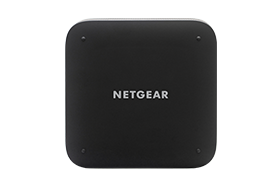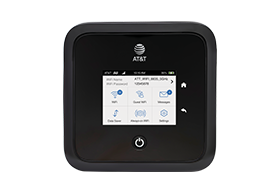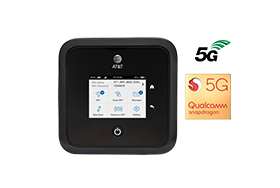 Price:
In Stock
Features:
5GNR — Powered by the Qualcomm® Snapdragon™ X55 Mobile Platform for premium performance.  Supports mmWave and Sub 6 bands for blazing fast Mobile Broadband Internet, delivering ground-breaking speeds up to 7 Gbps*

WiFi 6 Technology — Allow more devices to connect and stream simultaneously, without impacting speed or reliability. With increased capacity, you get faster speeds for high-end video streaming on your smartphones, tablets, and computers.

Fixed Wireless Options — Bring revolutionary 5G connection to your home or office using the Gigabit Ethernet Port. Simply connect your 5G Mobile Router to your existing home router, and bring 5G speeds into your home network and all your devices.

Always-On WiFi — provide a reliable backup Internet connection if Fibre, DSL or Cable is interrupted or unavailable. Automatically switch from Ethernet to the 5G/4G network.

Secure and Reliable Network — Avoid the risks of public WiFi with VPN pass-through support and password protection.

Connect up to 32 WiFi Devices — Always-on connection you can count on and share with up to 32 WiFi devices on the go, such as your smartphones, tablets, and laptops. Keep your entire family or team connected to blazing fast broadband Internet.

Rechargeable Battery — Long lasting battery for all day usage.

No Battery Operation — Have the option of plugging into a power outlet at home for a 24/7 operation with battery removed.

Intuitive Touch UI Screen – From the 2.4" color LCD touch screen, conveniently monitor data usage, see WiFi name/password, mobile signal strength, and manage device and network settings. Time, date, data usage and important status information are displayed on the lock screen.

NETGEAR Mobile App – The easiest and most convenient way for device management. View your connection status, settings, and data usage using your smartphone or tablet.

Parental/Access Controls — Peace-of-mind for your family's time online – manage, access, and filter content with the NETGEAR Mobile App.
ADVANCED 5G WIFI EVERYWHERE
The Nighthawk® 5G Mobile Hotspot Pro from AT&T upgrades your mobile broadband experience with WiFi 6 and incredible 5G blazing speeds.
5G and WiFi 6 Everywhere
With the Nighthawk® 5G Mobile Hotspot Pro from AT&T, you don't have to go anywhere without your WiFi. All your devices will run at the speed of 5G. You can always know who's on your network. And you can always trust your personal network.


NETGEAR MOBILE APP
Manage your NETGEAR mobile routers from the convenience of your smartphone or tablet. Note: This App is not designed for AirCard USB modems.
Track data usage by month and session
Check the status of your WiFi connection and battery life in real-time
View connected WiFi devices
Turn off your hotspot
Enable Dual-Band WiFi (applicable models only)
Beep your mobile router or hotspot (applicable models only)
View and play media files
Offloading to WiFi or Ethernet
Download the NETGEAR MOBILE app on the

Apple App Store

or the

Google Play Store

.
TECH SPECS
Technology/Bands

Latest 5G technology: 5GNR Sub 6 GHz (N)SA and mmWave
Supports LTE CAT 22, LTE Advanced, 4x4 MIMO, 256QAM
Always-on connection you can count on and connect up to 20 devices
Increase network performance and reduce interference with 802.11ax (WiFi6), 2x2 MIMO and 2.4/5GHz Standalone
IPV6 Support

Chipset
WiFi

2x2 + 2x2 11ax/ac 80 MHz DBS
11ax: SU + Beamforming, 1024 QAM
11ax: BSS Color, Extended Range STA
802.11a/b/g/n/ac/ax

Max Throughput (PHY)

•   1.2Gbps on 5GHz
•   600 mbps

Data Usage Meter

Manage your data and how much you use

Max Theoretical Downlink Speed

Ethernet : Close to 1Gbps
WiFi : 11ax can support up to 1.2Gbps

USB 3.1 Gen-2 tethered/Sub 6 NSA: RNDIS:

•   Close to 2.5Gbps
•   RMNET: Close to 4Gbps

Dimensions

105mm x 105mm x 21.5mm 

4.14in x 4.14in x .85in

Weight

240g (.54lb) (with battery)
Qualcomm Snapdragon is a product of Qualcomm Technologies, Inc. and/or its subsidiaries. Qualcomm and Snapdragon are trademarks of Qualcomm Incorporated, registered in the United States and other countries.
*7Gbps is the modem's maximum data transfer rate per the 3GPP Release 15 Standard. Maximum rate is derived from 3GPP Release 15 specifications and actual throughput will vary depending on your internet subscription with your provider. In practice, your internet speeds will be less, as the transfer rate through the MR5100 USB-C port is limited to approximately 2.5 Gbps. The transfer rate may also be reduced by the volume of network traffic or your service plan. The transfer rate may also be reduced by the service provider's specific network implementation.