"HEY SIRI, SHOW ME THE NURSERY"– ARLO BABY CAMERA, THE WORLD'S FIRST SMART BABY MONITOR, TO INTEGRATE WITH APPLE HOMEKIT
Now you can easily watch and listen to live video stream with 2-way audio from Arlo Baby camera through the Apple Home app
LAS VEGAS, NV — January 8th, 2018 — NETGEAR®, Inc. (NASDAQ: NTGR), the worldwide leader in home networking and smart home security products, today announced that the Arlo® Baby Smart HD Monitoring Camera (ABC1000A) is now compatible with Apple HomeKit™ this quarter. Following a simple pairing process, parents with an iOS device will be able to access the majority of Arlo Baby's innovative features for smart monitoring of your baby straight from the Apple Home app.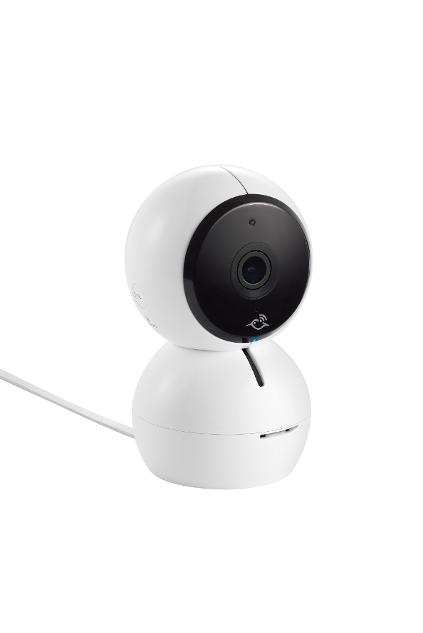 The popular Apple HomeKit framework for iOS devices enables parents to manage all of their smart home accessories seamlessly from an iPhone® or iPad®. Once the Arlo Baby camera is added, it appears in the Apple Home app on your iOS device alongside your other HomeKit compatible smart home accessories. The Apple Home app is available to all iOS customers to easily and securely manage HomeKit enabled accessories such as the Arlo Baby camera. Free to download from the Apple App Store℠, the Apple Home app is also included with the most recent iPhone and iPad releases.
Arlo Baby functions capable of being accessed through the Apple Home app include:
Live video stream viewing of your baby via the Arlo Baby camera feed
Two-way audio for talking, cooing and listening to your baby and other people near the camera
Quick view of the most recent screenshot recorded by Arlo Baby when the camera was last activated
Voice control by asking Siri to show you your camera's live stream
Remotely access the camera's live video/audio feed and two-way communication when you have an iPad or Apple TV (4th generation) in your home.
"Arlo is 100% focused on delivering products and solutions that provide our customers with the best user experience," said Pat Collins, senior vice president of Arlo products at NETGEAR. "By making Arlo Baby compatible with Homekit we have now made the all-important experience of monitoring your child even better. Whether it's the convenience of asking Siri to quickly view your baby live, or the ability to quickly check in directly from Apple TV using the Arlo app, Arlo Baby customers now have the ultimate in convenience and flexibility. We're thrilled to be a partner with Apple and looking forward to growing our ecosystem of HomeKit-enabled products."
A 2017 CES Innovations Award honoree, Arlo Baby Smart HD Monitoring Camera goes far beyond traditional baby monitors to provide what busy parents need to keep the whole family safe and at ease. This all-in-one camera combines crystal clear 1080p HD video, advanced night vision capabilities, two-way audio, ambient air quality sensors, a music-and-sound player, and a dimmable night light into one adorable, nursery-friendly package. The Arlo smart analytics platform provides real-time, customizable alerts when motion or sound is detected, even recognizing the sound of your baby's cries. A built-in rechargeable battery means you can move the untethered Arlo Baby camera around the house as needed. And with a rolling 7 days of free cloud recordings, you'll never miss a precious moment. Arlo Baby can even be personalized into animals like a bunny, kitten, or puppy for a friendly addition to the nursery. Arlo Baby is available now from major retailers at an MSRP of $249.99.
Visit Arlo.com to learn more about Arlo Baby Monitoring Camera and accessories, and other Arlo Smart Home Security camera options for your home and business.
About NETGEAR, Inc.
NETGEAR (NASDAQ: NTGR) is a global networking company that delivers innovative products to consumers, businesses and service providers. The Company's products are built on a variety of proven technologies such as wireless (WiFi and LTE), Ethernet and powerline, with a focus on reliability and ease-of-use. The product line consists of wired and wireless devices that enable networking, broadband access and network connectivity. These products are available in multiple configurations to address the needs of the end-users in each geographic region in which the Company's products are sold. NETGEAR products are sold in approximately 30,000 retail locations around the globe, and through approximately 25,000 value-added resellers, as well as multiple major cable, mobile and wireline service providers around the world. The company's headquarters are in San Jose, Calif., with additional offices in approximately 25 countries. More information is available from the NETGEAR investor page or by calling (408) 907-8000. Connect with NETGEAR on Twitter, Facebook and our blog.
©2018 NETGEAR, Inc. NETGEAR, the NETGEAR logo, FastLane3 and Orbi are trademarks and/or registered trademarks of NETGEAR, Inc. and/or its affiliates in the United States and/or other countries. Other brand and product names are for identification purposes only and may be trademarks or registered trademarks of their respective holder(s). The information contained herein is subject to change without notice. NETGEAR shall not be liable for technical or editorial errors or omissions contained herein. All rights reserved.
* Maximum wireless signal rate derived from IEEE standard 802.11 specifications. AC3000 equals 400Mbps at 2.4GHz 802.11n with 256 QAM support + 1733Mbps at 5GHz 802.11ac with 256 QAM support + 867Mbps at 5GHz 802.11ac with 256 QAM support. Actual data throughput and wireless coverage will vary. Network conditions and environmental factors, including volume of network traffic, building materials and construction, and network overhead, lower actual data throughput rate and wireless coverage. NETGEAR makes no express or implied representations or warranties about this product's compatibility with any future standards.
Safe Harbor Statement under the Private Securities Litigation Reform Act of 1995 for NETGEAR, Inc.: This press release contains forward-looking statements within the meaning of the U.S. Private Securities Litigation Reform Act of 1995. Specifically, statements concerning NETGEAR's business and the expected performance characteristics, specifications, reliability, market acceptance, market growth, specific uses, user feedback and market position of NETGEAR's products and technology are forward-looking statements within the meaning of the Safe Harbor. These statements are based on management's current expectations and are subject to certain risks and uncertainties, including, without limitation, the following: the actual price, performance and ease-of-use of NETGEAR's products may not meet the price, performance and ease-of-use requirements of customers; product performance may be adversely affected by real world operating conditions; failure of products may under certain circumstances cause permanent loss of end user data; new viruses or Internet threats may develop that challenge the effectiveness of security features in NETGEAR's products; the ability of NETGEAR to market and sell its products and technology; the impact and pricing of competing products; and the introduction of alternative technological solutions. Further information on potential risk factors that could affect NETGEAR and its business are detailed in the Company's periodic filings with the Securities and Exchange Commission. NETGEAR undertakes no obligation to release publicly any revisions to any forward-looking statements contained herein to reflect events or circumstances after the date hereof or to reflect the occurrence of unanticipated events.
Source: NETGEAR-G
U.S. Media Contact: Nathan Papadopulos, (408) 890-3889, NPapadopulos@netgear.com
U.S. Sales Inquiries: (408) 907-8000, sales@netgear.com
U.S. Customer Inquiries: (888) NETGEAR