5-Year NETGEAR Insight Premium Subscription Included
AX1800 WiFi Mesh System (SXK30B3)
AX1800 Dual-Band Orbi Pro WiFi 6 Mini Mesh System - Pack of 3
5-Year NETGEAR Insight Premium Subscription Included
AX1800 WiFi Mesh System (SXK30B3)
AX1800 Dual-Band Orbi Pro WiFi 6 Mini Mesh System - Pack of 3
Orbi Pro WiFi 6 Mini AX1800 Mesh System is built to provide your business or your home office with next-level coverage, speed, and connection capacity for the ultimate business-grade WiFi experience, today and tomorrow at an affordable cost for budget conscious businesses.
MAXIMUM SECURITY
AND CONFIGURABILITY
AT WORK
SMALL
BUSINESS
CONTROL
Securely isolate your back-office network and critical data from the networks your guests and employees access, while optimizing WiFi performance for everyone's needs.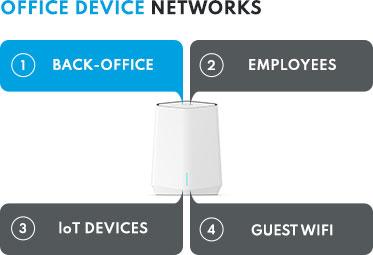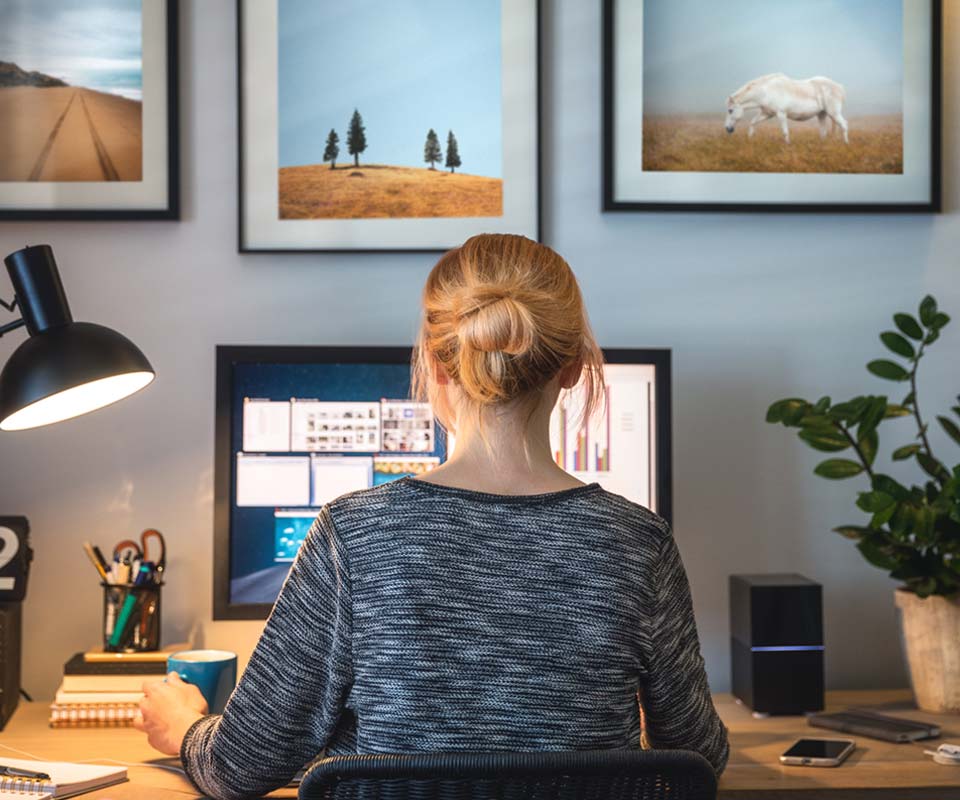 WORK
FROM HOME
CONTROL
Separate your work devices on their own network, for maximum security and the performance you need for fast streaming, uninterrupted video calls and large file downloads.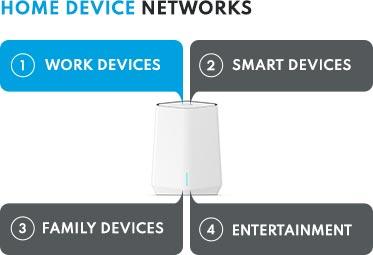 UNRIVALED SECURITY
WITH NETWORK
SEGMENTATION
Orbi Pro is the industry's first mesh system to support IP segmentation across wired and wireless interfaces. Isolate network segments by assigning individual Ethernet ports and SSIDs across the router and all satellites to any VLAN you create.
WHITE PAPER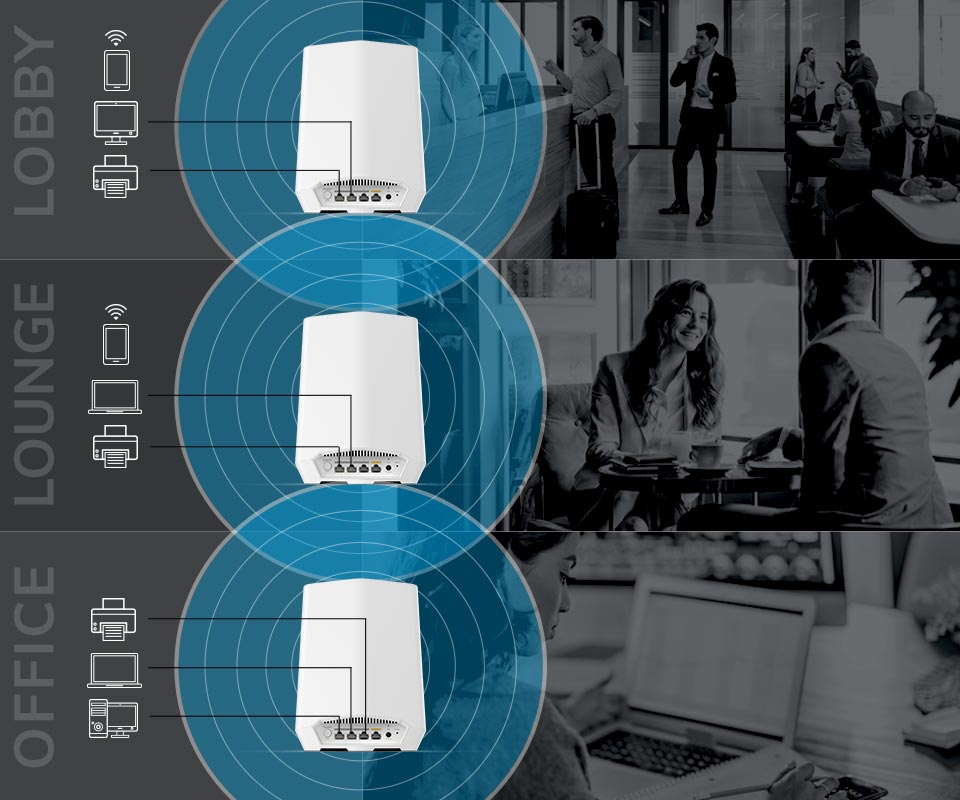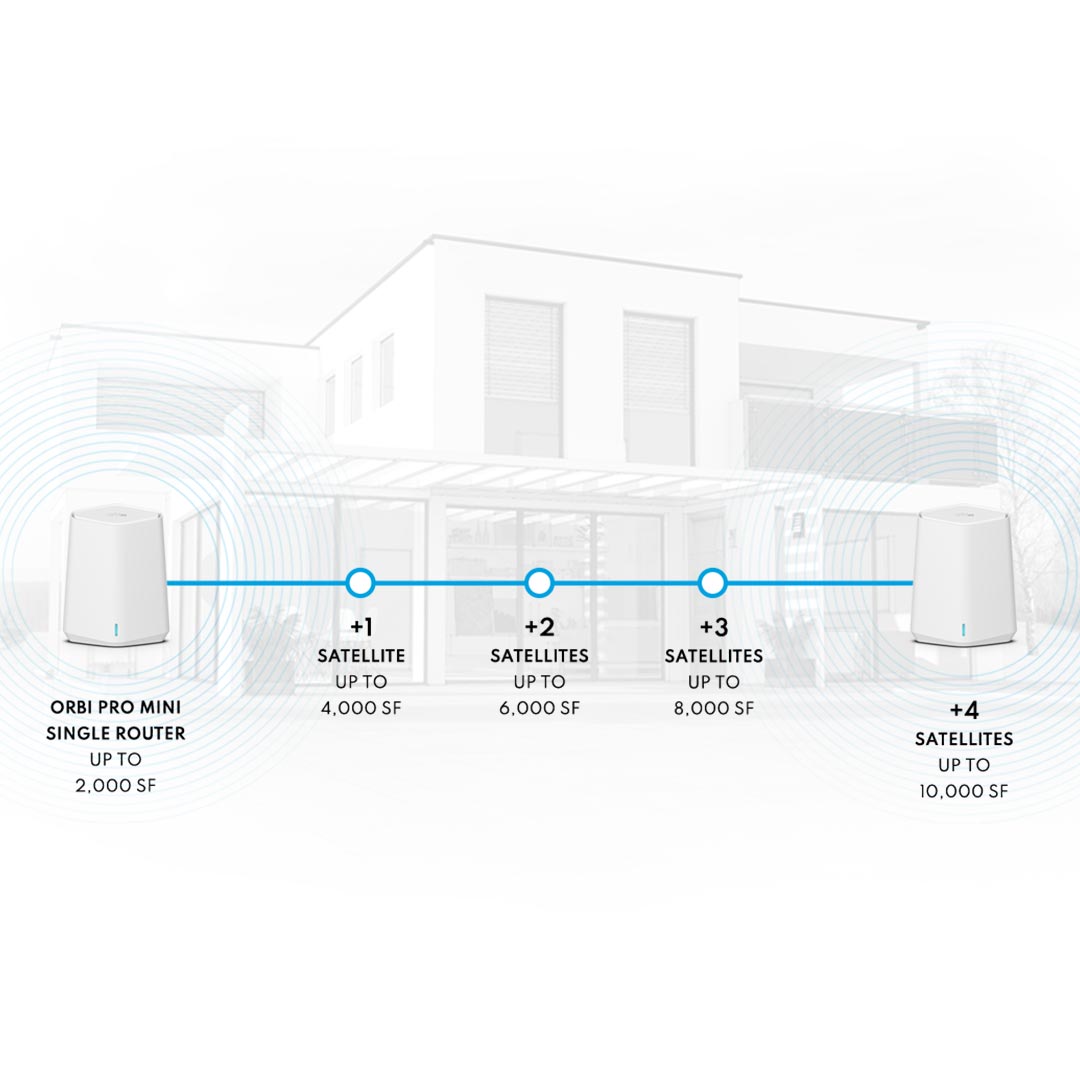 EXPANDABLE
AS YOUR
NEEDS GROW
Easily add WiFi coverage with additional
wireless satellites — each expands
coverage by 2,000 sq. ft. (sold separately).
For the correct configuration and number of satellites, consult the KB here
NETGEAR INSIGHT MANAGEMENT
Manage locally or remotely through the Cloud for simple yet powerful control of your network anytime, anywhere.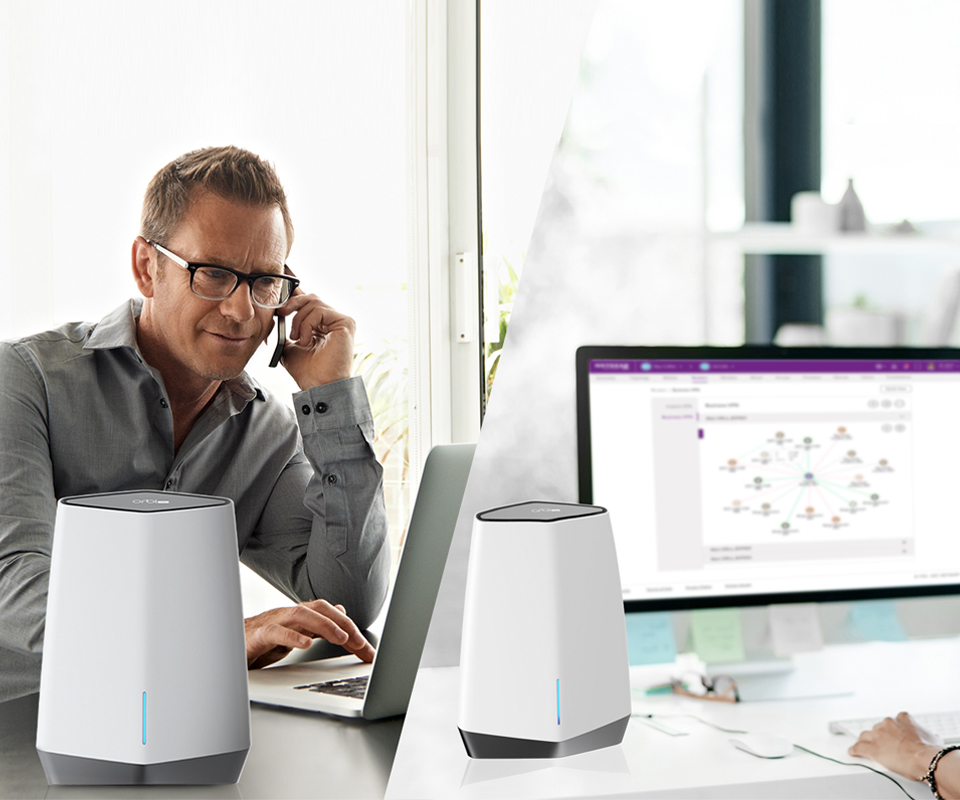 One-Step VPN Connectivity for your Business
Site-to-site and site-to-multisite VPN to connect the main office with branch and home offices, all through a common SSID with the NETGEAR Insight add-on service, Business VPN*
*30-day trial included with the purchase of an Orbi Pro. Additional purchase of an Orbi Pro router is required to enable Business VPN for multiple locations
Learn More
For IT Managers and VARs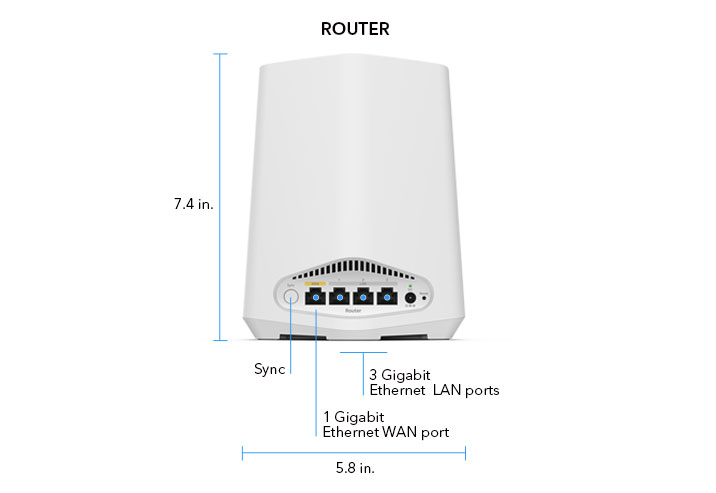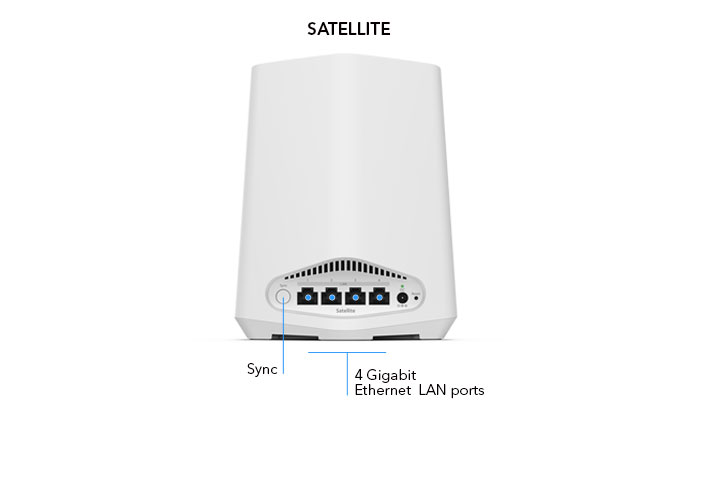 Dimensions: 5.8 x 2.7 x 7.4in (148 x 68 x 189mm) each
Weight: 1.06lb (0.48kg) each
Orbi Pro WiFi 6 Mini Dual-band AX1800 Router and WiFi 6 Mini Dual-band AX1800 Satellite (1,200 + 600) Mbps
Simultaneous Dual-band WiFi

Radio 1 :

IEEE 802.11b/g/n/ax 2.4GHz - 256QAM support

Radio 2 :

IEEE 802.11a/n/ac/ax 5GHz - 1024QAM support

Two (2) high-performance antennas with high-power amplifiers each
Explicit Beamforming for 2.4GHz and 5GHz bands
Integrated Gigabit Smart Ethernet Switch for business grade security and applications
802.3Q VLAN
Access Control
MU-MIMO capable for simultaneous data streaming on multiple devices
Ethernet Ports – Orbi Pro WiFi 6 Mini Router: One (1) Gigabit Ethernet WAN port, Three (3) Gigabit Ethernet LAN ports
Ethernet Ports – Orbi Pro WiFi 6 Mini Satellite, Four (4) Gigabit Ethernet LAN ports

Insight :

Insight App - Secured cloud and local management
Orbi Pro WiFi 6 Mini Dual-band AX1800 Router does not support and will not pair with Orbi Home or Orbi Pro (WiFi 5) WiFi System Satellites.
5-year limited hardware warranty
ProSUPPORT OnCall 24x7 Service Packs3 SXK30 Router + 1x Satellite PMB0312-10000S (1 year)

Insight :

1-year subscription included
One (1) Orbi Pro WiFi 6 Mini Router (SXR30)
Two (2) Orbi Pro WiFi 6 Mini Satellite (SXS30)
Three (3) wall mounts with screws
One (1) 2m Ethernet cable
Three (3) 12V/3.5A power adapters (varies based on region)
Installation guide